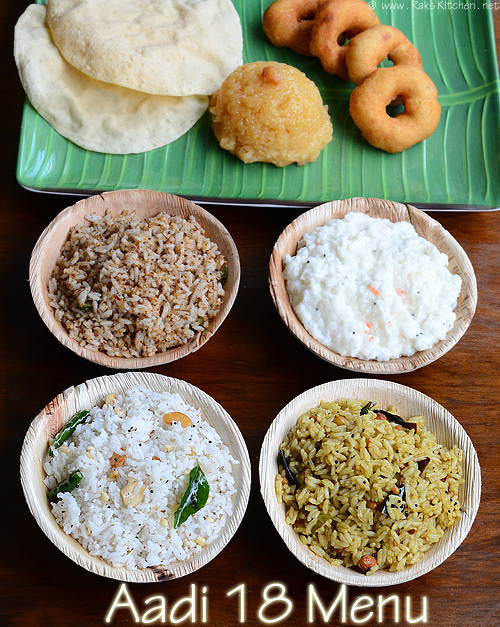 Today is aadi perukku (aadi 18) or as we call 18-aam peyar. Both mom and MIL celebrate this day. Mom makes variety rice for aadi perukku always as today I have made, while MIL makes full meals with sambar, rasam, poriyal, kootu, vadai, payasam and appalam.
Along with this, we soak rice and then mix with jaggery and offer it to the "manjal pillayar" and tie yellow thread in neck on the day of aadi perukku. Read my dad's post about the festival, here.
I wanted to make mom's way this time. No need to panic by seeing so many dishes in the picture, its actually 5 items + medhu vadai. That's it. Really! It's easier than making the full south Indian spread. I want to share this time how I prepared this menu (for 3) also, to prove that this is easy! Prepare pulikaichal the before day, to make it easy.
So here is what I made : Sakkarai pongal , medhu vadai, Thenga sadam (coconut rice), Puliyodharai (puliyogare), Ellu sadam (sesame rice) and Thayir sadam (Curd rice).
Puliyogare can be replaced with lemon rice and sakkarai pongal can be replaced with kalkandu pongal or any payasam.
Aadi perukku recipes
 Medhu vadai recipe – Ulunthu vadai – ulundu vadai- medu vada – with VIDEO and step by step pictures, tips and tricks to make perfect shape.
15
mins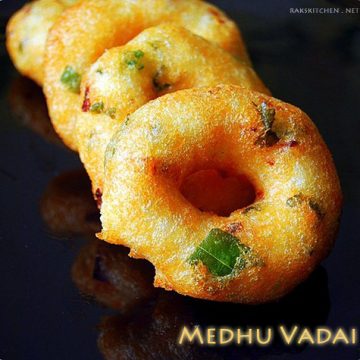 Sakkarai pongal recipe, a temple style flavourful sweet pongal with jaggery, edible camphor, cardamom, cloves and the essential ghee and cashew nuts.
40
mins
Thengai sadam, coconut rice is a simple south Indian variety rice with a burst of flavors from fresh coconut and coconut oil.  Learn how to make thengai sadam with goodness of urad dal.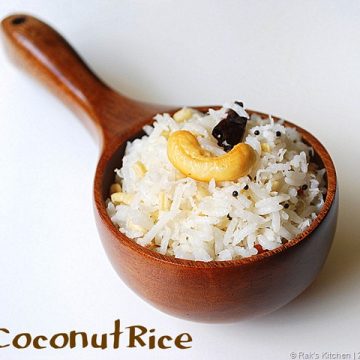 Puliyodharai recipe with pulikachal making, step by step, full video recipe. Learn how to make tasty, flavourful south Indian puliyogare from scratch.
30
mins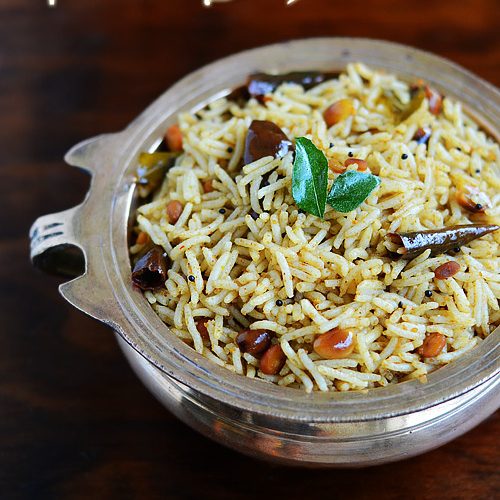 Learn how to make south Indian ellu sadam, sesame rice. Easy and flavorful, can make quickly and healthy too. With step by step picture.
15
mins
Curd rice recipe - Learn how to make perfect creamy south Indian curd rice with step by step pictures and tips for delicious results!
20
mins
Recipe Cuisine: Indian   |  Recipe Category: Lunch
Prep Time: 30 mins     |  Cook time: 2 hrs mins     |  Serves: 3
Morning, on wake up, soak urad dal/ ulundhu for vadai and thengai sadam.
In a small cooker, (directly) cook 1 cup raw rice with 3 cups water for 4 whistles. This is for Curd rice and sakkarai pongal.
In another stove, pressure cook raw rice 1 & ½ cups with 2 cups water for 3 whistles (in medium flame after 1st whistle) for the other variety rice. If you have separate containers, keep little moong dal for sakkarai pongal. Otherwise, cook separately.
Grate coconut for coconut rice meanwhile.
Once the 1 cup rice for curd rice and pongal, take half for curd rice in a vessel and leave the rest of the rice in the cooker itself.
Mash both and for curd rice add ½ cup hot water and salt.
Make jaggery syrup for pongal and prepare pongal.
If the rice for the other variety rice is done meanwhile, divide into 3 in three vessels and add 2 tsp of sesame oil in each, mix and let it cool down.
Now its time to give some work to the kadai. Heat it up and roast for ellu sadam, thengai sadam. Keep aside.
Now start tempering everything – first pongal, then curd rice, coconut rice, ellu sadam.
Grind for ellu sadam. That's it, mix all the variety rice.
Lastly grind for vadai and heat oil in kadai for deep frying side by side.
Make vadai and fry appalam and some vadams. Aplam and vadams are not offered to saamis, just for the aasamis.
I have video updated for this menu, with lemon rice and kalkandu pongal in place of puliyodharai and sakkarai pongal respectively 🙂
This will take hardly 1 hour and less work as no cutting works involved. If you want you can make avial – if you are worried about vegetables. Or simply potato curry.
Have a great weekend with homey food 😍.
When is aadi perukku 2019?
Aadi perukku 2109 falls on August 3rd, Saturday.