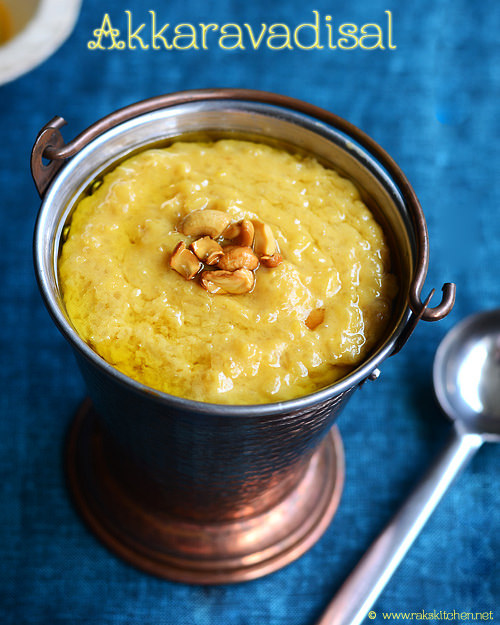 Akkaravadisal / akkara adisal is similar to sakkarai pongal. But with slight differences. I have never tried this at home, but have tasted in SRC mess when I was staying in hostel. It was oozing with ghee and yummy. After that I haven't tasted or tried to make at home. Once I watched in a TV show (anjaraipetti I guess) 2 years back. A old mami made and showed. She told the main things in akkara vadisal is the milk/ water ratio with which the rice and payatham paruppu is cooked and ghee. She said ghee should be added more for delicious akkaravadisal. With pongal coming up, I thought it will be perfect to post this recipe now. I referred this video too in the youtube.

Wishing all my readers, friends a Happy pongal!! (பொங்கல் வாழ்த்துக்கள்)🙂
And on a happy note, my article was published in The Hindu news paper last Saturday. Here's a glimpse of it  🙂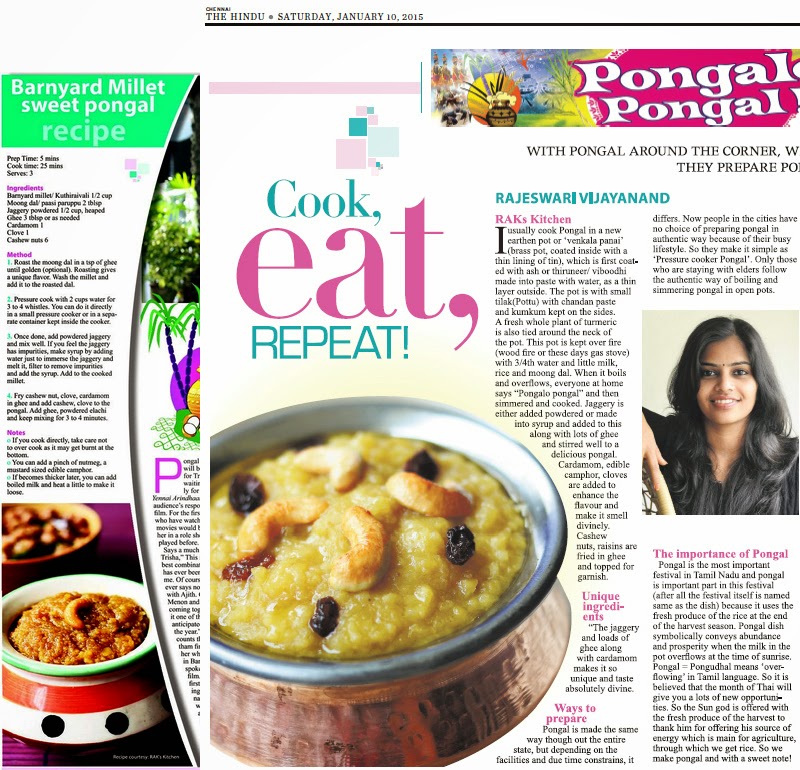 Check my sakkarai pongal recipe which I learnt from my mom which absolutely tastes divinely like the temple sakkarai pongal with special ingredients like edible camphor, nutmeg, cloves and elachi.
The taste of this traditional sweet akkaravadisal is also different from the sakkarai pongal. This akkaravadisal tastes rich, smooth, creamy and saffron adds a mild rich flavor. Try this for a change this pongal if you are not following the open pot sakkarai pongal making. Sure your family and friends will love it.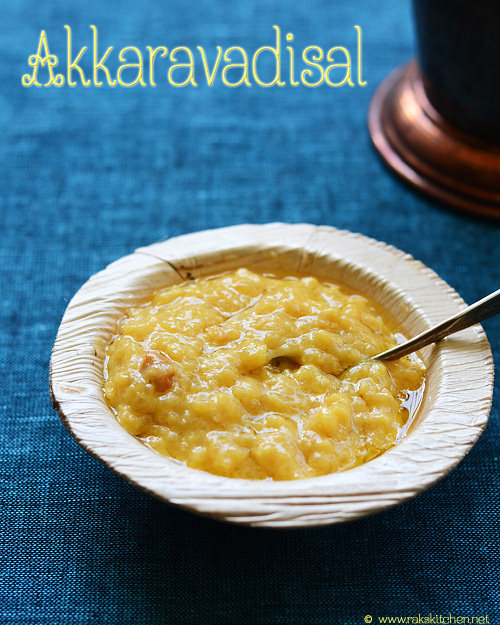 Akkaravadisal recipe
Akkaravadisal / akkara adisil is made majorly in Iyengar homes similar to sakkarai pongal. Main difference being the texture, milk proportion in the recipe.
Cup measurements
Ingredients
½

cup

Raw rice

2

tbsp

Moong dal/ paasi parupp

2+1

cup

Milk

½

cup

Water

½

cup

Jaggery

2

tbsp

Sugar

¼

cup

+

1 tbsp

Ghee

1

Cardamom

6

Cashew nut
Instructions
In a heavy bottomed pan (I used my pot shaped pressure cooker), add 1 tblsp ghee, roast the cashewnuts, broken into small pieces until golden and transfer to a bowl, keep aside. Soak saffron in a tblsp of warm milk, set aside.

Add moong dal, rice to the same ghee and roast for a minute in medium flame. Add milk.

Add water to this and Bring to boil.

Pressure cook for 3 whistles  in medium flame(if cooked in direct pressure cooker method). If you use a separate container inside cooker, give 5 whistles.

Once done, mash the rice well and add the remaining 1 cup (boilemilk. Mash and mix well.

Continue heating and add 2 tblsp of ghee, powdered jaggery. Mix well until jaggery dissolves.

Add another 2 tblsp ghee, sugar and continue mixing. Keep the flame in medium. Stir for 3-4 minutes and add saffron along with the milk and another 2 tblsp of ghee.

Stir well for 2 minutes adding the  last 2 tblsp ghee, cardamom powder, roasted cashews and switch off the flame.
Notes
used low fat milk, still the taste was rich. Water should be added to ensure well cooked rice and dal.
The consistency of this sweet must be mushy, little bit on runny side when you switch off the flame. Later it gets thickened. So switch off accordingly. You can keep hot milk ready to adjust the consistency.
If you are cooking directly in the pressure cooker like me, always cook in low or medium flame to avoid overflowing or burnt bottom, as we are using more milk to cook.
Akkaravadisal recipe method:
Always serve hot to get the full sweetness and taste of this sweet. You can reheat while serving. If at room temperature, the ghee may suppress the sweetness, so serve hot 🙂