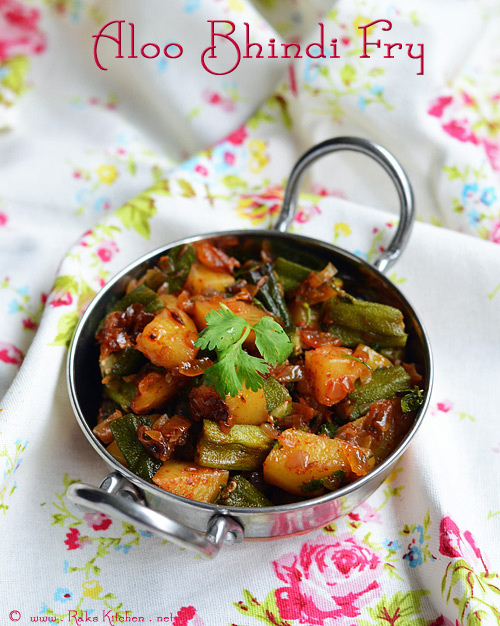 Aloo Bhindi fry is an easy subzi recipe that I want to try for a long time. I checked with my friend Sangeeta quickly for the recipe, it was super easy and tasty too. My family loved it a lot, that Aj wanted to eat it for dinner as well after eating it for lunch. When we went to Pune, where ever we had lunch we ordered for bhindi fry (sukka). We just had it as such and loved the simple ingredients yet tasty. So I wanted to try that way, but ended up making this aloo bhindi fry. I really enjoyed the food when I was in Pune. My MIL actually warned us when we left to Pune that we will be starving for food. But she doesn't knows my love towards chaat and north Indian food. So I totally enjoyed the food in Pune. If I visit Pune again, I will enjoy the food more as I know now what we get and where.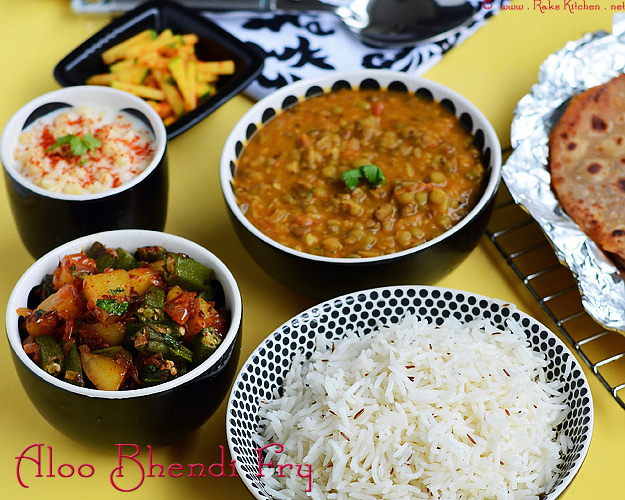 Aloo Bhindi fry recipe
Recipe Cuisine:
Indian
|
Recipe Category:
Lunch side
Prep Time
:
10 mins
|
Cook time: 10 mins
|
Serves
:
3
Ingredients
Potatoes – 1
---
Ladies finger – 20
---
Onion – 1
---
Red chilli powder – ¾ teaspoon
---
Amchoor powder – ¼ teaspoon
---
Jeera – 1 teaspoon
---
Oil – 2 tblsp
---
Salt – As needed
---
Coriander leaves – 2 tblsp
---
Method
Clean and chop ladies finger into bite size pieces. In a microwavable bowl, add the ladies finger and toss it with 2 teaspoon of oil. Microwave high for 2-3 minutes with stirring in between. This will help reduce the stickiness.
Chop onions finely, cube the potatoes. Heat kadai with remaining oil and splutter jeera. Add finely chopped onion and fry till transparent. Add cubed potatoes and sprinkle some salt for it. Cook for 3-4 minutes.
Add the microwaved ladies finger. Add more oil if needed and check for salt. Cook covered for 5 minutes.
Add red chilli powder and amchoor powder. Give a stir for a minute. Finally add chopped coriander leaves.
Notes
Instead of microwaving the ladies finger, you can fry it in oil stove top too. Microwaving is to reduce oil consumption.
You can add Dhaniya powder along with red chilli powder.
I dint had tomatoes so added amchoor powder.
We had it with rice and dal. Pair it with any rice variety. Or even you can eat it with phulka/
roti
.