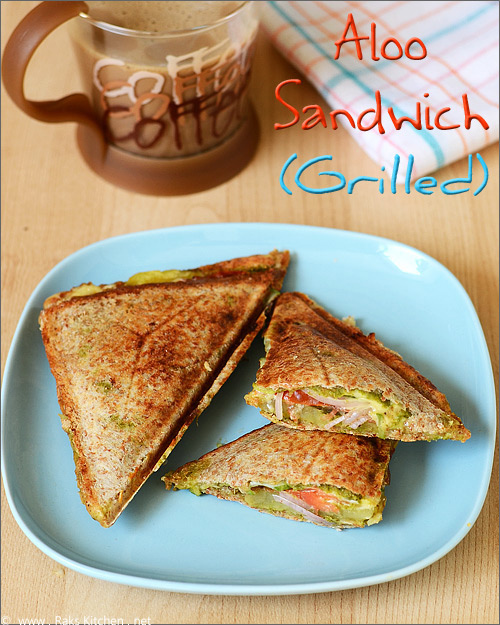 Aloo veg grilled sandwich, also known as bombay sandwich, Indian style sandwich with green chutney and aloo/ potato combo. With the indian spices, it is perfect to suit our taste buds.
Also perfect for lunch box, both kids and adults. I make this sandwich very often for breakfast. Minus green chuteny and aloo(potato) . But wanted to try this North Indian style grilled sandwich with
green chutney
and aloo for long time. So tried and found it a lot tasty and quite a change for the regular sandwich. I wanted to post more sandwich recipes here in my blog, so I thought of trying and posting this grilled aloo sandwich. This is perfect for breakfast as it has cheese, potato and other vegetables and our Indian touch to it, the green chutney. This sandwich with a glass of milk/ coffee makes a wholesome breakfast that can keep you filled for long time. Try this for your kid's lunch box too, they will sure love it with the cheese and potato in it👫!
Grilled Veg – aloo Sandwich recipe
Recipe Cuisine:
Indian
|
Recipe Category:
Breakfast
Prep Time
:
5 mins
|
Cook time: 5 mins
|
Serves
:
2
Ingredients
Bread slices – 4
---
Onion – 1
---
Tomato – 1
---
Cucumber – 1
---
Boiled potato – 1
---
Green chutney – 4 tsp
---
Chaat masala – 1 tsp
---
Black pepper powder – ½ tsp
---
Cheese slices – 2
---
Butter – As needed
---
How to make aloo veg grilled sandwich method
Slice the veggies and gather all the other ingredients, in between the two slices, spread green chutney, butter if desired, place a slice of cheese and arrange the veggies and sprinkle pepper, chaat masala over it.

Lastly sliced potatoes and close the sandwich with other slice of bread and repeat the same for the next pair of slice. Place it in a greased sandwich maker and cook for 2 minutes or as per the sandwich maker's instructions.
Notes
I fold the cheese slice and keep it towards center of each piece, so that it doesn't ooze out easily. Also grated frozen mozzarella oozes out less.
Clean the sandwich maker as soon as you take out the sandwich and when hot to take out easily the oozed out cheese if any.
Make sure to grease with generous butter.
No specific recipe for this, you can skip any one or two, still tastes great!
I made it in my sandwich maker, dont worry if you don't have one, you can make it in tawa too. You can also use the griller plate if you have it.
Filling Indian style sandwich, perfect for your breakfast or snack is ready to enjoy!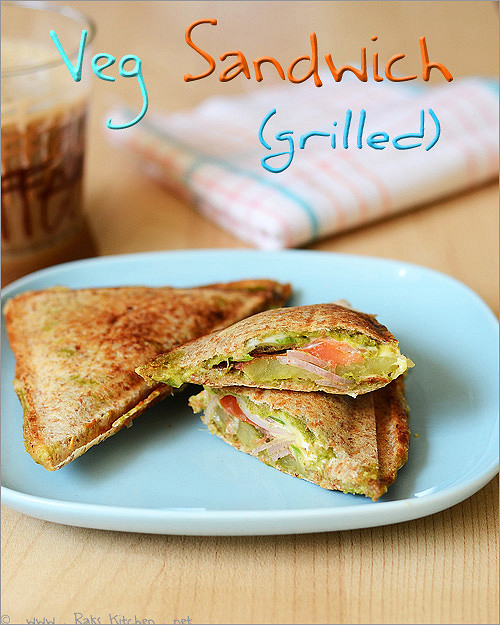 Tags: aloo sandwich recipe,grilled potato sandwich recipe,sandwich recipes,kids lunch box ideas,kids recipes,breakfast recipes,veg grilled sandwich recipe,vegetarian sandwich recipes,veg sandwich,green chutney