Lets learn how to make fruit custard using store bought custard powder. I have used just apple in this, but you can buy your favorite flavour of custard powder and use the fruit of your choice, for example use banana custard powder and use banana or even same vanilla custard and mixed fruits.
This one is a very simple one,first I tasted in my Sis-in-law's place…we liked it very much👍. If you are looking for any dessert that's very easy to make and yet tasty to impress the guests,try this,they sure will be satisfied…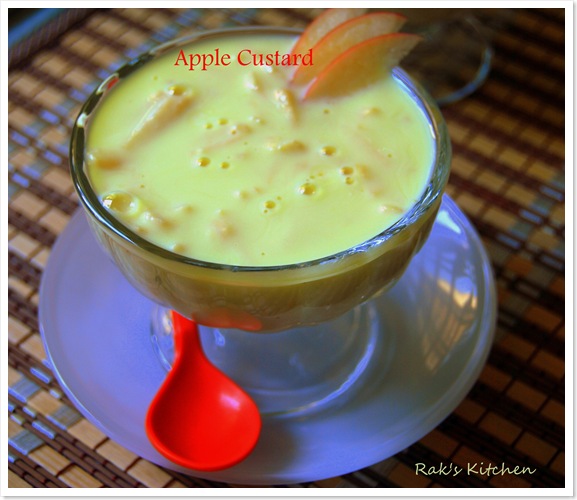 Don't have custard powder🤔? No worries. You can substitute 2 tablespoons of cornflour (white corn flour called as corn starch),½ a pinch of food colour of your choice and ¼ teaspoon of vanilla essence, for the given below recipe…essence is also your choice and can change it according to the fruit you use..
To my taste,I like apple and vanilla the best😁.
Ingredients:
| | |
| --- | --- |
| Apple | 1 no.chopped finely(skin peeled & de-seeded) |
| Milk | 500 ml (2 cups) |
| Custard powder | 2 tblsp |
| Sugar | 4-6 tablespoon (adjust as per ur taste) |

(updated picture)
Method:
In a small bowl take the custard powder and add a 5 tblsp of milk from the 500 ml and dissolve it into a smooth liquid without any lumps.

Boil the remaining milk with sugar in a heavy bottomed/non stick vessel.
Add the custard powder dissolved in milk,slowly and stir well continuously.
It will get thick immediately,so be careful.After few minutes,remove from heat and cool down.

Refrigerate it and at the time of serving,chop apples finely and add it to the cold custard..mix well and serve cold!

I topped with caramel syrup I had .
You can use fruits of your choice and mixed fruits too to make it colourful looking 🙂
The consistency can be varied by varying the measure of custard powder. I like mine bit thinner than usual,but the measure given in the recipe will bring the correct consistency of custard…