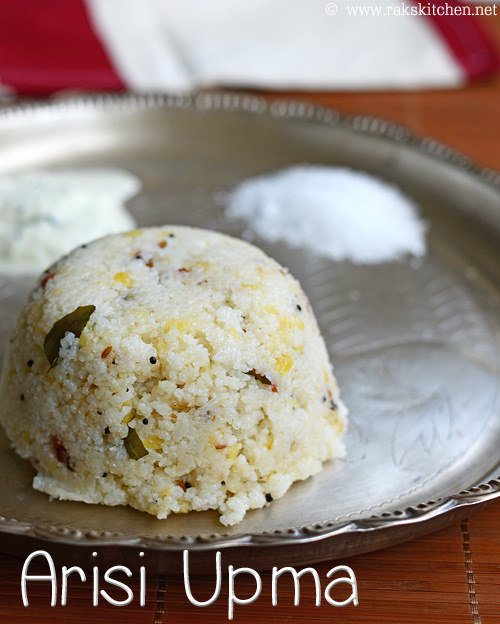 Arisi upma is made with raw rice and dal, we make it with toor dal (thuvaram paruppu) but I have seen people make with chana dal and moong dal too. Very easy and simple recipe and one pot meal if you are looking for a filling breakfast or dinner. Very easy and simple recipe and one pot meal if you are looking for a filling breakfast or dinner. We make another version which is an easier one with arisi noi (broken rice) It has no dal other than tempering. I have posted it how to make
rice upma
in rice cooker earlier. But wanted to post this authentic version my family makes for long time. I knew many of my readers search as arisi upma raks kitchen too. For past few months, I am making this version often and thought making a post. My mom used to make it in vengala paanai, which will lend you a golden crisp adai in the bottom. It will be so delicious and I miss it. Next time I am going to bring a vengala panai sure for making pongal and this upma mainly😉.
Arisi upma recipe
Recipe Cuisine: Indian | Recipe Category: Breakfast/ brunch
Prep Time: 15 mins | Cook time: 20 mins | Serves: 3 | Author: Raks anand
Arisi upma is made with raw rice and dal, we make it with toor dal (thuvaram paruppu) but I have seen people make with channa dal and moong dal too. Very easy and simple recipe and one pot meal if you are looking for a filling breakfast or dinner.

Ingredients
Raw Rice – 1 cup, heaped
Toor Dal – 2 tbsp
Black Pepper – 1/2 tsp
Cumin seeds – 1/2 tsp
Water – 2 & 1/4 cup
Coconut Oil (Optional)
Salt – as needed
To temper
Oil – 1 tbsp
Mustard – 1 tsp
Urad Dal – 2 tsp
Channa Dal – 1 tbsp
Asafoetida – 1 generous pinch
Red Chili – 1
Curry Leaves – 1 sprig
How to make arisi upma Method:
First wash and soak rice, dal together for minimum 10 mins or maximum 2 hrs. Drain water and spread over a cotton cloth for 10 minutes.

Transfer little at a time to a blender. Grind it for few seconds to make it like rava. Make sure not to powder it finely. Coarsely grind pepper and jeera too.

In a small pressure cooker or heavy bottomed vessel, heat oil and temper with the items under 'To temper' table. Add water, salt and mix well.

Bring to boil and add the powdered rice, dal mixture. Cook until it turn like a porridge.

Lower the flame to medium and pressure cook for 2 whistles or cook in lowest heat for 15 minutes.

Once done, open and fluff it, drizzle with coconut oil.
Notes
How much ever you soak the rice, the upma turns soft that much.
If you grind rice and dal altogether at a time, then it will get powdered at the bottom and be as such in the top, giving you un even grains. So grind little at a time.
You can skip pepper and jeera.
If you want adai at the bottom, after opening the cooker, keep in the flame low for 10 minutes.
You can use grated coconut towards the end to give a unique taste and flavour.
the best combination for rice upma. I eat as such or with sugar too.