Every Friday my mom makes some payasam and does vilakku pooja, till date. so I have had this gazillion times before marriage. After marriage, I would have made 4 or 5 times,only when some one visits for lunch. Its very easy to make and ready in less time comparatively(I always stick,adapt the easier one,lazy me 😉 ). I have seen my mom-in-law making this in microwave oven and she adds sugar,while my mom adds jaggery. I am loving the jaggery version now a days..hmm..strange…! I used to love the sugar version when my mom used to make!! Taste always keeps on changing for me!!
I have given microwave version,step wise picture. But also the method for stove top method,adopt which ever you are comfortable with. Scroll down for stove top method.
How to make aval payasam video (Stove top method)
Aval payasam recipe
Recipe Cuisine:
Indian
|
Recipe Category:
Sweets/ dessert
Prep Time
:
5 mins
|
Cook time: 10 mins
|
Serves
:
2
Ingredients
Aval/ rice flakes/poha - ½ cup
---
Jaggery - ¼ cup + 2 tbsp
---
Milk - 1 cup
---
cardamom - 1
---
cashews - 5
---
Ghee - 2 tsp
---
Instructions:
Heat a pan with teaspoon of ghee and fry the cashews till golden brown and in the same pan,add the aval and fry till golden brown.

Boil 2 cups milk (needs more milk) and add the fried aval to it and cook in medium or low flame till the aval is done. Takes roughly 8 minutes.

Boil ½ cup water and add powdered jaggery to it. Heat until dissolved. Filter to remove any impurities.

Add the jaggery,elachi annd mix well in low flame. Don't boil more than a minute as there are chances of curdling of milk.
Notes:
If you want to make it super fast, you can just coarsely grind the poha after frying and make,will be done in no time!
The jaggery amount is approximate,adjust as per your taste. You can add as much as ½ cup jaggery.
If you feel the jaggery you are using has no impurities,you can use as such.
Same recipe can be made with sugar too.
Want to make it vegan? Skip ghee and milk. Use water for cooking poha / aval and finally finish by adding thick extracted coconut milk. Do not boil after adding coconut milk. Just heat slightly. Cashew nuts can be added roasting in coconut oil (Virgin coconut oil).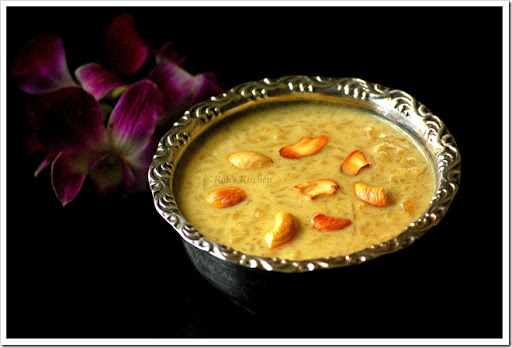 This was our Friday's payasam at home 🙂
Method:(For microwave oven)
I have shown here with ¼ cup of Aval(but mentioned the recipe for ½ cup) for microwave method.
Take a microwavable glass bowl large enough to hold the boiling milk.
Take the aval and mix half teaspoon ghee with it and micro wave in high for 2 minutes .Stir in between to ensure even frying.

Add ½ cup of milk, microwave in medium for 3 minutes. By the time it ends,all the milk would have been absorbed by aval.
Add ½ more cup to the aval and again cook in microwave medium for 3 minutes. By now the aval would have got cooked.
Add powdered jaggery,elachi and mix well. The jagerry will get dissolved in that heat itself.

Add more milk to get the desired consistency and just heat for 1 minute in microwave medium.
Let it stand for a minute and stir well.
In another microwavable glass bowl,coat the broken cashews with ghee and microwave in high till golden brown,hardly takes time within a minute. And mix it with the payasam.
Sinfully delicious payasam is ready in minutes 🙂