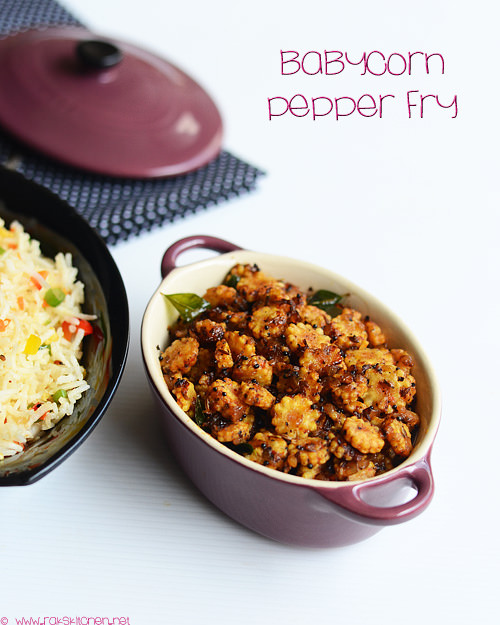 I cook baby corn weekly once atleast as it is one of the few vegetable that Aj eats. But Vj used to always complain he gets a different (medicine) smell in baby corns when ever I make something with baby corn. Recently I have started buying Organic vegetables that is available in Fairprice. They have very few choice, so I look for and buy possible vegetables like ladies finger, radish, beans, cabbage, cucumber and this baby corn. Carrots rarely will be good, so pick that too. You would have seen these cute carrots in my
carrot orange juice
. But now a days, not so good looking carrots is there in the organic section, so I go for the usual Australian carrots. But Vj always now a days insists to buy these organic baby corns as he finds it perfect. He complains no odd smell in it. Even I realize that. I make baby corn bajji for Aj or this stir fry these days.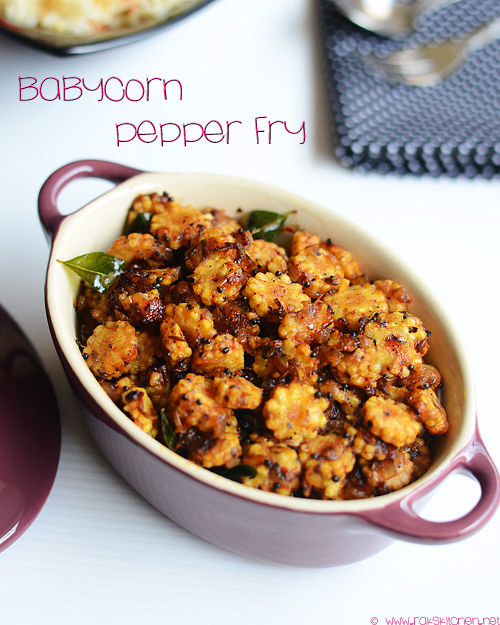 Baby corn pepper fry recipe
Recipe Cuisine:
Indian
|
Recipe Category:
Breakfast
Prep Time
:
10 mins
|
Cook time: 20 mins
|
Serves
:
2
Ingredients
Baby corn – 10
---
Onion – 1
---
Garlic – 3 flakes
---
Red chilli powder – 3/4 tsp
---
Black pepper powder – 1 tsp
---
Tomato ketchup or sauce – 1 tsp
---
Salt – As needed
---
To temper
Oil – 2 tsp
---
Mustard – 3/4 tsp
---
Cumin – 1 tsp
---
Curry leaves – 1 sprig
---
Method
Clean and cut baby corn into thin rounds. You can cut as long thin strips too, but I always cut into thin circles. Pressure cook it with little water and salt for 2 whistles. In a pan, heat oil and temper with the items given under 'To temper' table, followed by crushed garlic. You can use your garlic press or crush with knife.

Fry onion till transparent. Add cooked baby corn, salt, ketchup, chilli powder, pepper powder.

Mix and stir in medium flame for 3 minutes. Drizzle little oil if needed.
Notes
Adding half chilli powder and half pepper powder adds spiciness and flavor to the stir fry. So I recommend using chilli powder too for best results.
You can add a dash of lemon juice towards end to balance the spice.
You can skip onion in the recipe.
Serve as accompaniment for any rice – We had with Fried rice.