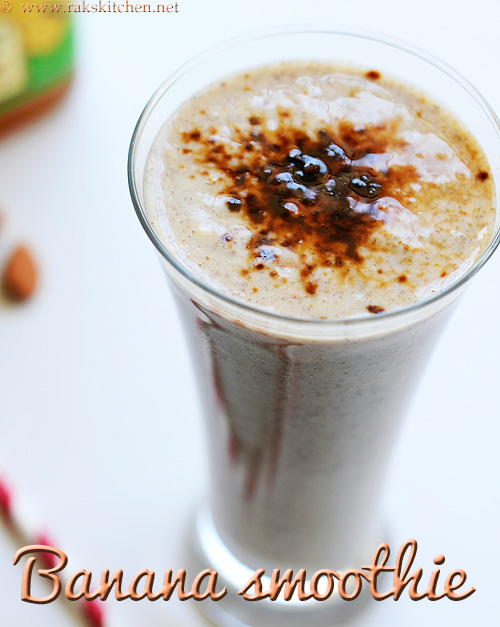 This is an easy banana smoothie with almonds and chia seeds, to kick start a day with full of energy. Healthy and filling to keep you full in the morning. Chia seeds has a lot of health benefits as it is rich in dietary fiber, protein, minerals, omega -3 fats. You can substitute chia seeds with flax seeds as well.
Banana smoothie recipe
Recipe Cuisine:
Continental
|
Recipe Category:
Breakfast
Prep Time
:
5 mins
|
Cook time: 0 mins
|
Serves
:
1
Ingredients
Banana – 1
---
Milk – 1 cup
---
Almonds – 6
---
Chia seeds – 1 tablespoon
---
Honey – 1 tablespoon
---
Vanilla – ¼ teaspoon
---
Method
I used frozen banana slices. You can freeze the banana for an hour to make it cold, so that the smoothie is cold. Also use chilled milk. Place everything in a blender and blend smoothly.
Notes
You can first grind almonds with banana and little milk and then add rest of the milk. When I ground everything together, I got almond bits in between. I liked it very much, but if you want it smooth, you can first grind it smoothly to a paste.
You can also add a dash of cinnamon powder to this smoothie.
Serve immediately. Delicious as well as healthy and easy breakfast smoothie! I topped with a pinch of my favourite chocolate drink 🙂