I have never imagined such
rasam
before, but when Sangeeta sent the picture it was quite appealing. She sent me the recipe not one time not two time but 4 times in whatsapp as my phone gone faulty. Still she patiently sent me every time I asked her the recipe, so finally today I tried the rasam. While I was preparing the rasam itself, it was so flavorful and loved the aroma a lot. Its worth a try and you can make kids consume beets if they don't eat in the other forms. I had a cup of this rasam as such and it was so good to have it as a soup to drink too.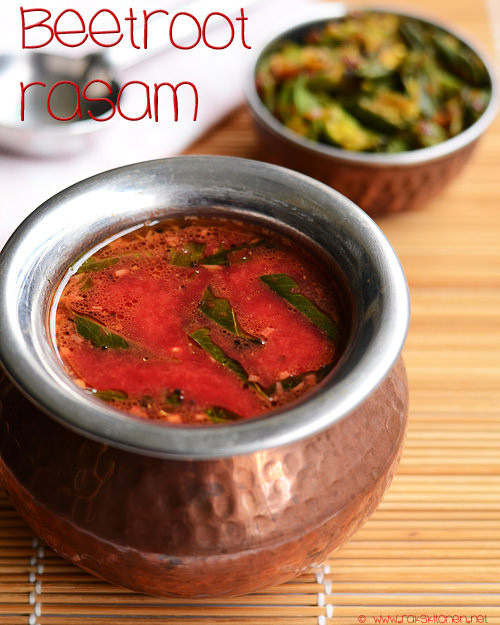 Beetroot rasam recipe
Recipe Cuisine:
Indian
|
Recipe Category:
Lunch
Prep Time
:
5 mins
|
Cook time: 20 mins
|
Serves
:
4
Ingredients
Beetroot, small – 1
---
Tamarind – Small gooseberry size
---
Jaggery – 1/4 tsp
---
Rasam powder (Optional) – 1 tsp
---
Green chilli – 2
---
Turmeric – A pinch
---
Salt – As needed
---
To roast and grind to paste
Oil – 1 tsp
---
Red chilli – 4
---
Coriander seeds – 1 tblsp
---
Fenugreek seeds – 1/2 tsp
---
Jeera – 1 tsp
---
Curry leaves – 5
---
Coconut, grated – 1/4 cup
---
To temper
Oil – 1 tsp
---
Mustard – 1 tsp
---
Curry leaves – 1 sprig
---
Finely chopped Garlic – 2 tsp
---
Asafoetida/ hing – 1 pinch
---
Method
Cook beetroot until soft. You can do it either on stove top by peeling off the skin and boiling in water, or pressure cook it or microwave it. Once done, cube and keep aside. Soak tamarind in hot water, extract juice, add water and make it total 4 cups.
Roast the ingredients under 'To roast & grind' table in order.
Cool down and grind it with the cooked beetroot and little water to a paste.
Boil the tamarind water, say for 3 mins, add the ground paste, rasam powder if using, salt, jaggery, turmeric, slit green chillies. Mix well.
Let it froth and boil for a minute.
In a kadai, heat oil, temper with the items given under 'To temper' table and add it to the rasam, mix well.
Notes
I used a small beetroot, which gave so much volume, if the beetroot is big, use just half.
Coconut must be added towards the end after the other ingredients get roasted, while roasting.
You can add coriander leaves as garnish, will enhance taste and flavor.
Serve hot with rice and appalam or any vegetable side dish.