Blueberry pancakes without eggs. A simple recipe when you run out of eggs without compromising the softness. Do try it!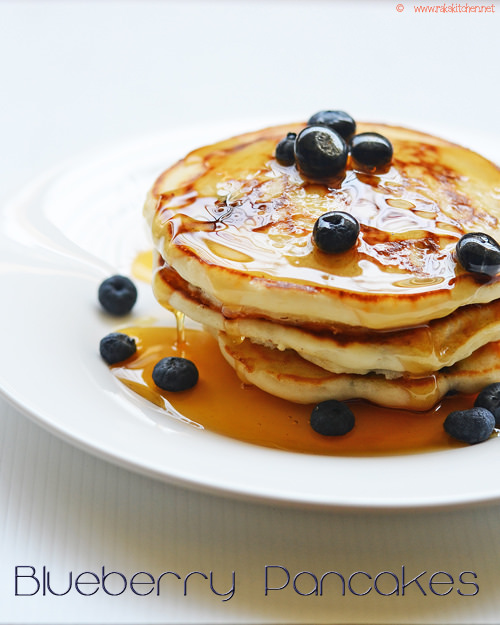 Jump to:
I made this one for Thozhi Magazine's step by step series. Yes! my step by step pictures and recipes are getting published in Thozhi magazine monthly.
Though I do not post all the recipes here, I loved to have this one in my blog here as this is a simple and tasty pancake recipe.
This is just adding blueberries to the regular pancake batter. Perfect for kids and adults.
I am sure this recipe would help all those who hate pancakes just for the sake that it is too eggy for them, coz this is eggless!! 🙂
Blueberry Pancakes recipe
Recipe Cuisine: Oriental | Recipe Category: Breakfast
Prep Time: 10 mins | Cook time: 15 mins | Makes: 6
Ingredients
All purpose flour/ plain flour - 1 cup
Fresh blueberries - ¾ cup
Milk - 1 cup
Sugar - 1 tbsp
Salt - ½ tsp
Butter - 1 tbsp
Baking powder - 1 tbsp
Butter and honey - For topping
Method
Place the dry ingredients in a bowl. Mix well with whisk, you can also sift.
Add the wet ingredients - melted butter, milk and mix until smooth and no lumps are there. The consistency should be like idli dosa batter.
Add blueberries and mix gently. Keep aside for 10 minutes.

After ten minutes, heat an iron skillet preferably for even cooking and heating and switch off the stove and leave it for 5 minutes. Again switch on the flame and put it in medium flame. Grease with butter and pour one big ladle full of batter carefully. Do not spread. 
Wait until bubbles pop over the pancakes and the colour changes and flip carefully. Cook the other side for a minute and transfer to serving plate.

Notes
Iron skillet (Iron dosa pan) works best to get golden brown colour and even cooking.
If you want you can cover and cook after flipping, this makes it even more soft and locks the moisture.
If you heat the pan really hot and make the pancake immediately, the pancakes turn dark brown in colour. That's why I have heated the pan and switched off for a while to bring the temperature medium. ( I saw this in a video in you tube)
If the pan is too hot, the pancakes will have edges like flower. that is it wont be a perfect circle. So make sure to keep the heat medium.
Use a big ladle, so that for all the pancakes, you use only one and so all of them would be on same size.
You can use whole wheat flour as well, but experiment with the milk volume as it may take more.
You can add cinnamon or vanilla essence to make it more flavorful.
You can make this same with non diary milk and make it vegan.
You can stack and keep them to keep it hot and the topping can be honey or butter depends on you taste 🙂