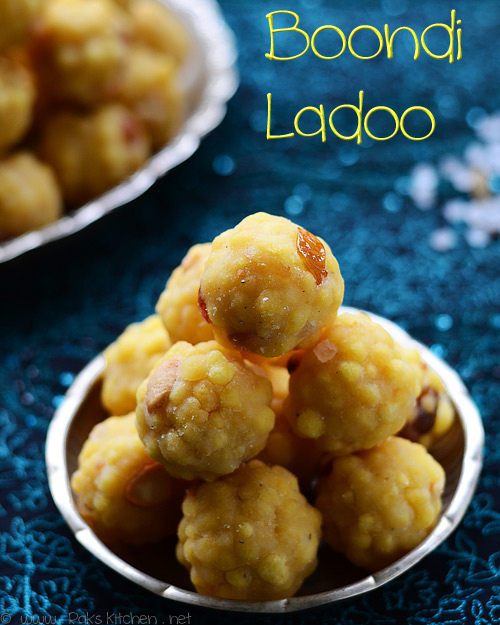 Boondi Ladoo – I have helped my mom making Boondi ladoo / Boondhi Laddu recipe from my childhood. I love making this and enjoyed every time making ladoos. Especially shaping the ladoos. I used to feel so proud shaping the ladoos myself as well as helping my mom. And the same recipe we used to do everytime, my mom wrote and kept in the recipe notebook and passed it to me. And this is that same ladoo recipe. After trying sweet boondi successfully, I wanted to make this ladoo too. I dint want to rush it last year, so thought of making this year. And happy that it came out great too. I have a helping video too for shaping the ladoo, to show how I shape it. I use only one hand to shape ladoo as I learnt that way. So the size of the ladoo also relative to that. How about the taste? It taste so divinely! With cloves as main flavouring ingredient. It comes out amazingly flavorful just like we eat in marriages.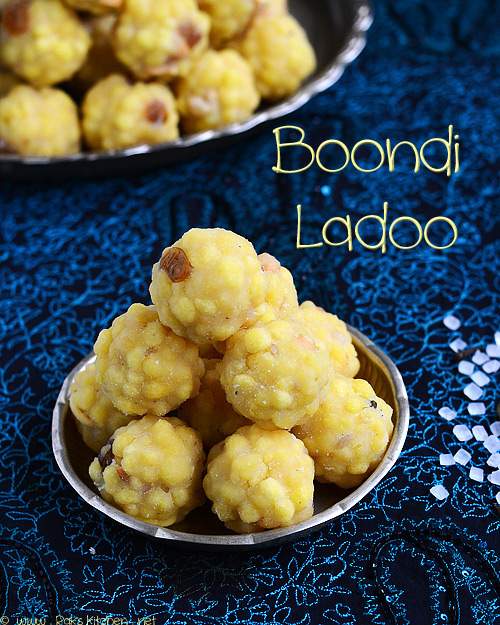 Boondi ladoo recipe
Recipe Cuisine:
Indian
|
Recipe Category:
Sweets
Prep Time
:
25 mins
|
Cook time: 25 mins
|
Makes
:
30
ladoos
Ingredients
Besan/ Kadalai maavu / bengal gram dal flour – 1 & 1/2 cup
---
Sodium bi carbonate – 1 pinch
---
Sugar – 2 & 1/2 cup
---
Elachi/ cardamom – 5
---
Cloves – 5
---
Edible camphor (optional) – A small pinch
---
Rose essence (optional) – 3 drops
---
Nutmeg powder(optional) – A pinch
---
Salt – A pinch
---
Yellow food colour (optional) – A small pinch
---
Cashew nuts – 10
---
Raisin – 15
---
Sugar candy (kalkandu) – 15
---
Method
Sieve besan, add cooking soda (sodium bi carbonate), salt, food colour and mix with water in a bowl. The consistency should not be too thick or too thin. Just right enough to get through the holes of the ladle easily.

Heat oil and use a big slotted spoon to make boondis as shown below. You will be needing two big ladles with holes as seen in the picture below(slotted) . One for making boondi and one for draining from oil. Use another deep ladle to spoon the batter. Pour one ladle of batter over the ladle with hole holding it just above the oil and spread it. Make sure to hold the ladle high enough. If its too close, tails will be forming in the boondi.

Wipe the ladle with the karandi as seen below everytime. Fry with constant turning to ensure even cooking and drain once the bubbles ceases, no need to wait until it gets very crispy. Just make sure its cooked. Drain in paper towel. Repeat to finish the batter.

Then start with the sugar syrup now. In a heavy bottomed vessel, boil sugar with water enough to immerse it. Boil until 2 string consistency. If you swipe the back of ladle and check between ur thumb and forefinger, there will be two strings forming in-between the fingers. Or you can keep a small bowl of water and pour a little syrup in it, it will not dissolve and you can move the syrup and gather it. Switch off the stove. This is tricky, but after one string consistency reaches,this stage comes quickly. Make sure to keep the flame in medium or low to not pass this stage. You can add a tsp of lemon juice to prevent crystallization. Add the cardamom powder and remove from the flame. Add essence if adding to it. You can add food colour in syrup too.

Add boondi to this. Fry broken cashews, followed by raisins, cloves and add it to the boondi. Do not over mix as it might crystallize.

Add edible camphor as shown very less, powdered between ur fingers, add nutmeg if desired. Add kalkandu. Mix well.

When the boondi is warm enough to handle, make laddoos. Do not let the mixture cool down. Please refer the video below to see how I shape the ladoos. I use gloves, but its optional, you can use your bare hands. No need to grease your hands. Just squeeze and press to roll the ladoos, the syrup will ooze out while you roll and it helps in holding the ladoos as it cools down, the syrup solidifies and holds the boondis together to ladooooo 🙂
Notes
Hold the ladle up from oil well, otherwise you will get tails in the boondi.
Adding colours is optional, you can make it plain.
Adding cloves, edible camphor and essence is optional. Smells great even simply with elachi. But I like it with all these 🙂
If the batter is too thick, you will get boondis with tail. So add more water and try.
If the batter is too watery then the boondis may fall flat. So add more gram flour and try.
Start making ladoos as soon as its warm enough to handle.
Do not add cashews, rasins or kalkandu more as it would be difficult while shaping ladoos.
Also be careful while adding edible camphor. If you add more, it would be over powering.
Reasons for sugar crystallizing and not able to make ladoo :
a)Sugar syrup not made in medium flame.
b)Boondi is too much for the sugar syrup.
c)Letting boondi cooldown too much.
d)Boondi fried until crispy and not soft.
Ladoos stays good for a week in shelf. The flavour gets more better from the next day 😉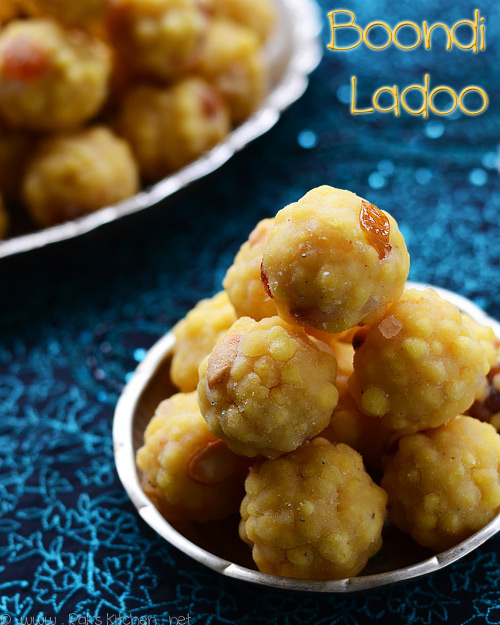 Here is the video how I shaped the ladoos.