Boondi Ladoo is a traditional sweet made for Diwali and other festivals or special occasions. Step by step pictures post.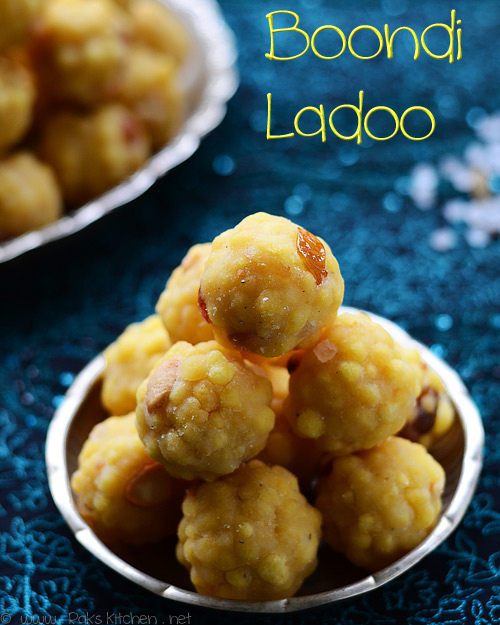 Boondi laddu is a classic Diwali sweet as well as perfect for special occasions and celebrations, apt for gifting!
You may also like to check my post on how to make perfect motichoor laddu. If you are looking for spicy version, then check my traditional Kara boondi recipe.
Jump to:
About
Boondi ladoo or laddu is an Indian sweet made with gram flour, sugar and oil or ghee. It is shaped spherical and widely popular across the country.
Laddu is also popular in other countries like Malaysia, Indonesia, Myanmar etc. (source: Wikipedia)
I have helped my mom making Boondi ladoo from my childhood. I love making this and enjoyed the process every time.
Especially shaping part is so much fun. I used to feel so proud shaping the ladoos myself as well as helping my mom. It's very rare I help my mom in kitchen you see! 😂
My mom wrote and kept in the recipe notebook and passed it to me. After trying sweet boondi successfully, I wanted to make this ladoo too.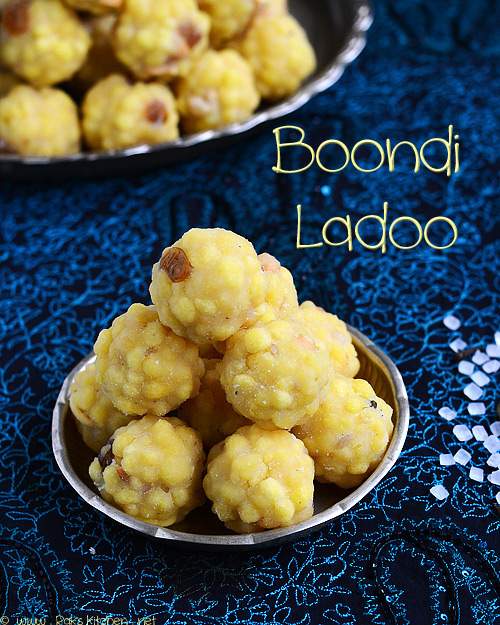 Did not want to rush it last year, so thought of making this year. Happy that it came out great too.
I have a helping video too for shaping the ladoo, to show how I shape it. I use only one hand to shape ladoo as I learnt that way.
So the size of the ladoo also relative to that. Now I have updated with full video. Go ahead and try yourself, it is not at all difficult. Worst case you can eat it as boondi 😆
Ingredients
Gram flour - split chickpea flour, Besan (Hindi) or kadalai maavu (In Tamil) is main ingredient in this ladoo for flour part. Use laddu besan (coarse) or regular ones which ever you get.
Flavoring agents - Which makes ladoo smell divinely like we get in marriages. My mom vouches in adding cardamom, clove atleast and rose water, nutmeg, edible camphor are the secret to take it to another level.
Sugar
Oil
Verdict
How about the taste? It taste so divinely!
With cloves, rose water and edible camphor as main flavouring ingredients, it comes out amazingly flavorful just like we eat in marriages.
Top tip
Sieve besan for best results.
Adding yellow food color gives bright ladoo, if not it will be pale. I too did not add so it is pale in color. In the video I tried a pinch of turmeric.
2 string consistency is bit tricky. To keep it simple, after one string consistency, continue for 30 seconds to 1 minute in medium flame.
Do not boil more than that as the syrup will get thicker and gets difficult for boondi to get soak and absorb syrup.
My ladoo has more sugar ratio and gives dry ladoo. Since the syrup is thicker, this is the measurement my mom makes. She says she even adds double the sugar as besan.
If you taste as soon as you make ladoo, it may be too sweet. It tastes balanced next day, trust me!
Still if you feel sugar is more you can reduce by ¼ cup in this recipe (so use 2 & ¼ cup sugar)
Tips for perfect boondi shape:
If the batter is too thick, you will get boondis with tail. So add more water and try. (add little by little, say a tbsp)
When the batter is too watery then the boondis may fall flat. So add more gram flour and try.
If oil is not hot, the boondis form clusters.
My notes
Nutmeg and edible camphor is optional. But gives best flavors.
If the boondi is fried for long time, turns crisp and is not soft, it will be difficult to shape the ladoo.
Even if the syrup consistency has not reached the required thickness, it won't hold shape.
If the boondi gets cold, the sugar blooms and makes it difficult to shape.
In case Boondi is too much and less sugar syrup, sugar crystalizes fast and makes it difficult to shape.. To troubleshoot this, again make syrup and add to the boondi, warm the mixture slightly and try again.
Shelf life
This boondi ladoo stays good for 10 days in room temperature. If you want to store longer, keep refrigerated.
FAQs
My Boondi ladoo is not soft, why?
Probably you fried the boondi little longer than needed. If it turns crisp, then it will be hard.
Same reason, it won't absorb syrup too and makes difficult for shaping.
Boondi does not absorb sugar syrup, why?
Do not let syrup cool down, Once the syrup is ready, you should add the boodi immediately. Do not overcook the boondi crispy.
Why boondi gets stuck together in oil, falls flat?
Oil temperature is not enough. Test first by dropping few, it should come up immediately.
My boondi is not round, it is tear shaped, why?
The batter is too thick. Add a tablespoon or more water and try again. First test by dropping few using back of a spoon.
Method
Prepare batter
Let's see how to make Boondi ke laddu. Before start making, please sieve the flour and measure.
1. Firstly, take besan, turmeric/ food colour if adding, salt in a mixing bowl. Then add water little by little as you mix (Tip: I use sauce whisk)
2. Secondly, mix well to get a smooth batter without any lumps. You can see the consistency in the below picture.
Remember, if the batter is too thick, the shape will be tear shape (tail) and falls flat if too watery. So adjust accordingly. If it forms tail, add little water (1 tablespoon at a time). If falls flat, add flour and try again.
Frying boondi
Heat enough oil in a broad kadai/ frying pan firstly. Once hot, hold the boondi ladle above oil and pour a big ladle full of batter on it.
2. Using the same ladle, spread around by rubbing the ladle. Just like how we spread dosa over tawa. Do this quickly.
Tip: Before starting the frying, check if oil is hot enough. Dip back of a spoon in batter and drop the batter in oil. It should rise immediately. The shape also should be round. See Tips & My notes for more.
3. Let the bubbles cease. Then stir it for few seconds to ensure even cooking.
4. Once the sound reduces, drain from oil. Do not over cook as it might affect texture.
5. Wipe the ladle well before next batch (both top and bottom, using the ladle itself or use a wet piece of cloth)
6. Repeat to finish all. Drain over paper towel.
Make sugar syrup
1. Firstly, take sugar and water in a pan. Heat to bring to boil.
2. Stir to dissolve and let it boil until two string consistency. See below image on how to check the consistency.
In a plate, drop a little syrup. Wipe it with your forefinger and check between your thumb and forefinger. It will be sticky and two strings forms. Watch video for more understanding.
A string should form without breaking. This is one string consistency. After that, continue to boil for 1 more minute and you get this stage.
Do not let it pass the consistency or else sugar syrup won't be absorbed by the boondi.
Entire process must be done in medium flame especially when it is close reaching the consistency. Add enough water, otherwise the stages pass too soon.
Mixing
1. Once the syrup is ready, immediately add fried boondi to it. Do not let it rest/ cool.
2. Mix well.
3. Meanwhile, take a small pan and heat ghee. Add cloves, cashews and fry until pale golden in color. After that, add raisin. Fry until bloated.
4. Add to the boondi mixture. Also add other flavoring ingredients like nutmeg, cardamom, rose water and edible camphor.
5. Mix well and let it cool.
6. You will see the mixture gets thick/ drier, that's when you should start shaping ladoo.
Shape boondi ke laddu
7. When warm to handle, take a small portion of the mixture in your hand.
8. Start shaping in a squeezing way.
9. Depending on how soft the mixture is or how much syrup is there, the pressure you apply may vary.
10. Repeat to finish. As it cools, becomes drier. This is how mine looked next day.

Old Video on how to shape the ladoo : https://youtu.be/V0-JblWpO9s
No need to grease your hands. Just squeeze and press to roll the ladoos, the syrup will ooze out while you roll and it helps in holding the ladoos in shape. As it cools down, the syrup solidifies becomes dry (old steps image)

Ladoos stays good for a week in shelf. The flavour gets more better from the next day 😉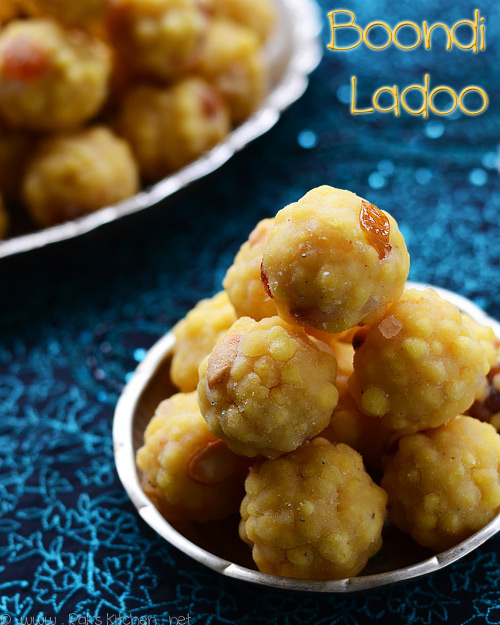 Recipe card
Boondi ladoo recipe
Boondi Ladoo is a traditional sweet made for Diwali and other festivals or special occasions. Step by step pictures post.
Equipments (Amazon Affiliate links)
Cup measurements
Ingredients
1 & ½

cup

Gram flour

Besan / Kadalai maavu

1

pinch

Cooking soda

2 & ½

cup

Sugar

You can reduce upto 2 & ¼ cups for this recipe

5

Cardamom

5

Cloves

1

small pinch

Edible camphor

optional

3

drops

Rose essence

or use 1 teaspoon pure rose water/ panneer

1

pinch

Nutmeg powder

optional

1

pinch

Salt

1

Pinch

Yellow food colour

optional

10

Cashew nuts

15

Raisin

15

Sugar candy

kalkandu
Instructions
Make batter
Sieve besan firstly. Add cooking soda (sodium bi carbonate), salt, food colour and mix with water in a bowl.

The consistency should not be too thick or too thin. Just right enough to get through the holes of the ladle easily.
Frying boondi
Heat oil and use a big ladle with holes to make boondi as shown below.

You will be needing two big ladles with holes as seen in the picture below(slotted).

One for making boondi and one for draining from oil. In addition, use another deep ladle to spoon the batter.

Pour one ladle of batter over the ladle with hole holding it just above the oil and spread it.

Make sure to hold the ladle high enough. If its too close, tails will be forming in the boondi.

Wipe the ladle with the karandi as seen below every time.

Fry with constant turning to ensure even cooking and drain once the bubbles ceases, no need to wait until it gets very crispy. Just make sure its cooked.

Drain in paper towel. Repeat to finish the batter.
Make sugar syrup
Then start with the sugar syrup now.

In a heavy bottomed vessel, boil sugar with water enough to immerse it.

Boil until 1 string consistency. If you swipe the back of ladle and check between ur thumb and forefinger, there will be a string forming in-between the fingers.

After that, continue heating in medium flame for 30 seconds to 1 minute. Switch off the stove. This is tricky, but after one string consistency reaches, this stage comes quickly where two string forms. Make sure to keep the flame in medium or low to not pass this stage.
Make boondi ladoo
Add fried boondi to this and mix well. Keep aside.

Meanwhile, fry broken cashews, followed by raisins, cloves and add it to the boondi.

In goes edible camphor, cardmaom, nutmeg if adding, sugar candy (kalkandu) and mix well.

When the boondi is warm enough to handle, make laddoos. Do not let the mixture cool down. Please refer the video below to see how I shape the ladoos.

I use gloves, but its optional, you can use your bare hands. No need to grease your hands. If you want you can grease with ghee.

Shape to ladoos, firmly make balls and smoothen the surface as you shape.

As it cools, sugar will bloom and ladoo will become dry.

The ladoo becomes best tasting and flavorful form next day (well balanced taste).
Notes
Syrup must be hot and while you add boondi. 
Hold the ladle up from oil well, otherwise you will get tails in the boondi.
Start making ladoos as soon as its warm enough to handle.
Do not add cashews, rasins or kalkandu more as it would be difficult while shaping ladoos.
Also be careful while adding edible camphor. If you add more, it would be over powering in the boondi ladoo.