Bread jamun is an easy version of gulab jamun, which is usually made with either khoya or milk powder as main ingredient. I wanted to try this for long time but was not sure how it would turn out. I was sure since bread soaked in sugar syrup tastes great in Shahi tukra, this should also taste good. Mom passed me a supplementary from aval vikatan with this bread gulab jamun. This recipe had both milk powder and khoya. But I used fully khoya and it turned out good. Khoya is to make it taste rich, instead, you can also skip khoya and use milk or cream to make the dough. My MIL suggested to make it as dry jamun, so I tried few as dry jamun as well. I
referred here
for the idea of rolling over dry coconut and sugar, though MIL too suggested the same. I will update the post later with video.
Wishing you all a very Happy and Prosperous New Year 2016!
🙂🤩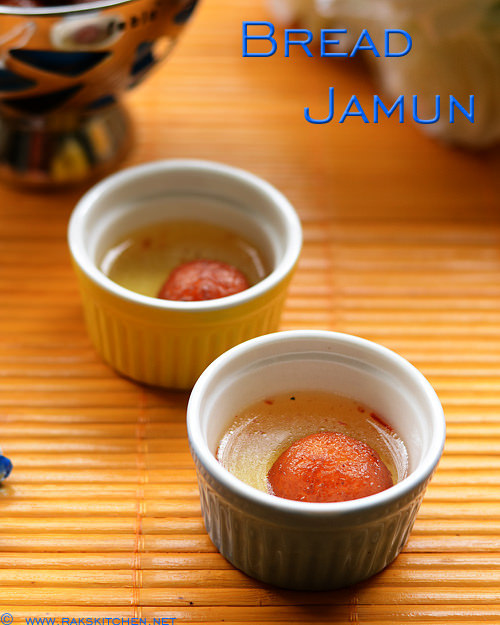 Check out the other Jamun recipes :
Khoya jamun
Sweet potato jamun
Makkan peda
Bread jamun recipe
Recipe Cuisine:
Indian
|
Recipe Category:
Dessert
Prep Time
:
15 mins
|
Cook time: 25 mins
|
Makes
:
25
Ingredients
Bread slice – 8
---
Khoya – ¼ cup
---
water – as needed
---
For sugar syrup
Sugar – 1 & ¼ cup
---
Water – 1 cup
---
Saffron (optional) – Few strands
---
Cardamom powder – 1 pinch
---
Method
I used frozen khoya. Defrost and crumble it to powder and measure ¼ cup (heaped). Trim the brown sides of the bread.

Tear 3 or 4 bread slices roughly and place it in a blender. Grind to powder it. Repeat to finish the same.

Mix khoya and the bread crumbs. Make it as a smooth dough by gently kneading it, sprinkling water. You can use milk too.

Roll into equal sized balls. You can make you favourite shape too. Heat oil/ ghee/ vanaspati in a kadai and fry 6-8 at a time in medium flame.

The oil should be hot and then put the flame to low or medium while cooking the jamun to ensure even browning. Fry until deep golden in colour and drain in paper towel.

Meanwhile you can prepare sugar syrup by boiling sugar, water, cardamom, saffron for 6-7 minutes (Sticky syrup).

Drop the fried bread balls in hot sugar syrup and let it get soaked for 1 or two hours.

Optional step to make dry jamun: Drain and keep the jamuns from syrup for 5 minutes. Roll first in desiccated coconut and then in fine grain sugar. Refrigerate and serve.
Notes
Khoya can be skipped, but use milk or cream to knead the dough.
Be gentle while making the dough and jamun.
I fried in oil + ghee mixed.
Since the bread will have its own flavour, make sure to add cardamom and saffron as needed. You can use 2 drops of rose essence too if you like.
I used milk bread for this, but any bread should work.
Number of jamuns depends on the size you roll. I made it tiny.
Easy bread gulab jamun, soft and juicy, for New year 2016 🙂!!