South Indian breakfast ideas, the first menu idea for my weekend series. Browse over 20 ideas, menu ideas in the series.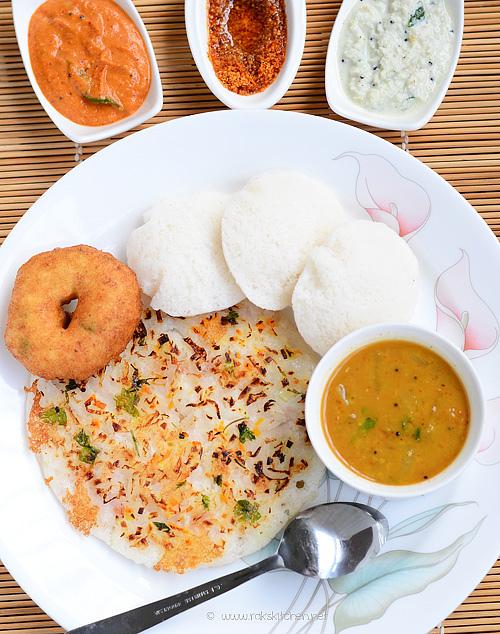 Jump to:
From next weekend, my in-laws will be here and I will sure make something special for them and keep posting in the breakfast menu series. So keep following my weekend series on breakfast menu.
About the series
As I said last week, I am thinking of posting breakfast menus also in between my lunch menu series. This series will not give you elaborate recipes of individuals in the menu, but I will link to the respective recipes.
What's the purpose?
My purpose is to give an idea to those looking for ideas as a menu to plan for a special meal for your family or for the guests. There will be simple as well as elaborate ideas shared.
Ideas with batter
So let me start with South Indian breakfast ideas. I grind for idli dosa batter once a week. And it comes for 4 days breakfast or dinner considering I am using it everyday.
Within that 4 day itself Aj will get bored of it. He likes to eat only once in a week and doesn't like to repeat. So I make sure I make different things with idli dosa batter.
One day idli, ghee roast, uttappam, kuzhi paniyaram, mini idlies, masala dosas, cone dosa. Only we, ladies know how handy is this idli dosa batter.
We just have to worry about the side dish and no need to break our heads for what to make for breakfast in the hurry burry mornings. Also keeps it simple at dinner times.
About this menu
I wanted to make something special to start my breakfast menu, so though not too special, made it look special. I have to confess this too – that I do not make it this much usually.
Just any one or may be two of these. That too because my hubby will be fine with idli, but Aj will be wanting something else and even with side dish, Vj prefers chunteys over sambar, but Aj is opposite to him.
He wants only sambar for anything, be it idli or any dosa variety. So I have to make two side dishes. Anyone asking about me? 😯 well, I am always fine with thool miladai podi. That's my best always when it comes to side dish for idli or dosa.
Aj is fine with anything for breakfast like even breakfast cereals or bread, but we both don't like it that much and always go for our traditional Tamil breakfast menus, always.
It's Handy
If you are working women as well or in hurry to make it ready breakfast, lunch box and relay on breakfast cereals or bread in weekdays, then you can make your weekend special with these kind of spreads with idli dosa batter, so that your family enjoys and yourself too.
Scroll down for recipe links.
Tip of the week
I usually grate coconuts in bulk in my ultra grind coconut scrapper, freeze it in small ziploc covers and use it when ever needed just by defrosting it. So kept the coconut out first before everything.
Planning
Prep Works: As far as this week's breakfast menu, you have to pre plan it the before day itself. So soak and grind to make the idli batter ready. Keep overnight for fermentation.
Vada batter & More tips!
If I need to make vada in the morning, I soak urad dal for 3 hours the before evening and keep it refrigerated overnight. Next morning, after everything is done, just grind for vada in mixie and make vada at the end.
This not only saves time (3 hours soaking time), but also keeping the urad dal refrigerated, gives fluffy and good volume vada batter, in the mixie. Yes you can grind in mixie itself, still get crispy and soft vadas.
I soaked ½ cup urad dal and ground it in the small jar itself, so that we get to eat only one or two each, no over eating 😉
Preparing the menu
Pressure cook dal for sambar. Soak tamarind for the same.
Meanwhile - cutting works, one onion and tomato for onion tomato chutney. And another one onion and 1 tomato for sambar. I used shallots for vada so I chopped them, if not you can use 1 large onion itself for vada. Chopped onions for uttapam.
If using any veggies for sambar, you can chop and cook them too. I find brinjal or carrots or potato, which gets easily cooked for tiffin sambar.
I chopped carrots, coriander leaves and kept ready other ingredients like green chilli and curry leaves. And mixed the ingredients needed for vada in the batter and kept inside the fridge.
First roast chana dal and red chillies for chutney, then season for both chutneys in the respective serving bowls, then for sambar and let it boil in a stove with the veggies.
After that, fry for onion tomato chutney and let it cool down.
By now dal should be done, so finish off the sambar. I used sambar powder for this, not fresh ground sambar powder.
Now to grinding works, first coconut chutney and then onion tomato chutney. Mix well in their respective tadkas and chutneys also ready.
Steam idlies, fry vadas and lastly make onion uttapam as they sit to eat.
So here is the weekend breakfast plate with idli, onion uttapam and medu vada. With sambar, coconut chutney, onion tomato chutney and idli podi as Side dish.
Recipe links
2. Medhu vadai
4. Idli podi
Have a great weekend !🙂 Will meet you with interesting recipes!