I am not a big fan of broccoli. But Aj loves it. I make broccoli stir fry every week. When I saw this in the cook book, I wanted to give it a try. I tried a bit after I finished making and just loved the taste a lot. It was lemony and tangy which I loved the most. Its very easy and made quickly as well. Try this healthy pesto for an alternate for the usual pesto. Here the weather is chilled and it rains
everyday and when ever I touch the camera, its becoming dark as if its 6 o'clock in the evening. Sigh. Yesterday also I was photographing something for the blog and until I prepare, it was bright, the moment I went to click, it started raining. I was praying it should not rain atleast until I finish, but no. Its going to be like this for a while here in SG as its the rainy season now!
Ingredients
| | |
| --- | --- |
| Pasta (I used Penne) | ½ cup |
| Broccoli cut into small florets | ½ cup |
| Parmesan | 2 tblsp |
| Lemon zest | from a lemon |
| Lemon Juice | from half of a lemon |
| Pine nuts | 1 tblsp |
| Salt and pepper | As needed |
| Red chilli flakes | 1 tsp |
| Olive oil | 1 or 2 tblsp |
Method
Boil water and cook pasta as pet the package instructions. Drain and keep aside. Scrap the lemon to gather lemon zest.
Boil water with a teaspoon of salt and add the broccoli and boil for 4 minutes. Drain and keep aside.
Mash it with potato masher or fork roughly and mix in the pine nuts, red chilli flakes and lemon zest. In a pan, place the pasta, add the prepared broccoli pesto. Squeeze the lemon over it.
Mix well and sprinkle salt and pepper as per your taste,drizzle olive oil and lastly spoon in the grated parmesan and mix well to coat the pasta.

Yummy lemony broccoli pesto pasta is ready!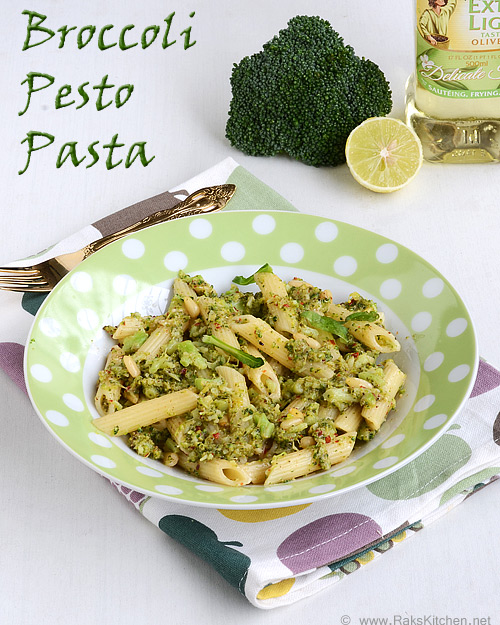 Notes
No need to heat the the pasta after we add broccoli pesto.
Olive oil helps to bind the pesto and pasta.
The quantity given will serve 2 kids.