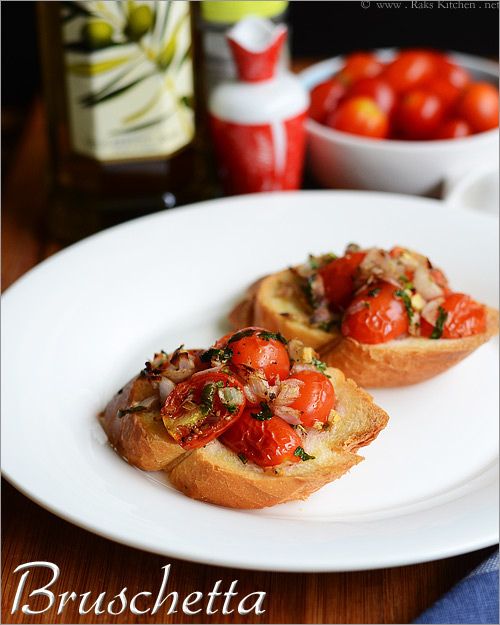 I have tasted bruschetta only once, that was more like bread toasted with
tomato salsa
. But never thought of trying at home, but when I got cute little cherry tomatoes, I wanted to try something out of it, I saw this recipe with garlic in foodnetwork, so I slightly adapted the recipe and came up with this recipe. It was really tasting great, my whole family enjoyed this. It smelt and tasted great. This will make an amazing starter also, can be made in a jiffy and can give you a lot of volume to serve a big crowd! There are many versions and variations of bruschetta recipe, this particular recipe is without cheese.
Bruschetta recipe
Recipe Cuisine:
Italian
|
Recipe Category:
Starter
Prep Time
:
12 mins
|
Cook time: 8 mins
|
Serves
:
3
Ingredients
Baguette bread / french loaf – 1
---
Cherry tomatoes – 30
---
Onion – 1
---
Garlic, chopped finely – 1tblsp
---
Chopped fresh coriander leaves – 2 tblsp
---
Dried oregano – 1 tsp
---
Salt – As needed
---
Olive oil (extra virgin) – As needed
---
Black pepper powder – 1 tsp
---
Method
Pre heat oven to 180 deg. C. Halve the cherry tomatoes lengthwise, finely chop onion, coriander leaves and very finely the garlic. Mix all the ingredients chopped with pepper, oregano and1 & ½ tblsp of olive oil and mix well.
With a sharp knife/ bread knife, slice the baguette bread as shown in the picture. It should be thick (½ inch) and you can either cut it to simple circles or fancy ovals by cutting bit diagonally. arrange the cut slices in a greased baking tray and spoon the tomato mix over like around 3 tblsp over each.
Again drizzle generously over each with olive oil and bake for upto 5 – 8 minutes, or until the tomatoes shrink and nice aroma wafts.
Notes
You can use ordinary tomatoes in place of cherry tomatoes. You can use 2 small in that case.
You can sprinkle some grated cheese over this before baking, use mozzarella cheese for better results.
Instead of black pepper powder, try using chilli flakes.

Serve hot and it makes a great party snack/ starter/ appetizer, without any sweat!