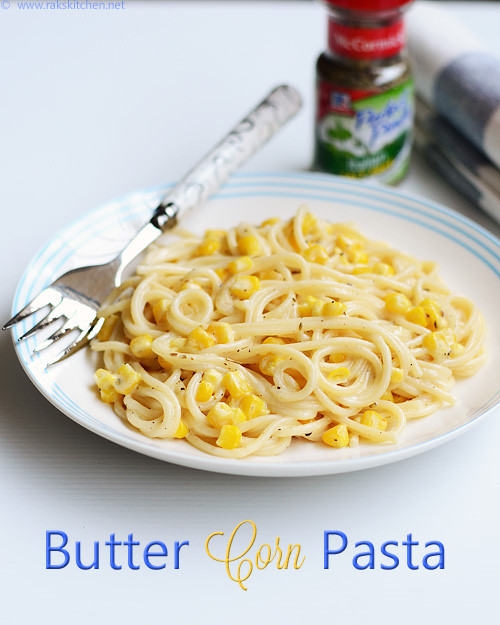 I saw this and got the idea at Changi ariport, in a restaurant menu. I didn't go to that restaurant but just passed by where I saw this in their menu. I really wanted to try this way and was in my to try list for long time. Finally tried 2 weeks back and loved it. It so simple, sure a kid pleaser, a pasta recipe which is not tomato based or other pesto based, creamy, rich yet with less cheese. Kids would be all excited if you make this for them. Check out my other
pasta recipes here.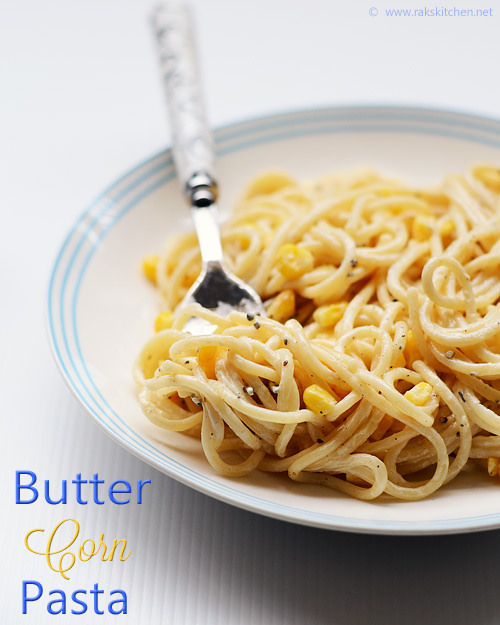 Butter corn pasta recipe
Recipe Cuisine:
International
|
Recipe Category:
Lunch/ Dinner
Prep Time
:
5 mins
|
Cook time: 25 mins
|
Serves
:
2
Ingredients
Spaghetti - 100 gm (small bunch)
---
Butter - 1 tblsp
---
Any Cheese spread - 1 tblsp
---
Corn - ½ cup
---
Milk - ¼ cup
---
Italian seasoning - As needed
---
Crushed black pepper powder - ¼ tsp
---
Salt - as needed
---
Method
Boil enough water for cooking pasta and cook it with salt until tender (al dente). Drain and (Optional -wash with cold water) drizzle some olive oil to revent drying or save some water that we drained from pasta and sprinkle it to loosen it.

Cook corn keep aside. I used frozen corn, microwaved to cook it as per instructions given over the pack. Otherwise you can cook it in high for 3-4 minutes covered, with very little water. Heat butter in medium flame on a pan.

Add the cooked corn and give it a mix. Add cooked pasta, cheese and continue mixing over medium heat.

Add milk, mix well, check for salt, add black pepper and any Italian seasoning.
Notes
Do not cook in high flame or over cook as milk and cheese may end up giving a curled effect.
Also do not use milk more than mentioned.
Serve hot. Juicy sweet corn works best for this.Or any tender corn will turn out well in this recipe.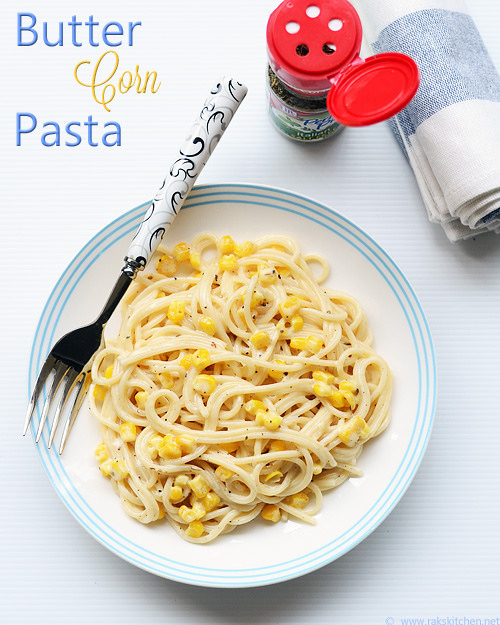 Check out these spaghetti recipes too