Me and Aj are big fan of butter murukku that we get in the shops. I first had butter murukku from A2B, my FIL buys this. Aj also loves this, but as of now, since few teeth fell and few shaking, he was sad that he couldn't eat this murukku when I made this 2 weeks back. Me and my mom keeps discussing why the store bought murukku is totally different from the home made ones. Coz, at our home the ratio is totally different. Mom adds rice flour less than these and the other flour we mix with more. So the texture come different and it will be more flavorful. Also asafoetida flavor will be dominating, which we love. Later I used to think if its not rice flour what they use at the sweet shops, it could be maida. Then as I started making snacks, I realized the ratio of rice flour and the other flour is different, rice flour more means whiter and crispier murukkus. I adapted the recipe slightly from here, but changed the ratios a bit. I could see my readers search for butter murukku in Google as "Butter murukku raks kitchen" and it took so long for me to post!! Sorry about that!
Check out the other murukku recipes from Rak's kitchen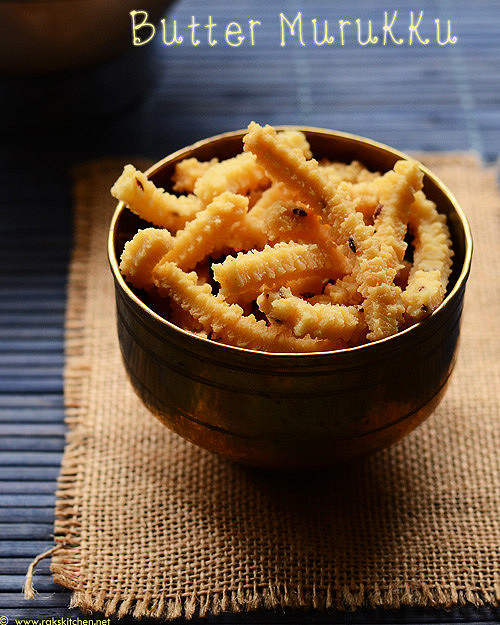 Butter murukku recipe
Recipe Cuisine:
Indian
|
Recipe Category:
Snacks
Prep Time
:
10 mins
|
Cook time: 25 mins
|
Serves
:
4
Ingredients
Rice flour – 1 cup
---
Besan/ kadalai mavu/ gram flour – 1 & ½ tblsp
---
Pottu kadalai maavu/ roasted gram dal flour/ Chutney dal flour – 1 & ½ tblsp
---
Butter, softened – 2 tsp
---
Jeera/ sesame seeds – 1 tsp
---
Asafoetida – 2 generous pinches
---
Salt – As needed
---
Oil – To deep fry
---
Method
Powder pottu kadalai in a mixer. You can powder and keep more than needed, later use for other murukkus.

Sieve it to eliminate the coarse particles. Place all the ingredients in a mixing bowl.

Rub well to mix the ingredients. Then add water to make a smooth dough. Slightly on tighter side. Not too tight, it should be easy enough to press. Reason is we want the butter murukku in strips, not long, broken strips, bite sized. So if its but dry, it breaks by itself as we squeeze. But its not a must, you can either squeeze little and use ur hands to break or squeeze long strips and break later, or even make murukku shape.

Heat oil and squeeze the murukku using the star shaped plate in the press. I used 3 stars plate to make it easy and quick. Cook in medium flame.

Stir in between to flip it and cook both sides, cook until the bubbles and shh… sound ceases.

Drain in paper towel and cool down completely before storing in an airtight container.
Notes
Do not over crowd while squeezing as it will result in oil drunken murukkus.
Holding the press while squeezing above the hot oil in an angle lets the murukku break by itself easily.
Hold the murukku press, safe enough high to avoid hot steam on your fingers.
I used amul butter (salted) but you can use unsalted as well. Do not add more than mentioned as it will dissolve in oil.
You can make the same with besan alone too. Add 3 tblsp besan for 1 cup rice flour.
I used store brought rice flour.
Makes a best snack for tea/ coffee time. Is it not tempting? 🤩