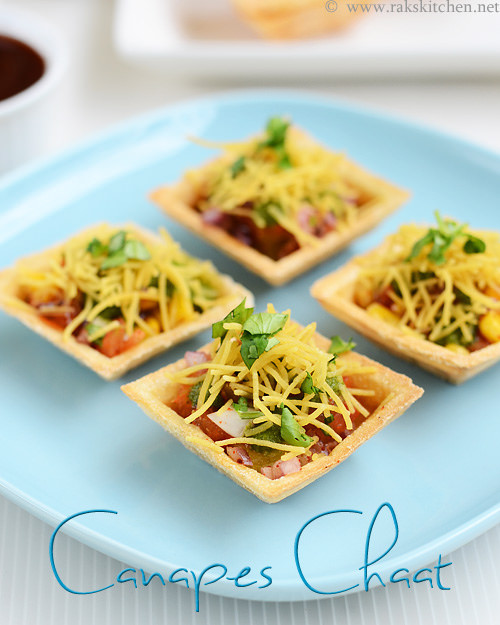 I had this canapes chaat for the first time at my friend Snageeta's house. And instantly fell in love with it! No wonder a chaat lover liked this unique and tasty chaat variety. She made it with ease and it became a hit of that get together. Everyone loved it. Then she showed how she made it and introduced this canapes. That was the first time I tasted
green chutney
and came to know, its very easy to prepare at home too. So I owe her a lot when it comes to introducing north Indian food varieties. And after that, I started to look for the canapes to make at home, but in vain. When ever I order Kailash Parbhat's chaat platter, the corn chaat comes in canapes and I enjoy that too and keep wondering how I could get those canapes.
Before my friend left US for good, she bought these canapes boxes and couriered it to my in-laws home at Chennai. She and her sis-in-law even packed it so that nothing gets broken. And yes, it reached here Singapore when my in laws came here last month as such she sent. Thank you so much Sangeeta🤗. I made this today to post here in my blog and so so happily enjoyed eating these too.
I know many of you going to shoot questions asking where it is available in Chennai. She had got this in Nuts N Spices. And I am going to buy these here after when ever I visit Chennai🙂.
I made this in two ways. You can use this as guidance and use your imagination to make in your favorite way to suit your taste. This can be a great starter for kitty parties and get togethers.
Disclaimer: This is not a paid post/ promoted post for any product or shops!

Canapes chaat recipe
Recipe Cuisine:
Indian
|
Recipe Category:
Snacks
Prep Time
:
25 mins
|
Cook time: 20 mins
|
Serves
:
4
Ingredients
Canapes – As needed
---
Potato – 1
---
Corn (frozen) – 1 cup
---
Onion – 1
---
Tomato – 1
---
Red chilli powder – 1 tsp
---
Chaat masala powder – 1 tsp
---
Lemon – 1
---
Coriander leaves, chopped – 3 tblsp
---
Sev – As needed
---
Green chutney

– As needed
---
Red chutney

– As needed
---
Method
Here, this is the pack she sent and its whole without breaking too!

Deep fry it in oil as we do fryums and vadams. Make sure you fry it well from all sides. That is use your ladle to immerse and fry it evenly. But make sure you don't change the shape of it as when it is hot, it easily changes its shape. Drain in paper towel keep aside.

Chop onion finely, de-seed tomatoes and chop it finely as well. And assuming you have both the chutneys ready (you can grind and keep refrigerated the previous day) and corn can be cooked in microwave at no time. Even if you want you can cook potato in microwave too. Gather all other ingredients, keep everything ready.

Mix onion, tomato, chaat masala, red chilli powder, lemon juice and coriander leaves. Mix a quarter part of it with the cooked corn. If you want, you can add salt in corn. At the time of serving, arrange the fried canapes in a large tray, place either potato + onion tomato mix or corn mixture in the canapes.

Add a dash of red chutney and green chutney and top with sev.
Notes
Green chutney, red chutney and sev can be made the before day itself. Or you can use store bought too.
Adding lemon juice, chaat masala and red chilli powder is according to your own taste.
Fill the canapes only at the time of serving.
Serve immediately after filling the canapes. Once all the ingredients are ready, this is so easy to serve and tastes like heaven!! 😍🤤