I saw this fruit cantaloupe in the shop last week and found it look more similar to the kirini pazham we get in India. When I tried to find out in the net, there are so many varieties like honey dew, cantaloupe/ musk melon. But what ever they belong to, the taste is very similar. And these are great thirst quenchers for the summer and great body coolant as well. I love to eat as such, but Vj likes to have it as juice. Its really yummy and I like its flavor a lot. And above all its so simple to make, just blend it with sugar and serve chilled!
Cantaloupe juice
Recipe Cuisine:
Indian
|
Recipe Category:
Drink
Prep Time
:
10 mins
|
Cook time: 0 mins
|
Serves
:
3
Ingredients
Cantaloupe – 1
---
Sugar – 3 tblsp
Method
Cut the fruit into two halves as shown and scoop out the seeds first and discard. Then using a scooper/ laddle we use for gravies, scoop the pulp from the fruit.
As you scoop, transfer to the juicer jar and blend it with sugar until smooth. Adjust sugar as per your taste.
Notes
You can scoop the pulp and keep refrigerated in an airtight box and blend it whenever needed (within a day).
Mix well before serving.
Enjoy this amazing body coolant this summer and keep your family cool! 😎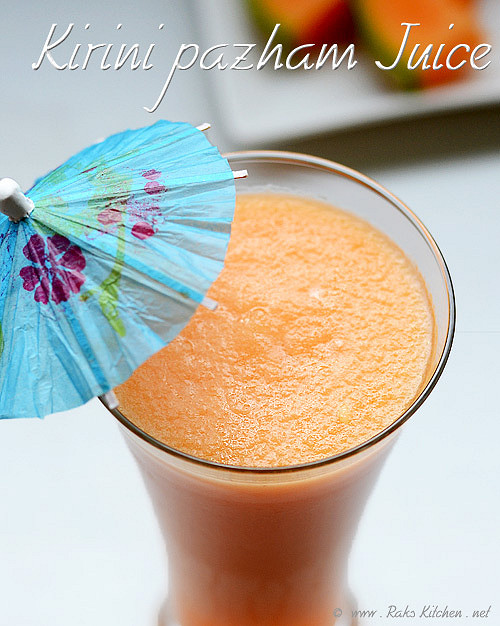 Technorati Tags: Cantaloupe juice recipe,cantaloupe recipes,kirini pazham,kirini palam,summer drinks recipes summer drink recipes for kids