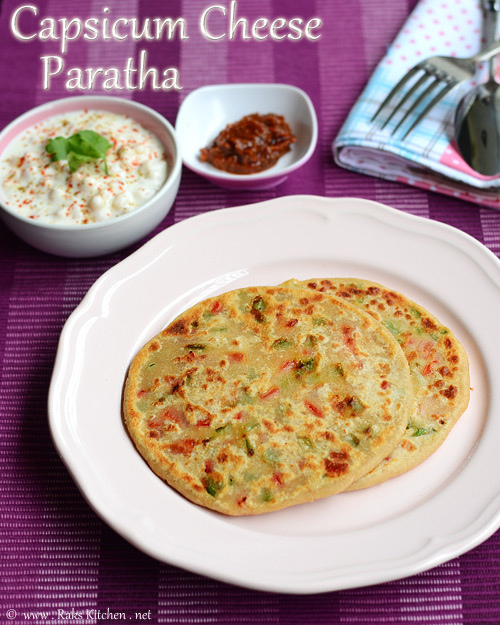 This idea of making capsicum cheese paratha flashed when I read about a review in FB about Annalakshmi at Chennai. The review had the menu which they served for aadi perukku. It had this capsicum cheese paratha. So the instant I read about it, I decided I am gonna try it. Coz, its an awesome combination, capsicum and cheese are made for each other! I have had lunch buffet in Annalakshmi few time here in SG. And we order food for Aj's Birthday party from Annalakshmi every time we plan his party. Here they run this restaurant for a noble cause, so we are double happy for not only tasty food, for something good too. And about this paratha, sure the kids at home are gonna love this simply for the combination. So why not try this for your family and I am sure you yourself would love it too.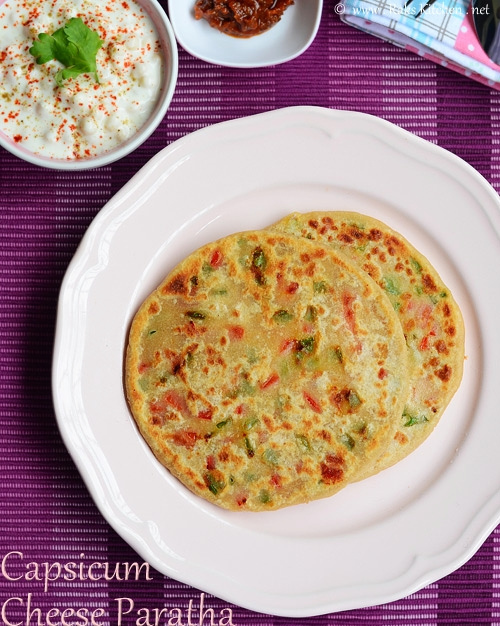 Capsicum cheese paratha recipe
Recipe Cuisine:
Indian
|
Recipe Category:
Breakfast
Prep Time
:
15 mins
|
Cook time: 5 mins per paratha
|
Makes
:
5
Ingredients
Wheat flour/ atta – 1 cup, levelled
---
Water – as needed
---
Salt – as needed
---
Capsicum – ½ cup
---
Grated cheese – ½ cup
---
Chilli flakes – ½ teaspoon
---
Oil – for pan fry
---
Method
First mix flour, salt with water (½ cup approx) and prepare dough. Keep aside. Chop capsicum into tiny cubes. Defrost cheese and add it to the capsicum along with chilli flakes.

Mix well and now, knead the dough and divide into 5 equal balls. Roll out and keep the capsicum mixture in middle.

Close it by pinching towards middle and roll out carefully both sides with generous dusting into thick parathas.

Cook over hot tawa with oil drizzled. Cook in medium flame to ensure even cooking. You can press gently with spatula for even browning.
Notes
The water quantity is only a guidance and it may vary +/- 1 tblsp.
Give standing time of atleast 15 mins for the dough to become smooth. Knead again after resting for smooth dough.
I used both red and green capsicum, to make more appealing for kids.
You can add chilli powder or pepper powder instead chilli flakes.
You can also add chilli flakes and any Italian herb thats left over from your pizza order.
Do not reduce cheese as it gives a great taste along with capsicum
I used grated mixed cheese I bought for making pizza.
You can replace cheese with paneer too.
The cheese melts when its being cooked, so when it cools, it will get solidified again.
I really wanted to show how it was inside, but I could not resist myself finishing the parathas after clicking. Tasted great with boondi raita and pickle.