One of the simplest poriyal / stir fry, carrot beans poriyal. I have been thinking of posting this for long time, then thought its too simple to post, but now thought it can help beginners or bachelors. And I wanted to click this beautiful colourful poriyal very much, so at last, here it is! I love it a lot as side dish for rice or even to mix it with rice +
ghee
or sesame oil, just the way we used to eat when we were kids. Yes those days we never eat our serving of vegetale, we ignore the side dish, so my mom used to mix it with rice and ghee before we eat
sambar
/ kuzhambu.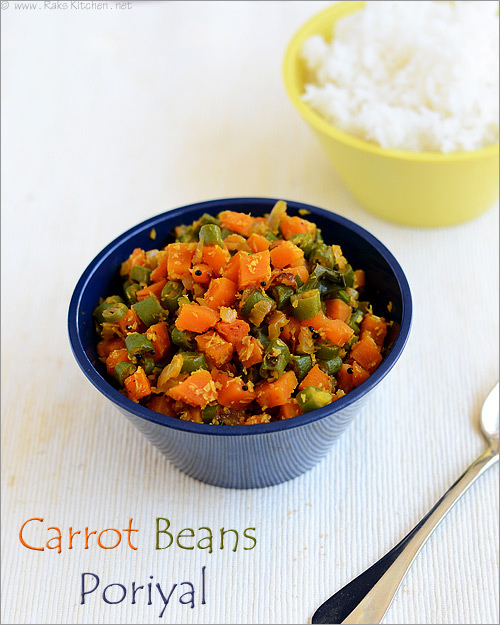 Carrot beans poriyal recipe
Recipe Cuisine:
Indian
|
Recipe Category:
Lunch
Prep Time
: 10
mins
|
Cook time: 10 mins
|
Serves
:
2
Ingredients
Ingredients
Carrot – 2
---
Beans – 20
---
Onion – 1
---
Sambar powder – 1teaspoon
---
Turmeric – ⅛ teaspoon
---
Grated coconut – ¼ cup
---
Salt – As needed
---
To temper
Oil – 2 teaspoon
---
Mustard – ¾ teaspoon
---
Urad dal – 1 teaspoon
---
Curry leaves – 1 sprig
---
Method
Peel of the carrot skin and wash both carrot and beans. Chop them into small pieces as per your preference. Heat a kadai and temper with the items given under 'To temper' table. Add finely chopped onion and fry for a minute or until transparent. Add the chopped vegetables, 2 for a minutes in medium flame, add sambar powder,turmeric and salt.
Sprinkle 3-4 tblsp water and cook covered for 4-5 minutes.
Lastly add the grated coconut and stir once, remove from fire.
Notes
If you are making this for lunch box, after adding coconut, keep frying for 2 minutes in low flame. If you are consuming immediately, no need to cook after adding coconut.
Adding a pinch of sugar after adding vegetables helps the veggies retain their colour and crunch.
Do not over cook, let the veggies retain the crunchiness (but perfectly cooked, not uncooked).
Serve as accompaniment for rice with sambar or kuzhambu.