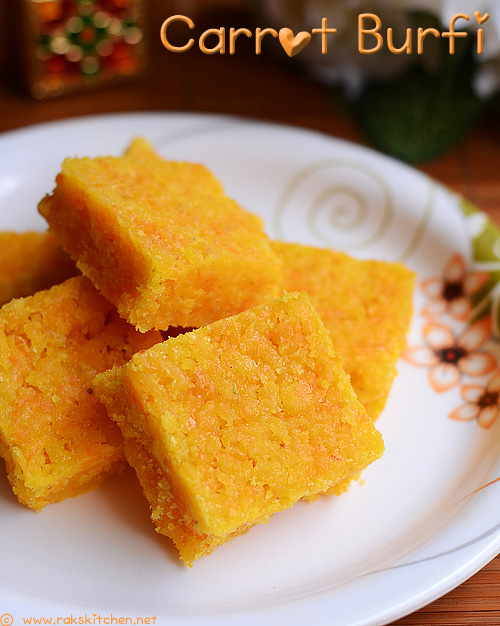 Carrot burfi is made with grated carrot, coconut, sugar as main ingredients. Very easy and simple straight forward recipe without any fancy ingredient or method. I had this recipe in a cook book, but the
ghee
quantity given made me keep thinking for past 2 years. This year, decided to try with less ghee with the confidence given by co sis. Until we tasted the burfi, kept fingers crossed how it turned out. But it was awesome. The colour from carrot is really pleasant to eyes. It tastes similar to coconut burfi and the method also the same as I have posted earlier in coconut burfi post. You can try this simple burfi for this Diwali 2015.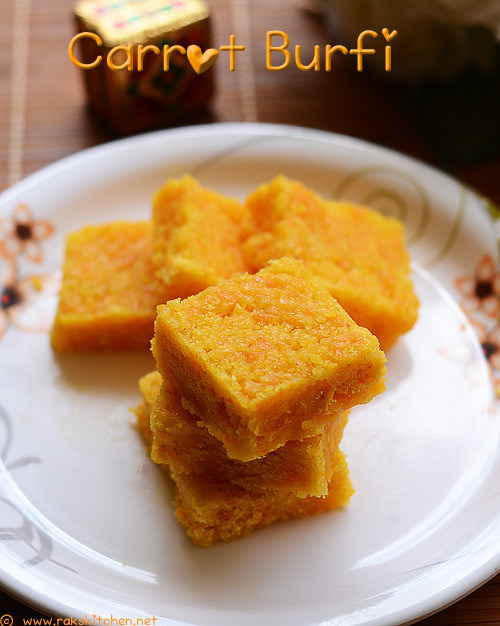 Check out my other burfi recipes too.
Full video for carrot burfi
Carrot burfi recipe
Recipe Cuisine:
Indian
|
Recipe Category:
Sweet
Prep Time
:
15 Mins
|
Cook time: 20 mins
|
Makes
:
15 squares
Ingredients
Carrot, grated – 1 cup
---
Coconut, grated – 1 cup
---
Sugar – 2 cup
---
Cardamom – 1
---
Ghee – 2 tbsp
---
Method
In a heavy bottomed pan, heat ghee, add coconut and carrot to it. Fry until the raw smell of carrot goes away and becomes fragrant. Keep a greased tray ready.

Add sugar and keep mixing. Once starts bubbling, keep the flame in medium always and keep stirring.

After sometime, the mixture will start leaving the pan and thickens. Also the ghee will start to ooze. It will be frothy. Add powdered cardamom lastly.

Pour in the greased tray. Let it become warm. Cut using a sharp spatula or knife and make squares.
Notes
I used very fine grater for grating carrot.
Let the whole process be in medium flame. Otherwise you may easily miss the right consistency.
Store in air tight container and it can stay good for 3-4 days.