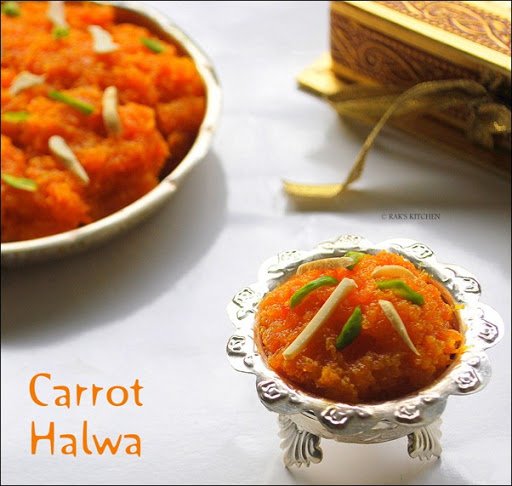 A classic sweet recipe simple with no complex ingredients, just cook the carrots in milk, add sugar and garnish with nuts and ghee. That's it, perfect to celebrate a sweet occasion.Well what's the occasion? This is my 200th Post!🎉 In spite of blogging for almost 3 and 1/2 years, I just now managed to reach the 200th post😮.Yeah really!!
I have seen many recipes with milk maid and khoya, I had no stock of both, so cooked in milk as I reduced the milk and made this. Milk quantity can be reduced.
I love carrot halwa, I never know it is made really tasty with the red carrots, here in Singapore, we get these red carrots fresh in Mustafa during winters. I have heard many people saying it turns out best in taste when made with these red carrots known as halwa carrots. So picked up for the first time and tried. So here is the full video, updated for you all with red carrots. In the video, I have doubled the quantity. Though the video is short, it took a lot of time, since large quantity. But really worth it as I am a great fan of this.
How to make carrot halwa video
Carrot halwa recipe
Recipe Cuisine:
Indian
|
Recipe Category:
Sweets
Prep Time
:
15 mins
|
Cook time: 25 mins
|
Serves
:
3
Ingredients
Carrot, grated – 3 heaped cups
---
Milk – 2 & 1/4 cups
---
Sugar – 3/4 – 1 cup
---
Ghee – 1/4 cup
---
cardamom powder – A pinch
---
Cashew – 5
---
Pistachios
– 5
---
Salt – a pinch
---
Step by step method:
Take a heavy bottomed pan(I used my pot shaped pressure cooker) and fry the grated carrots with a tablespoon of ghee till it turns pale in colour, volume shrinked and the raw smell of the carrot goes away.(say 2-3 minutes)

Add milk, pinch of salt and bring to boil. Cook in medium flame. Make sure to stir every now and then, especially after the milk thickens. Otherwise it may get stuck to bottom of pan. After milk thickens, it will not over flow, so can keep the flame in high, but you have to keep stirring, otherwise it will be stuck to bottom and easily get burnt.

Cook till all the milk reduces almost and the carrot gets cooked .

When the mixture is almost dry, add the sugar and keep on stirring.(7-10 minutes)

When the mixture starts thickening,add ghee little by little. Add powdered cardamom and mix. When the halwa is thick and starts leaving the sides of pan, switch off the flame. Add cashews and pistachios fried in ghee and mix well.
Notes
Only the grating part is a tiring job. So you can try using a food processor for this grating job.
You can add less ghee than mentioned.
You can first heat ghee, fry the nuts and keep aside. And then proceed with the first step.
You can follow the same method and make beetroot halwa. Just replace carrot with beetroot !
You can add badam too.
I have added a pinch of salt, but you can skip it too.
When I made in small quantity, it was very easy to make, but when I made in larger quantity as in video, it took lot of time.
You can reduce milk or ghee, no hard and fast rules.
Choose big enough vessel, especially when making in large quantity. Because while getting cooked, it splutters a lot. Use lid to cover and be safe.
You can serve carrot halwa warm with a scoop of vanilla ice cream, I have seen in restaurant dessert menus ✌😊