I had cauliflower masala dosa when I was studying +1 in a restaurant in Salem. It was a treat by my close friend. Those days we rarely go to restaurants,may be yearly twice or thrice. That's it! And I will be totally flattered by all the masala smells we get in restaurants
,as we use less of the masalas at our home,which I had mentioned earlier too. So this masala dosa was tasting and smelling like heaven to me. The after that I never got a chance to eat.
Then after coming here to SG I happened to see cauliflower masala dosa on menu card in a restaurant. I forgot the name of the restaurant and was breaking my head
to remember,but sorry I couldn't. But always I wanted to try at home and post it here. I made this monday and immediately after clicking,just sat and ate it heartily
,in-fact,I hurried to finish clicking and ate it. Already my kid is very fond of cauliflower,and then dosa too…So he just loved it. The smell was lingering in my hands! I will sure make this very often here after.
Cauliflower Masala Dosa Recipe
Recipe Cuisine:
Indian
|
Recipe Category:
Breakfast
Prep Time
:
10 mins
|
Cook time: 15 mins
|
Serves
:
6
Ingredients
Cauliflower – 1 small sized flower
---
Onion – 1,chopped
---
Tomato – 2 ,chopped
---
Cashew nuts – 8 – 10
---
Red chilli powder – 1 teaspoon
---
Coriander powder – 2 teaspoon
---
Garam masala powder – ½ teaspoon
---
Kitchen king masala powder – ¾ teaspoon
---
Turmeric powder – 1 pinch(optional)
---
Fennel seeds/soambu – 1 teaspoon
---
Coriander leaves,chopped – 3 tblsp
---
Oil – 2 tblsp
---
Salt – As needed
---
Idly/dosa batter – As needed
---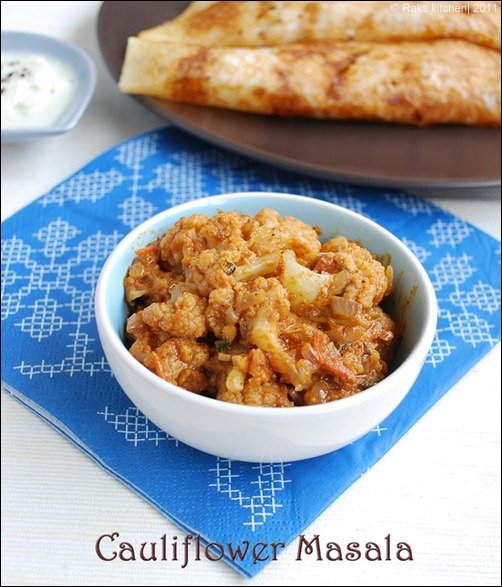 Method
Cut cauliflower into bite sized florets,boil water with a teaspoon of salt and keep this florets immersed till need. Heat a pan with oil,season with fennel. Add chopped onion,coriander leaves and fry till transparent. Add chopped tomatoes,fry till mushy and add all the masala powders along with salt.

Grind the cashews with little water,add it to the onion tomato and give it a fry for 2 minutes in medium low flame.Add the cauliflower drained from water.

Sprinkle some water and cook covered until the cauliflower gets cooked. Let the masala be neither too dry nor too runny.

To make dosa, spread the dosa thin and cook until crisp in medium flame with little oil drizzled over.. No need to flip the dosa, just spread little masala over one half and close by covering the other half of the dosa over the masala.
Notes
Tips for making perfect dosa!
For making dosa with the batter, I always take required amount of the batter in a bowl and mix ¼ cup water.
This makes it easy to spread the dosa in the dosa pan and also gets easily cooked as its thin, lacy and need not be flipped.
If you flip the dosa the crispness gets reduced.
Always wait for the dosa pan to get hot, spread the dosa,then drizzle oil. If you grease with oil first, its not that so easy to spread the dosa evenly/smoothly.
Cook in medium flame to make the dosa crisp.
I have used tandoori masala powder you can skip that and use garam masala and use ginger garlic paste while making the masala.
Serve hot with any flavoured coconut chutney!