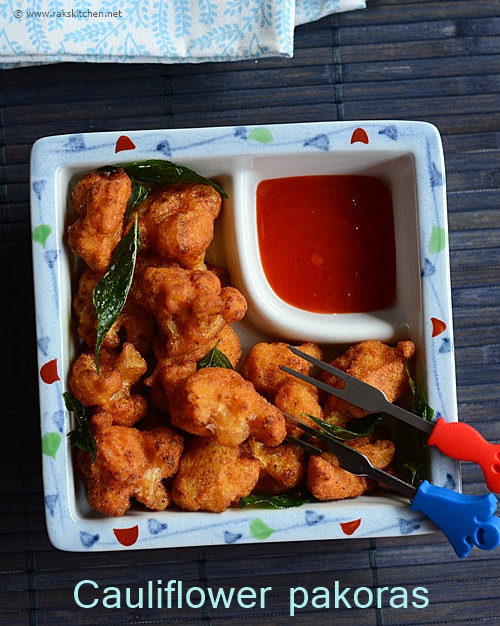 Many of you should be wondering why silence and no post updates from rakskitchen. I took a short break as I am in Chennai now for some family function and other works. I thought I should schedule and go as usual. But I was bit lazy to do that and concentrated in other things in the life. But after these days, I thought it wont be nice to leave the blog abandoned and even when Sharmi called she insisted the same, to not take a break for so long. So today after a travel, I thought I will post one simple recipe. I left my laptop too at Singapore and could not edit pictures, but some how found way to post this recipe. This recipe is passed to me after my co sis gave me a cook book from which my BIL already tried this recipe.
I will try to post something here after if I find some time otherwise will be back with bang from next week.
You may also like the crispy cauliflower fries or gobi 65, or gobi manchurian recipe.

Cauliflower pakora recipe
Recipe Cuisine:
Indian
|
Recipe Category:
Snack
Prep Time
:
5 mins
|
Cook time: 25 mins
|
Serves
:
3
Ingredients
Cauliflower – 1, medium
---
Self raising flour – ⅓ cup
---
Corn flour – ¼ cup
---
Plain soda – 1 can
---
Red chilli powder – 1 tsp
---
Garam masala powder – ½ tsp
---
Turmeric – ¼ tsp
---
Salt – As needed
---
Curry leaves – 3 sprigs
---
Method
Boil water with salt and turmeric mean while which, you can cut the cauliflower florets. Put the florets in the boiling water and after a minute or two drain the water.

In a mixing bowl, mix self raising flour, corn flour, salt, red chilli powder, garam masala powder. Just before making, pour the necessary soda to make a batter.

Transfer the drained florets to this batter. Mix carefully.

Heat oil in a kadai and once hot, transfer the battered cauliflower one by one using a spoon.

Fry until golden from all sides, turning once or twice to ensure even cooking. Add curry leaves and drain in paper towel.
Notes
The batter should be in a consistency so that it gives a thin coating to the cauliflower. Not too thick, not too thin.
*If you don't have self raising flour, mix and sieve ½ cup maida (all purpose flour) with ½ teaspoon baking powder.
If you keep the soda in fridge and use cold soda, it comes out more crispier.
Serve hot with tomato sauce or green chutney, with fresh cut onion rings.