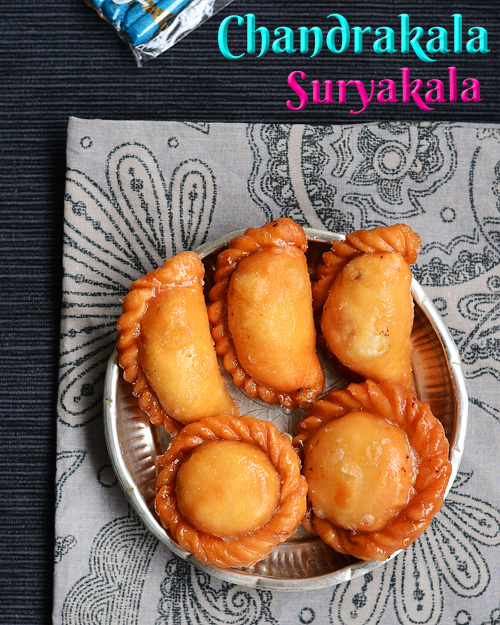 Chandrakala is an Indian Diwali sweet recipe with maida and khoya as main ingredients. Learn how to make this sweet with step by step pictures and full video in this detailed post.
I have heard about this sweet a lot but sadly never ever tasted even one in my life. But when I posted
badusha
in my blog, my mom told they make this chandrakala suryakala like how I have shaped my
Badusha
. Usually badusha is made just like doughnut shape. But I loved the method, so tried and posted that way and it is a super hit😊. I wanted to try chandrakala for a long time now, but never had an idea about the recipe. As I am a sincere follower of Sutralam suvaikalam show, I saw the video and got some idea. It's said it is a North Indian sweet and south Indian sweet as well, not sure about the origin. But South Indian sweet stalls sure have this sweet. Chandrakala named after Half moon and suryakala, meaning Sun shaped.
Mainly after Diwali, this sweet is sold in the shops. Few elder relatives of mine say that, after Diwali is over, the about to spoil milk sweets, sweets are mixed in the stuffing and sold. Not sure if it is true though😋. Basically both have same stuffing I guess, but just the shape is different. But you can differentiate the stuffing if you want. I guess this is similar to gujiya and lavang latika as well. This tastes really yummy with khoya and nuts filling with flavour from saffron and cardamom. Lets learn how to make Chandrakala, suryakala sweet. Please watch the video for easy understanding.
How to make chandrakala sweet
Chandrakala recipe
Recipe Cuisine:
Indian
|
Recipe Category:
Sweets
Prep Time
:
30 mins
|
Cook time: 25 mins
|
Makes
:
10
Ingredients
All purpose flour (Maida) – 1 cup
---
Ghee – 1 & 3/4 tbsp
---
Salt – 1/4 tsp
---
For stuffing
---
Khoya – 3/4 cup
---
Chopped nuts – 3 tbsp
---
Powdered sugar – 2 tbsp
---
Cardamom – 1
---
Saffron – Few strands
---
Milk – 1 tbsp
---
For syrup
---
Sugar – 1 cup
---
Water – 1/2 cup
---
Cardamom – 1
---
Rose water – 1 tsp (optional)
---
How to make chandrakala sweet
First lets prepare dough by mixing maida, salt and ghee first.

Add water little by little to make dough. Keep aside for 30 mins min.

Meanwhile you can prepare the stuffing. Soak the saffron prior in lukewarm milk. Then mix crumbled khoya, sugar powder, powdered cardamom and the saffron with milk. Knead well to mix thoroughly. It should not be too crumbly.

Prepare sugar syrup by boiling in medium flame. 1/2 string consistency is enough for this sweet. That is if you check a drop between your fingers, a string forms and breaks quickly. It will be sticky, not watery. Add cardamom, rose water after switching off the stove.

Knead the dough after 30 mins again to make it smooth and soft without any cracks. Roll and divide into equal sized balls. I made 10 equal sized balls.

Roll gently to thick puris. Arrange in a broad plate.

To make chandrakala, stuff 2 tsp of the khoya in a side of the puri we rolled, fold and cover with the other half.

Seal and start folding from one end. Pinch, fold and seal continuously as shown in the picture and video and seal the finishing end too.

To make suryakala, place the filling in the middle of the puri, cover it with another puri.

Press the sides to seal and fold as we did for chandrakala.

Repeat to finish. Heat oil/ ghee/ vanaspati and fry few per batch. After dropping in oil, cook in medium flame. Keep turning to ensure even browning.

Drain from oil and let it soak for 5- 10 mins. Arrange in a tray/ box.
Notes
Do not let the syrup pass more than 1 string consistency. For safer side you can add few drops lemon juice to prevent crystallization.
Stuff with enough khoya mixture to get good looking suryakala and chandrakala. Otherwise it will look flat.
The syrup should go inside the sweet, so make sure to soak for enough time.
The sweet becomes soft next day and tastes, smells best from next day.
Make sure to fold properly otherwise the khoya might leak and spoil the oil.
If the oil is too hot, khoya will sure come out, so do not let oil smoke.
If you cook in medium flame only the outer layer will be soft enough to absorb the syrup.
While folding, the edges should have less dough part, if too much dough is there, then you can trim with knife. Otherwise the edges will take long time to get cooked.
For best taste, fry in ghee/vanaspati or mix with oil and fry.
Juicy, sweet, rich and pretty Chandrakala, suryakala for Diwali 2016!