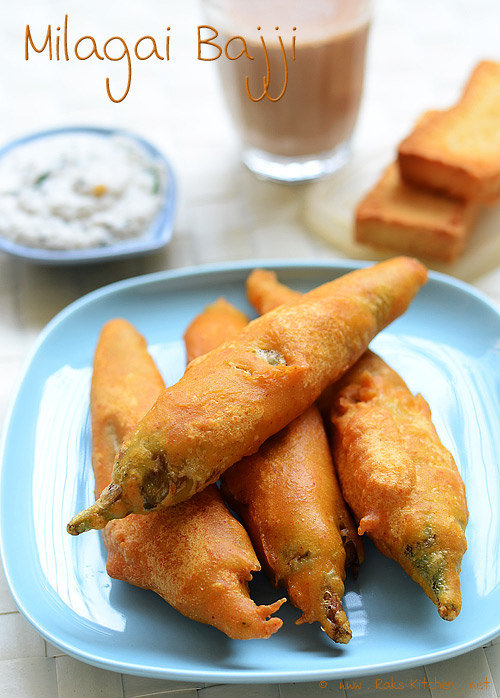 I used to be a great fan of this Ooty chilli Bajji/ Ooty milagai bajji. I think I have had this in exhibitions 2-3 times when I was kid and recently 3 or 4 years back too. I just love it! At home when I buy a pack of this chillies, I make a lot and only me and Vj to eat it, so eat a lot too and got bored of it. We both actually now a days stopped eating this if made at home! Yes, one or two will be fine and tasty too, too much means we run away. So this time, I took only 4 from little India shopping and made it just for blogging sake 😊. There is no such fancy recipe in this one, plain bajji, that's it. I have not tried the stuffed north Indian version yet. But thought of sharing this simple recipe too as some beginners in cooking may not know how to make this bajjis without too much of hot (spiciness).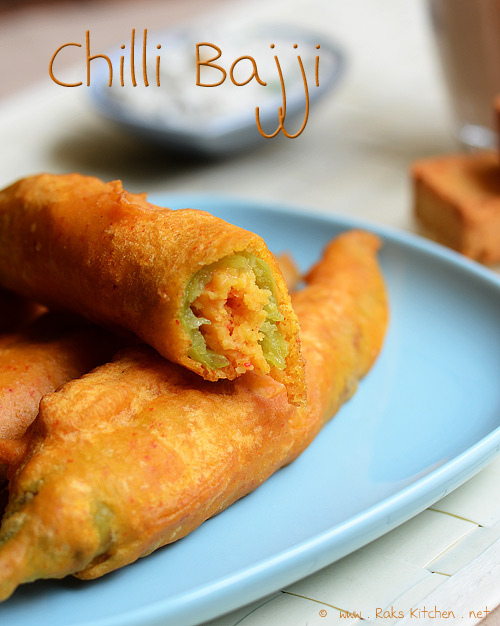 Chilli Bajji/ milagai Bajji recipe
Recipe Cuisine:
Indian
|
Recipe Category:
Snack
Prep Time
:
10 mins
|
Cook time: 10 mins
|
Makes
:
4
Ingredients
Ooty bajji chilli (light green in colour and big) – 4
---
Besan/ kadala maavu – ½ cup
---
Rice flour – ¼ cup
---
Corn flour (optional) – 1 teaspoon
---
Cooking soda (sodium bi carb) – 3 pinches
---
Asafoetida – ⅛ teaspoon
---
Ajwain(omam) or jeera – 1 teaspoon
---
Red chilli powder – ½ teaspoon
---
Salt & water – As needed
---
Hot oil (optional) – 1 tblsp
---
Oil – for deep frying
---
Method
Wash the chillies and pat dry with clean kitchen towels. Slit them each lengthwise with a pairing knife (small knife), without completely split them into two. Carefully remove the seeds inside completely with the help of the knife. Just scrap away the seeds with the knife.
In a mixing bowl, mix gram flour, rice flour, red chilli powder, sodium bi carb, asafoetida, salt, corn flour and hot oil if using, ajwain or jeera. Add water little by little and mix well with a whisk and make a thick batter. The batter should easily coat the chillies, not too thick.
Mean while, heat enough oil to fry the bajjis in a kadai. Dip one by one the chillies and drop carefully in to hot oil. Cook both sides for 2 minutes a side or until golden brown and crisp. Once done, drain in paper towels.
Notes
If you are not comfortable of slitting without splitting and taking out the seeds, then you can slit and split into two each chilli and take out the seeds easily.
Seeds should be removed completely for reducing the spiciness. Otherwise it will be too spicy and no good for your tummy too.
The batter should be in correct consistency so that it spreads over the chillies easily and forms a thin layer. If the coating is too thick, i.e; if the batter is too thick, it will take time to cook and the bajjis inside will not get cooked.
Cook in medium flame to ensure the bajjis get cooked inside.
Mix the batter and keep it ready, once the oil is hot, you can add a laddle full of hot oil carefully in the batter and mix. This is to avoid sucking of oil in the bajji.
If your chilli is still spicy after removing the seeds, then you can keep it immersed in water mixed with salt and a lemon squeezed in it.
Bachelors can try the same with ready made bajji mix.
Serve immediately, hot hot, with thick coconut chutney the best, remember, if its not hot, its not molaga bajji, its paper bajji 😛 . I had it with chutney, tea (which is said to be the perfect combination) and rusk. But when I was a kid, I used to have aavin icecream after bajji 😆.