Chilli cheese toast recipe with step by step pictures, full video. A quick, easiest snack, party food, make in oven in just few minutes.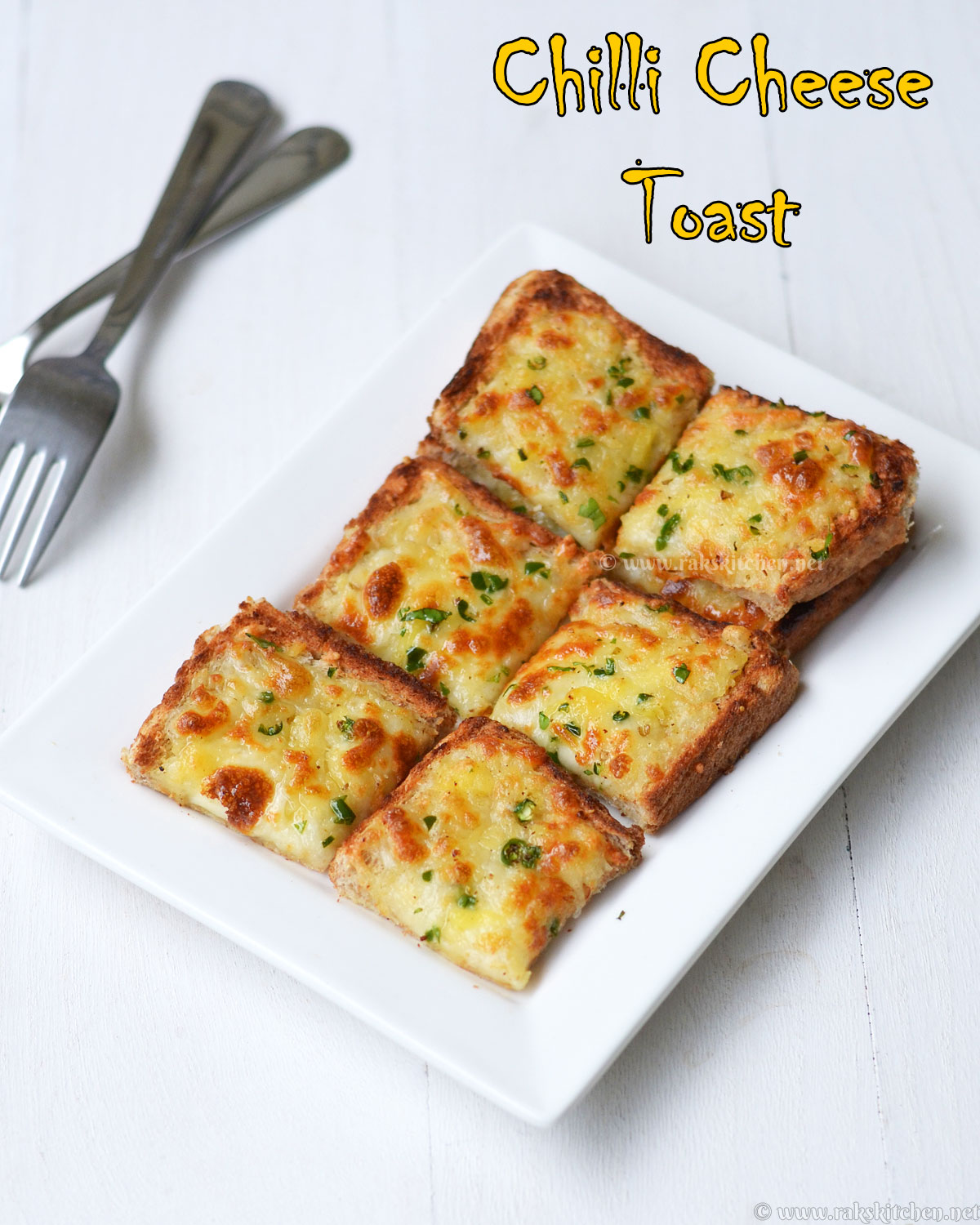 Jump to:
I saved this post for almost an year now in Instagram, a drool-worthy casual shot of chilli cheese toast. Somehow it took this much time to post this simple toast.
Love my new oven and baking is really interesting. The temperature settings are to be experimented, bit hotter inside the oven, it's pretty good.
Couple of batches I misjudged the baking time and never thought this would be ready so soon!
Aj too loved this. We both enjoyed the toast. Green chilli is very finely chopped or minced in this, so it won't be that spicy, so no need to worry.
🌶 Spice level
You can also deseed the chilli if needed. If de-seeded, there won't be any spice at all. Also cheese balances it.
So it's up to you whether you should use as such or deseed it.
📖 Variations
You can add thin rounds of Jalapeno if you have it in stock.
Provolone, Italian cheese mix, Mexican cheese mix, pizza cheese anything can be used in place of mozzarella.
Add finely chopped capsicum if you like.
 🧤 Oven settings
Since we are just looking for a golden melt cheese on top of soft bread, I recommend using grill option and use top rack.
If your oven is too small, you can just go for the middle rack as the top rack might quickly burn the topping.
Grill mode: It gives maximum heat, browning effect in short time.
Don't have grill mode? Just go for the highest oven settings in yours and bake it.
Microwave mode will just melt the cheese and you may not get browning effect at all. So I do not recommend.
You may also like my Chilli paneer dry
Check out my other bread recipes
Recipe card
Chilli cheese toast
Learn how to make chilli cheese toast, a quick and easy snack with step by step pictures and full video.
Cup measurements
Ingredients
1.5

cup

cheese

grated, mozzarella

3

Green chillies

2

tablespoon

Coriander leaves

chopped

8

Bread slices
Instructions
Finely chop, mince green chilli and coriander leaves.

Preheat oven at 220 deg C in grill mode for 5 mins

Meanwhile spread cheese over the bread slices to cover it with layer of cheese.

Sprinkle chopped chilli over it evenly as per your spice requirement.

Place over baking tray lined with butter paper. Grease the butter paper.

Bake for 2-3 mins in top rack. Or until the cheese is melt and turns golden here and there.

Garnish with coriander leaves and serve hot.
Notes
Reduce baking temperature if your oven is small and have only one rack.
If not grill mode, follow the same step with the convection mode itself.
You can do this in tawa also. Just cook covered to melt the cheese.
📸 Stepwise photos
1. Finely chop chilli and coriander leaves. Mincing helps to reduce the spice level of chilli in one bite.
2. Preheat oven at 220 deg C in grill mode for 5 mins. Refer notes for more. Meanwhile, spread cheese over it evenly as per your spice level.
3. Place over a baking tray lined with greased butter paper. I used aluminium foil, but please use baking sheets/ butter paper as much as possible.

4. Bake for 2-3 mins or until beautiful golden spots appear as the cheese melts.
Garnish with coriander leaves and serve hot.