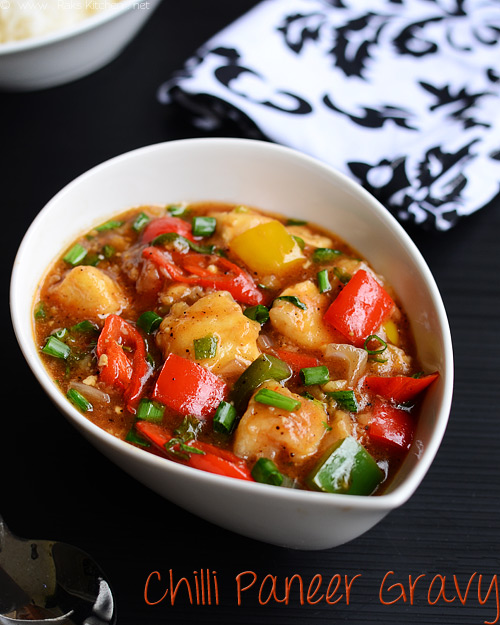 After making chilli
paneer
dry recipe so many times for
fried rice
, now its time for me to try chilli paneer gravy recipe. I decided to try this after tasting it in Indian wok. 2 weeks back also we went to the same restaurant for tasting this especially, inspite of Vj's super busy work schedules. This is so very easy to make at home. So when ever you make any fried rice, you can make chilli paneer gravy as side dish for it. Try once at home, you will realize how easy and tasty this can be made at home! The day I made we enjoyed this with fried rice, Aj was very thrilled to see his lunch fried rice and chilli paneer gravy. So why not impress your family too with this simple one?
And advanced Happy Independence day !!! 😊🤩
Chilli paneer gravy recipe
Recipe Cuisine:
Indian
|
Recipe Category:
Lunch / Sides
Prep Time
:
10 mins
|
Cook time: 15 mins
|
Serves
:
2
Ingredients
Paneer cubes – 1 & ½ cups
---
Capsicum – 1
---
Onion – 1
---
Spring onion – 2 sprigs
---
Large variety chilli – 1
---
Black pepper powder – 1 tsp
---
Chilli tomato sauce – 1 tblsp
---
Soya sauce – 1 & ½ tblsp
---
Chopped garlic – 1 tblsp
---
Chopped ginger – 1 tblsp
---
Corn flour – 1 tblsp
---
Coriander leaves – 2 tblsp
---
Oil – 3 tblsp
---
Salt – As needed
---
For batter frying paneer cubes
Maida/ APF – 2 tblsp
---
Rice flour – 1 tblsp
---
Corn flour – 1 tblsp
---
Salt – As needed
---
Oil – for deep frying
---
How to make chilli paneer gravy step by step method
Chop capsicum and onion to cubes. I used tri coloured capsicum for eye appealing result. Chop the spring onion bottom part and leaf part separately. Slice the big chilli diagonally. Very finely chop ginger and garlic.
Prepare a thick batter out of maida and other flours. Dip each paneer cube and deep fry in hot oil and keep aside.

In a broad pan, add oil and add garlic, ginger and give a quick stir. Add onions, capsicum, chilli and fry in high flame for a minute.

Add sauces, pepper powder and fry in low flame for 30 seconds. Add 1 & ¾ cups(approx) of water and bring to boil. Add salt.

Add the deep fried paneer cubes and dissolve 1 tblsp corn flour with 3 tblsp of water and add it to the boiling gravy. Mix gently, It will thicken and lastly garnish with coriander leaves and green part of spring onion. Switch off the flame.
Notes
Adding lots of garlic and ginger is very important for this gravy. It should be seen in the gravy, so make sure you dont burn/ brown it while frying.
Drop one paneer cube at a time in hot oil while deep frying to prevent sticking together. I dont mean to deep fry one by one, just add in oil one by one and fry in batches.
The batter should be thick enough to coat the paneer cubes easily. Not too thick.
Do not add more corn flour towards the end, or else you will end up having a blob instead gravy.
Add more pepper powder, its the only spice you have inspite of the big chilli which is not that spicy. You can add small green chillies too but this one lends nice flavour.
You can skip the deep frying part for paneer and add paneer cubes as such by soaking it in hot water.
You can add a tsp of lemon juice towards the end.
Remember to eat hot as its more of a fast food. Goes well with fried rice.