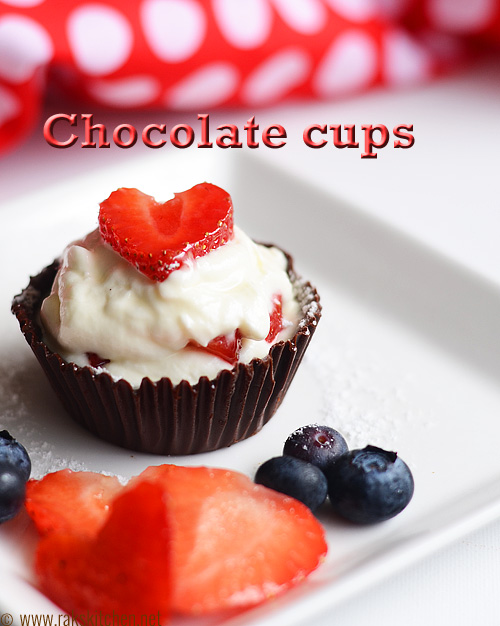 How to make an edible chocolate cup with Full video and step by step pictures! Making edible chocolate cups is really easy when you follow the steps. With few simple ingredients, you can make this easy dessert and impress your valentine this year. My friend Sangeeta sent me a video last year itself to try. I thought it will be very tricky and difficult and never thought to try it out. But after thinking these many days, I thought why not give it a try. And when I was thinking what to post for this
Valentines day
, I thought I will try this one and post it as
Valentines day special recipe
. Don't panic and avoid trying this dessert. I too was afraid, but believe it, it's really easy and you can make this with less effort. But looks and sounds exotic right?
I am making fresh cream too for the first time and really confident now to try other recipes with fresh cream now. So if you get the ingredients, this is a must try recipe. You can fill this with chocolate mousse or even ice cream.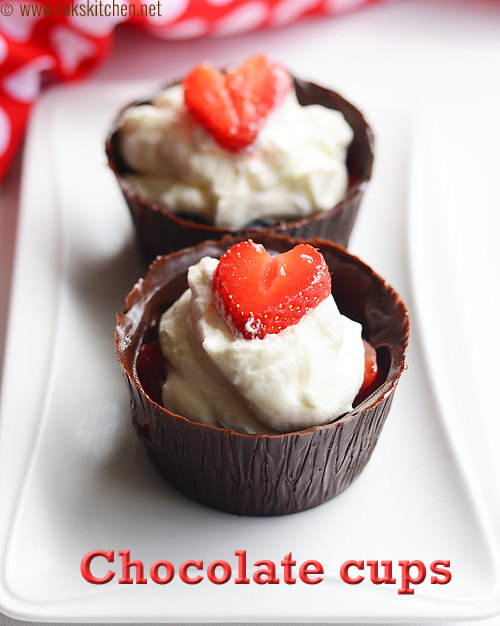 Check out other recipes you can try for Valentines day from Rak's Kitchen
Edible chocolate cups recipe
Recipe Cuisine: Indian | Recipe Category: Dessertk
Prep Time: 30 mins | Cook time: 5 mins | Makes: 6 | Author: Raks anand
Click here for cup measurements
How to make an edible chocolate cup with Full video and step by step pictures! Making edible chocolate cups is really easy when you follow the steps. With few simple ingredients, you can make this easy dessert and impress your valentine this year.

Recipe ingredients:
Chocolate chips (I used semi sweet) – ½ cup
Strawberry, blueberry – ½ cup
Whipping cream – ½ cup
Powdered sugar – 1 tbsp
Vanilla essence – ¼ tsp
Method
I have done both stove top method and microwave method for melting the chocolate. Refer notes for microwave method. If choosing stove top method, first boil water in a bowl. Simmer the heat. Place another bowl on top of it (the bowl should not touch the boiling water, so add little water as well as choose such vessels). Add chocolate chips to the bowl in the top.
Stir once it starts melting, until the chocolate melts and becomes smooth.

Stir the melted chocolate well to smooth it. Tip: Add a hand full of chocolate chips immediately and keep mixing until it melts. It will take a while but it helps the chocolate to remain without melting after setting. Now take aluminium use-and-throw muffin liner or a small paper cup. Give a small cut in the rim of the cup – this will make it easy to tear it off later while unmoulding.

Spoon the melted chocolate to the cups and coat evenly and as smooth as possible with the back of a spoon. Let the coating be thick as thin coating may break while unmoulding.

Refrigerate for 15 minutes and carefully unmold the chocolate cups by tearing off the aluminium cup. While holding the cup, hold the rim and unmould. Also act quickly once you take out from the fridge, unmould immediately. Otherwise it might melt and break while unmoulding. Keep the un molded chocolate cups refrigerated until use.

Beat whipping cream, vanilla essence for a minute.

Add a tbsp of powdered sugar and beat again until soft and fluffy.

To serve, fill the chocolate cups with fresh fruits and top it with the fresh cream. Serve immediately. Or keep refrigerated if serving later.
Notes
Melting chocolate in microwave : Place chocolate chips (that is in room temperature, not from fridge) in a microwave safe bowl and microwave in medium power for a minute. Stir well and again microwave in medium power for 30 seconds. Stir well. There might be slight difference in time as it varies over the make and model.
Use quality chocolate chips as the chocolate cups will taste the same as chocolate chips.
While melting the chocolate make sure no water is there in the chocolate bowl. If water is there, it will not be smooth.
Melting chocolate over high heat will also spoil the chocolate. The sauce will break and won't be smooth. You can't use it for anything. so patience is needed for this.
Since I did less, I spooned the melted chocolate to coat the liners. You can also pour and coat the sides if you have more.
Make sure you coat the liners thickly. Thicker the coating, stronger the cup.
You can use paper cups, silicon moulds too for this. I tried using paper liners too, but it needs support while coating, otherwise shape will not retain.
Once you fill the chocolate cups, serve immediately or keep refrigerated until serving. Otherwise the cups may melt.
You can use any filling, like ice-cream, chocolate mousse.
Tags:edible, chocolate, cups, chocolate cups
Delicious and fascinating chocolate cups with fresh fruits and cream for your valentine