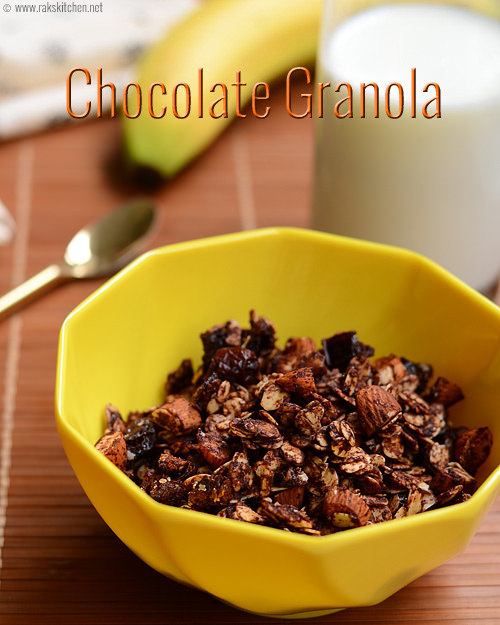 After I tried making granola at home, I wanted to try granola bars and other variants with granola. Such one is this chocolate granola. I made this and clicked to send it to Kungumam thozhi. So thought of posting it here too and use this one now as I am filling my blog. From next week, I will be right back with interesting video recipes. Stay tuned😊. This one is perfect for breakfast, with all those dried fruits and nuts, the star ingredient cocoa, makes your mornings bright. In just few easy steps, you can make this granola for a week and enjoy your breakfasts. Make your mornings easy. Just add milk, add on a fruit, it's filling!
Chocolate granola recipe
Recipe Cuisine:
Continental
|
Recipe Category:
Breakfast/ dinner
Prep Time
:
10 mins
|
Cook time: 25 mins
|
Makes
:
2 & ½ cups
Ingredients
Rolled oats – 2 cups
---
Cocoa powder – 3 tbsp
---
Almonds – ¼ cup
---
Chopped dates – ¼ cup
---
Raisins – 1 tbsp
---
Brown sugar – 1 & ½ tsp
---
Honey 3 tbsp
---
Vanilla essence – 3 drops
---
Salt – A pinch
---
Oil – 2 tbsp
Method
Chop almonds and dates. Gather all the ingredients.

Mix oil, cocoa powder, salt, sugar and honey in a pan. No need to heat. I heated for 10 sec, but I guess you can skip this step.

Mix this chocolate sauce with oats, almonds, dates, Vanilla essence and raisins, in a mixing bowl.

Pre heat oven at 150 deg C. Line a baking tray with baking sheet, spread this mixture and bake for 25- 28 minutes. After 15 minutes, give the oats a mix, then after that, every 5 minutes you should give a mix for even roasting.

As it cools down, it will get crispier. Break the granola with hands and store in airtight container for 4-5 days.
Notes
Use dried dates for best result not the fresh dates. You can skip the dates too.
Serve with chilled milk for breakfast. Taste great, no need to add sugar as it already has dried fruits and honey, sugar. Nuts add a great texture to the granola.