To be frank, as a kid, I have never drank milkshake. Really. May be we had no refrigerator those days, never frequented restaurants. After I came here to Singapore, I tried strawberry milkshake and used to have it very often in New Zealand icecream parlour, without worrying about the calories in it. Later got so sick about that flavour and left my milkshake habit. Recently few months back, was craving for something chocolaty after a tiring shopping. So tried this chocolate milkshake and it took me to a whole new world as I tasted it for the first time. Dream smooth, rich, chocolaty to the core. Not bitter, just the flavour of chocolate, just the way I wanted. After that I had this for 3 times now. I thought I should post chocolate milkshake in my blog too and made at home.
To taste the best chocolate milkshake, you should use the finest ingredients too. Your chocolate milkshake taste is directly proportional to what you add in it. Though I didn't use pure cocoa or anything, I used my favourite New Zealand icecream. So which ever is your favourite icecream too. This post has been lying in my drafts for long time now, thought this is the best time I could use my drafts.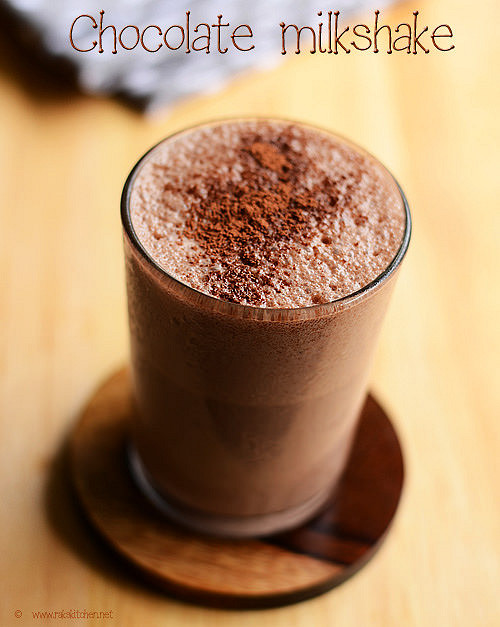 Chocolate milkshake recipe
Recipe Cuisine:
Continental
|
Recipe Category:
Drink
Prep Time
:
5 mins
|
Cook time: 0 mins
|
Makes
:
1
Ingredients
Chilled Milk – 1 cup
---
Chocolate ice cream – 3 scoops
---
Chocolate syrup – 2 tbsp
---
Method
Gather the ingredients and I use my whipping blade to make milkshake to make it frothy. Any blender and its blade will work too.

Place the ingredients in the blender and whip/ blend well until frothy.
Notes
You can use low fat milk, too. Since we use icecream, it will not make big difference.
You can use vanilla ice cream and use more choco syrup too.
You can skip chocolate syrup and use ice cream alone and add a tsp of sugar to balance sweetness if you want.
Serve immediately, you can drizzle some chocolate syrup over it, also you can first drizzle some syrup along the walls of the glass inside and pour the milkshake over it.