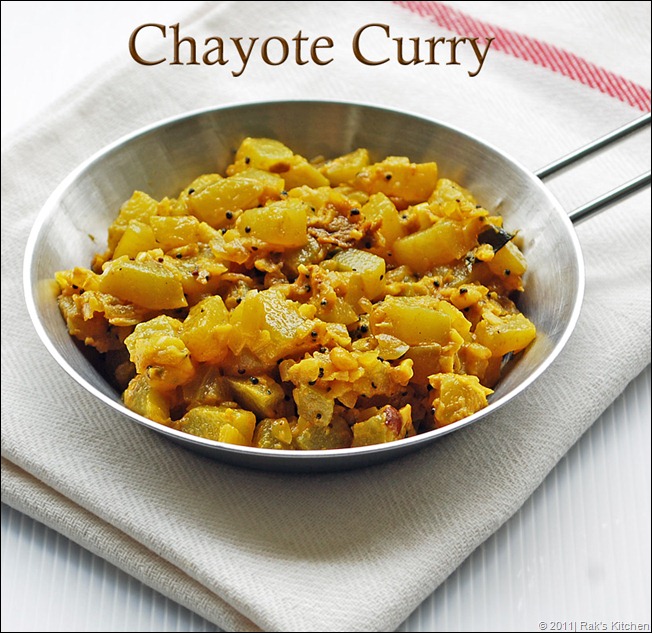 Chow chow curry recipe
Recipe Cuisine: Indian  |  Recipe Category: Lunch
Prep Time:20 mins    |  Cook time: 20 mins     |  serves: 3
Ingredients
Chow chow – 1 Big sized
---
Onion – 1
---
Garlic – 10
---
Curry leaves – 1 spring
---
Turmeric powder – 1/4 tsp
---
Salt – as needed
---
Oil – 2 tsp
You can skip the below roast & grind part and just use a tbsp of besan, red chilli powder, fennel seeds powder.
To roast & grind
Channa dal – 1 tbsp
Red chilies – 4
Fennel seeds/soambu – 1/4 tsp
Temper
Oil – 1 tsp
Mustard – 1/2 tsp
Urad dal – 1 tsp
Method
Peel and cut chow chow to medium sized pieces and chop onion and garlic finely.
Heat a kadai and roast channa dal and red chillies with little oil to golden brown . You can skip this and replace with besan flour/kadala maavu.
Cool down and grind it with fennel seeds to a fine powder.
Add oil in the hot kadai and add the tempering items followed by curry leaves.
Add onion and fry for a minute.
Then add chow chow and fry for 2 minutes with salt in medium flame.
Add turmeric,garlic, enough water and cook for 4 – 5 minutes covered or till done
Water will be reduced by this time to very little and then lastly add the ground powder/besan-kadala mavu  and stir well, stir fry for 2 minutes.
Serve as an accompaniment for rice….:)