How to clean brass pooja items, vilakku with the items easily available at home. Simple method followed in weekly basis to keep the brass items shiny.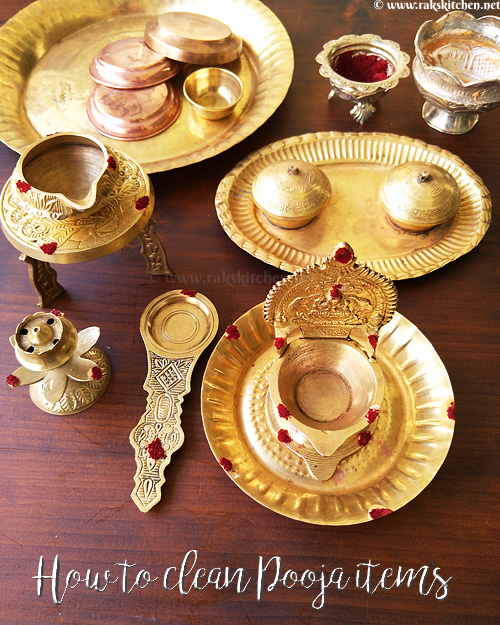 Jump to:
I have grown seeing amma clean pithalai kuthu vilakku, kamatchi vilakku, kai vilakku weekly and other poojai items everyday. Never seen greasy, dark colored pooja items in her pooja place. Cleans panja pathiram everyday and vilakku weekly. Mom in law also does the same.
The pooja place at moms place is very divinely looking with help from father and my grandma until she was alive. I used to help too rarely. We had a stone meant for making sandalwood paste (sandhana kall) and a sandalwood bar (sandhana kattai) with which we make fresh sandal paste to use for decorating.
Myself, not even 10 percent compared to them, but really love the routine they follow till now. Both mom and mami manages household works by themselves as well as manage these works and keep it always lively.
Amma used to light two small pithalai kuthu vilakku everyday. Both mom and mami have taller and bigger ones for festival days. They take it out during festivals, clean, use it, clean again and keep it safely. I have a tiniest kuthu vilakku owing to the pooja space.
About
When I posted how to clean silver, many requested to post how to clean brass too. The way I posted to clean silver is a deep cleaning method for a super sparkling, magic results.
This is more a homely, ordinary method to keep the brass shiny and yellow. Not a professional cleaning, but for weekly and daily purpose, with the available ingredients from your pantry.
This is very very old method, elders used to do for cleaning poojai items. In fact many of you must be knowing. But this post is for newbies and those who have no idea about the cleaning process.
Hope this is helpful for younger generation. If you already know this method and feel bored, please skip to read.
Top tip
Both my mom, mom in law never put the poojai items inside the sink  along with other vessels. We keep outside and clean.
Keep dedicated new toothbrush (I use the one they give in airlines) for cleaning the pooja items alone. Now a days, just like toothbrush, bristles comes in metal. You can try using it, though I have not used it. 
Even the metal scrubber and dish sponge is kept dedicated for cleaning these items.
Precautions
I had a deep cut in my right hand when I made the video, so I was using gloves to avoid the burning sensation when it comes to contact with tamarind/ lemon + salt combo. Otherwise I use bare hands.
The cleaning process slightly gives burning sensation in your fingers as we use metal scrubber. So make sure to use it gently, not hard.
Video
My notes
You can use either lemon or tamarind, whichever is available or even lemon salt would work. I have used only tamarind and lemon.
While using tamarind, make it gets dirty all over as it gets sprayed while we scrub. So, make sure to wipe down and clean all the things, surfaces around.
If just one or two items, I just use the lemon peel (after squeezing) with salt and clean the items.
Same method works for silver, copper too.
In hard water zones, use drinking water to finally dip all the items. This avoids dark spots after drying.
Things needed
Lemon or tamarind - as needed
Salt - Rock salt or table salt
Dish soap
Materials:
Metal scrubber
Brush
Dish sponge
How to steps
Time needed: 20 minutes
How to clean the brass items, pooja vessels with lemon/ tamarind and salt?

Remove the grease

First use dish soap to remove any grease in the lamps. Wash well.


Apply lemon/ tamarind and salt

Use lemon or lemon juice with salt or tamarind dipped in water along with salt generously and apply all over the surfaces of the items one by one. Make sure to take salt every now and then along with tamarind/ lemon.


Scrubbing to give shine evenly

Using a metal scrubber, scrap all over the surface well. First scrap the item that you applied lemon/ tamarind + salt first and kept. This way we are giving some standing time/ soaking time and it becomes easier.


Clean

Wash well each item by rubbing with hands all over, with generous water. There should not be any place left without rubbing as it will leave residue and turn the item blue/ green as it dries.

Dry it and decorate with chandan & kum kum.
Alternate methods
You can use viboothi to generously sprinkle all over and use a cotton cloth to rub and give shine too. It will give shine and take away the grease too. It consumes some time and energy though.
Also I noticed, using Sabeena kind of powder helps giving a smooth finish and shine than soap.
Hard stains
I am not sure if this is right way, but for stubborn hard black sediments/ grease that gets collected inside of the brass container we use to keep the sambrani stick/ dasangam, Use oven cleaner like Dr beckmann.
Spray it over the hard sediments, leave it at least an hour or overnight and next day, if you use metal scrubber, it comes off easily.
Alternately, you can boil water to immerse it, add cooking soda, dish soap and put inside the brass container inside, simmer for 10 -15 mins. Clean using metal scrubber or use a knife to scrap built over grease for ages.
Let me know if you have any specific doubts if you have any. Please consult elders regarding the cleaning process before trying.