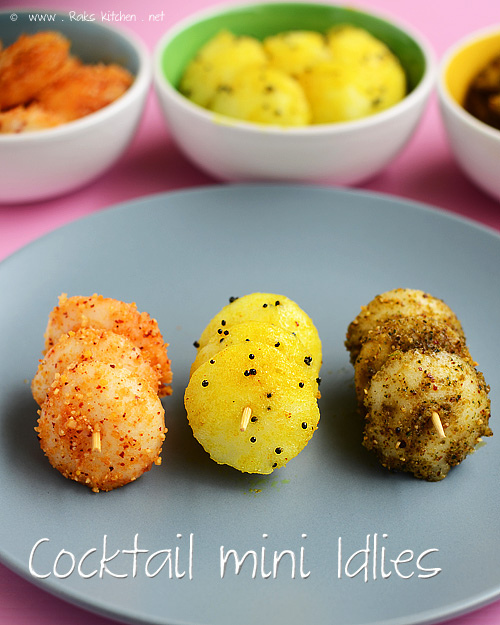 This is pretty good idea for making mini idlies more interesting, flavoured with the podi things we have at home and can be made in jiffy too. Kids would love it to see colourful idlies and also a different way from the usual way of eating. You can make it for parties as starters too. Thanks to Sangeeta for letting me know this idea. I usually make mini idlies and sambar(post coming up next week) but this was quite a different idea and for a change we enjoyed it very much. Do try it out, you and your family might love it! I often get requests from reader friends to post kids friendly recipes, and I hope this could be my contribution 🙂
Cocktail idlis recipe
Recipe Cuisine:
Indian
|
Recipe Category:
Snack
Prep Time
:
10 mins
|
Cook time: 25 mins
|
Serves
:
3
Ingredients
Please refer
this link
for idli dosa batter recipe
Mini idlis – 36
---
Idli podi – 1 tblsp
---
Curry leaves podi – ½ tblsp
---
Lemon – ½
---
Ghee – 2 tblsp
---
Oil (sesame oil) – 1 tbsp
---
Salt – 2 pinches
---
Asafoetida – A pinch
---
Turmeric – ⅛ tsp
---
Method
Very easy, just make mini idlies and keep it in hot pack. Just before serving, you can make it ready. First heat a tblsp of ghee in a non-stick kadai and in low flame, add the idli podi, give it a quick stir. Add 12 mini idlies and toss well in medium flame for a minute. Transfer to a serving bowl.
Wipe the kadai and add one more tblsp of ghee. In low flame (ghee should be hot but) add the curry leaves powder and toss well for a minute same as idli podi and transfer this too a serving bowl.
Lastly wipe the kadai again (or wash if needed) and add oil, mustard and a pinch of asafoetida and turmeric. Squeeze in the lemon and add salt. Make sure oil is more and add the idlies, toss it well. Switch off the flame and keep aside.
Now take tooth picks and insert the idlies, either same flavor as I have did or you can even mix it and insert. Arrange in a plate and serve it!
Notes
The original recipe said to mix in the lemon, turmeric with the batter, but I did it this way.
You can replace ghee with sesame oil too.
Serve this at snack time for your family in a weekend and make it special. You can make a carrot chutney if you want to go with this. My favorite is this nei podi idli 🙂.