'Coconut chutney' is a very easy and common side dish made in South Indian households. Though mainly for
idli
and dosa, its also best for pongal, vadai, upma etc. I have been thinking how to post this basic and simple recipe here. But many of the readers who are beginners/ new to cooking ask me how to make coconut chutney. So I think its high time to post this one here. I think the recipe is so simple and easy that can be made in a jiffy, there are lots and lots of variations that can be done with this basic recipe. So the notes will be longer than the recipe 😋. Also few tips and tricks for making perfect tasty chutney.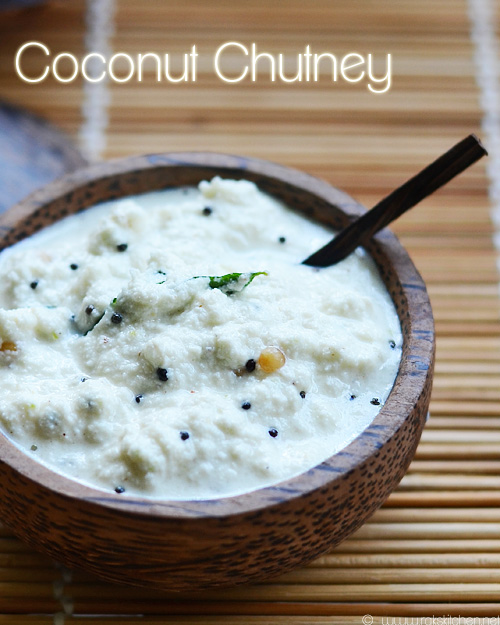 Coconut chutney recipe
Recipe Cuisine:
Indian
|
Recipe Category:
Side dish
Prep Time
:
10 mins
|
Cook time: 2 mins
|
Serves
:
3
Ingredients
Grated coconut – ½ cup
---
Fried gram dal (pottukadalai) – 2 tblsp
---
Green chillies – 2
---
Salt & Water – As needed
---
To temper
Oil – 1 tsp
---
Mustard – ¾ tsp
---
Urad dal – 1 tsp
---
Curry leaves – 1 sprig
---
Method
Grate coconut, place it along with chilli, fried gram dal, salt and little water in a blender to grind it until smooth or desired consistency.
Notes
Always use freshly broken and scrapped coconut for best tasting chutney. Dont use dried up coconut.
If the coconut is little bit on the tender side, then it will taste great.
How to troubleshoot a watery chutney? – Add more grated coconut or little more fried gram dal and grind it again. Adjust salt and chilli accordingly.
My chutney is not white, why? – Do not scrap the coconut with the brown part, scrap carefully only the white part. Do not add more fried gram dal or chilli, which will also affect the colour.
Fresh and a bit tender coconut gives whitish chutney.
Add little milk for getting a rich and whiter chutney.
Add water carefully while grinding, you can add less while grinding and always can add more if needed later.
If you want chutney in runny side, add little more fried gram dal and grind it watery. If you want thick, then no need.
I sometimes never add fried gram dal also and grind with very less milk or water to make 'getti chutney'.
Add a few drops of coconut oil and mix after grinding for a nice flavor or you can use coconut oil for tempering too.
Variations with this chutney :
* Add a small pinch of tamarind (Add more chilli to balance)
*Add a garlic flake while grinding
*Add a piece of ginger while grinding
*Add a small onion (Shallots) while grinding
*Add few curry leaves while grinding
*Add a half sauteed tomato while grinding (Add more chilli to balance)
*Add half sauteed onion while grinding
*Add roasted channa dal in place of fried gram dal
*Add roasted channa dal and red chillies in place of fried gram dal and green chillies.
*Add roasted peanuts and red chillies in place of fried gram dal and red chillies.
*Temper 2 tblsp finely chopped small onions
*Fry some carrot and grind along to make carrot chutney
Do not use your hands while grinding if you are packing it and makes sure you temper the chutney as my mom / MIL says it keeps the chutney longer without getting spoilt.

That's it, you can pair it up with Idli, Dosa, Pongal, kichadi, upma, adai, vadai, rava dosa etc.