Cooking without fire recipes that you can make it for competition as well as to involve kids to create the interest in them early.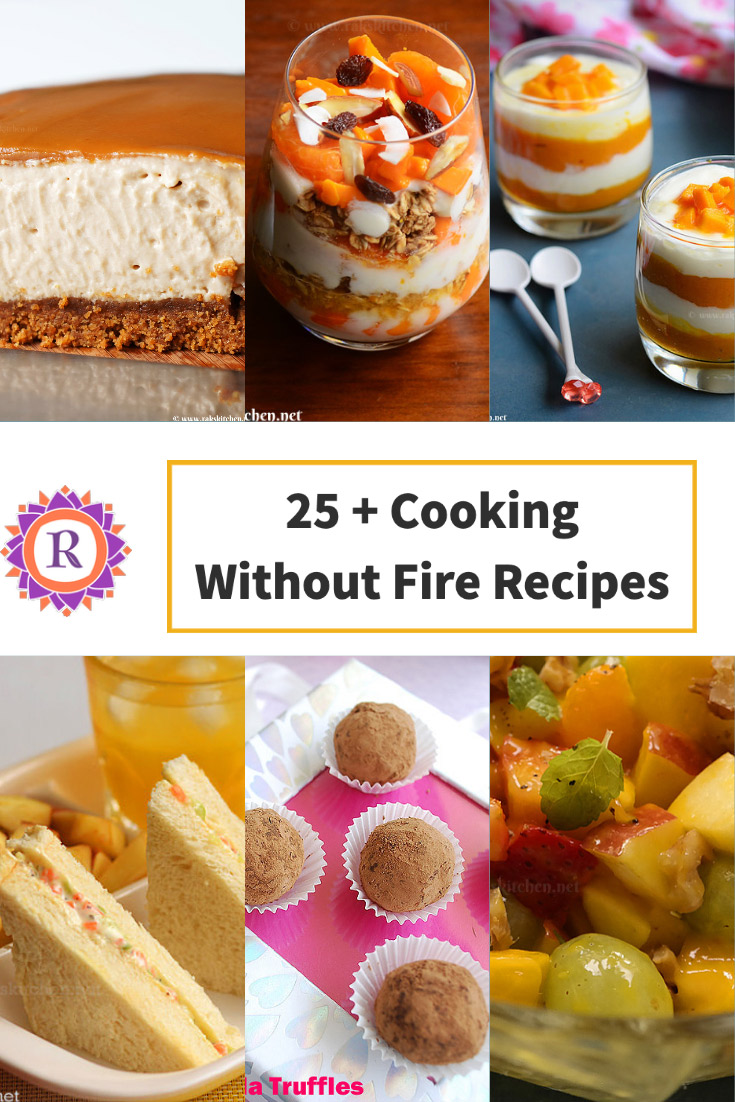 In this post, I have shared some fireless cooking recipes, ideas and in addition, strategies for No-cook recipes using mainly raw ingredients.
Jump to:
Many years back, I used to have a good organic reach in my Facebook page and there used to me many social interactions.
There will be at least one enquiry minimum about this cooking without fire competition. So I used to have this saved and copy paste to all of them.
I thought why not make a post for easy reference, hope it will be useful.
Sandwiches
Sandwiches are cool, easy to make even for kids without doubt. So here are some from my archives. Of course you can use your imagination to come up with your own!
1. Carrot Cucumber Tea sandwich
Firstly, super easy yet tasty and treat to eyes no cook sandwich.
Secondly, a healthy recipe perfect for college girls or health freaks.
Dips & Spreads
Dips can be served with chips, pita bread as well as even sandwich them between bread slices or serve it as open sandwich over a rustic bread slice.
To begin with, a super tasty and sure a winner! Thus, if you are trying to make a platter, you can include this.
2. Pesto
Up next, Pesto, a flavorful spread and I suggest you to use it in sandwiches like one here.
3. Guacamole
Another healthy classic spread which you can use to make a sandwich or serve it in Tostitos scoop/ Canapies wafer
Salads
Salads are healthy, wholesome as well as packed with texture loved by teens and adults for it's health factor.
For that reason, here are my collection of salads that qualifies best for cooking without fire.
Make sure to have a look at all in the list, you will definitely choose one!
Moong is very easy to sprout and here's a tasty salad for your menu.
2. Fruit salad
A delicious salad with tropical mint dressing. Kids as well as adults would love this myriad of colors.
Following it, a unique textured salad that I love and am sure you too will for it's taste and simplicity.
Similarly, this is my most favorite for it's taste with the amazing dressing with peanuts and sauce combination. Who would not love mango as salad 😃
Here are few traditional Indian recipes, skip the tempering part and you are good to showcase these as well as enjoy yourself.
A perfect balance of vegetable, lentil and simple lemon juice for a tangy twist.
Apart from this you can also make raitas without tadka like cucumber raita.
Want to make something fancy? Check out this Stuffed cucumber.
Chaat
Chaat is an excellent idea for this topic. Especially, you get every ingredient readymade for putting together a plate. Thus here are some of the best recipes from my archives below.
Other exciting snacks
1. Garlic bhel
Firstly this is one of the flavorful chaat from Karnataka and easy to mix.
2. Beach style Kara pori (use roasted peanuts instead of boiled)
Following is a spicy snack famous in Marina beach with easy and simple ingredients available.
3. Jhal muri
Finally, popular north Indian Sukhi muri mix.
4. Peanut chaat
Simple easy starters that will excite your taste buds as well as easy to assemble. However, you may want to skip the cooking part of chaat masala and red chilli powder. Reduce red chilli powder to very little as well as just coat it with any healthy oil and toss with other ingredients. By default, use roasted peanuts.
Since we are aiming for no fire cooking, instead of roasted papad, use khakra available in shops. To make this exotic, grate some Cheese over and serve. Check out this in Amazon (just for reference, it's not affiliate link)
There are many flavors available, I love pizza, methi, plain ones too.
Desserts/ sweets
1. Elaneer payasam | Tender coconut kheer
Elaneer payasam is an easy sweet/ dessert to prepare, yet an impressive one. Full video and step by step pictures recipe.
In the below recipe, I have boiled milk but you can skip that part and use UHT milk in shelves, tetra pack (not fresh milk) like Amul and make it 100 percent no cook desset.
2. Nungu payasam
Same like above, just replace tender coconut with ice apples and also make sure to get tender ones, not hard nungu.
Check out these easy as well as pretty dessert ideas for your no cook competition.
3. Breakfast parfait
Served in layers, these are tasty as well as treat to eyes. Here are two of my recipes below, but use your imagination to come up with your own combinations.
Healthy and bite sized snack served over mini muffin liners make them look so presentable.
Sugar free healthy laddu. Skip roasting part and use raw nuts.
Super easy, fun to make tasty nutella truffles.
No bake cheesecake works like a charm. Fancy and tasty to impress your guests or judges in the competition.
Drinks - lassi, milkshake, nungu sarbath, elaneer sarbath, nungu rosemilk.
Indian recipes
Vella aval is a lovely idea, just use plain water and soak for long time. Use more ghee and shape them using pretty molds and serve it in muffin liners. I suggested this to my Brother In Laws office competition and they did this successfully.
2. Dahi poha
Skip the tempering part and add some pomegranate in addition for colorful serving suggestion.
3. Shrikand
An easy dessert option, check out mango version and use it if it is in season.
Just another variation of Shrikhand
5. Mango salsa
Serve them with tostitos, pita chips, tortilla chips, topping for tacos etc.
Below are two recipes I saw in a forum many years ago...
6. Creamy Russian fruit salad
Ingredients
¼ cup Plain yogurt or hung curd
2 tablespoon Cream
2 tablespoon Mayonnaise
1 Potato, boiled and cubed
½ Carrot, chopped
1 Mango, chopped
½ Cucumber, chopped
⅛ cup Cabbage, sliced
½ of an Apple, chopped
¼ cup Pineapple, chopped
⅛ cup Pomegranate
⅛ cup Grapes
2 teaspoon Sugar
1 teaspoon Black Pepper Powder
Salt
Instructions
Mix yogurt, cream, mayonnaise, salt, pepper and sugar smoothly. Then toss in other ingredients and serve.
7. Chocolate Biscuit pops
Ingredients
18 Marie Biscuits or 10 Digestive biscuits
2 teaspoon Cocoa powder
2 teaspoon Sugar, powdered
2 teaspoon Milk
2 tablespoon Condensed milk
Dessicated coconut or crushed nuts for coating.
Tooth pics for serving.
Instructions
Take Marie biscuits and powder it.
Add cocoa powder, some crushed dry fruits and 2 teaspoon of powdered sugar.
Add milk and condensed milk to knead a dough adjust the quantity of milk to get a dough consistency.
Make small balls and coat it with desicated coconut or crushed nuts.
Insert a toothpick.
Refrigerate to set it before serving.
Recipe card