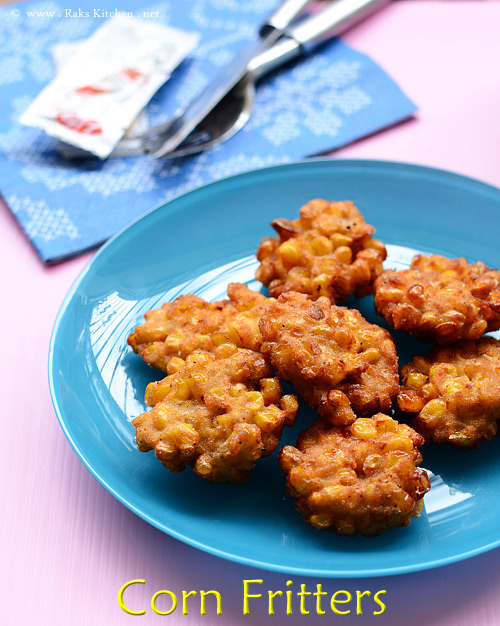 I have tried corn kebab and loved it a lot, my family loves it too and make it in the weekends sometimes. So when I saw this easy corn fritters recipe in the cookbook I borrowed in library, I wanted to try it out. I just adapted the recipe and adjusted to suit my family's taste and my convenience. And as expected, it was loved by both Aj and Vj. I too loved it very much. Its so simple and easy to make, so you can make it as snack for your hungry kids back from school or to make any weekend special with an evening snack.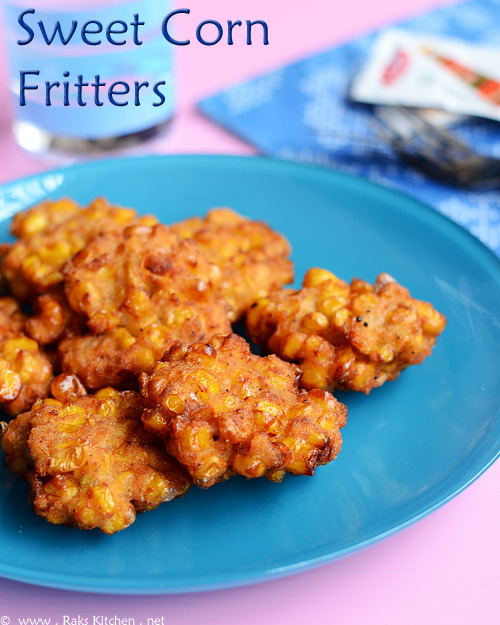 Corn fritters recipe
Recipe Cuisine:
Oriental
|
Recipe Category:
Snack
Prep Time
:
10 mins
|
Cook time: 15 mins
|
Makes
:
15
Ingredients
Sweet corn kernels (frozen) – 2 cups
---
All purpose flour/ maida – 3 tbslp
---
Rice flour – 1 & ½ tbslp
---
Salt – As needed
---
Black pepper powder – 1 teaspoon
---
Oil – for deep frying
---
To grind coarsely
Shallots/ small onions – 4
---
Red coloured chilli or green chilli – 2
---
Garlic cloves – 3
---
Coriander leaves, chopped – 1 tbslp
---
Coriander root (optional) – 1
---
Method
Place the corn in a microwaveable bowl with lid and cook covered for 4 minutes in high or as per instructions in the cover of the frozen corn. No need to add water. Stir in between for even cooking. If using fresh corn, then you can add 2 tblsp of water.
Grind the items in the table "To grind coarsely" with 2 tblsp of water.
Mix cooked corn (cooled down), ground item, pepper powder, both flours, salt with a tblsp of water if needed. The consistency should be like a vada batter. Adjust flour or water to get the consistency right.
Heat oil in a kadai, wet you hands with little water and make patties and drop carefully in the hot oil. The flame should be medium when you drop the fritters. Make sure the oil not too hot, as it will make the corn pop and its dangerous as the oil may spill. You can also spoon the corn mixture to oil, so if you want you can adjust the consistency accordingly.
Cook on both sides for total 4 minutes in medium flame, flipping to ensure even cooking. Cook until its golden in colour. Make sure you stand a bit far, in case the corn pops in the oil, for safer side. Make 3-4 per batch and drain over paper towels.
Notes
Make sure to cook the sweet corn in closed container to ensure retain its moisture. You can also steam it, if you dont have microwave.
Corn should be cooked properly to avoid popping in the hot oil.
Oil should not be fuming hot at any point, just make sure to higher and lower accordingly as there are chances of popping.
Any way, one or two corn per batch will pop, so make sure you stand at safe distance while the fritters are getting cooked.
Also there should be enough batter to bind and coat the corns.
Use a deep frying pan.
I used coriander root alone while grinding, as this is a Thai recipe and asked for it, but we can use coriander leaves alone and I tried that way too, it was nice.
Serve hot! Soft, crispy and crunchy corn fritters are yummy as such, or you can pair it with any hot and sweet sauces!