I never liked pavakkai / bitter gourd / karela. When my mom used to make pavakkai pitlai or sambar when I was a kid, I used to cry while eating… yes! Its compulsory to eat veggies and we had no choice to say NO to any vegetables cooked. I hate that much. She even does pavakkai varuval, never liked it though. But Vj loves pavakkai , but only this deep fried, crispy pavakkai. So I tried making this few times. I used to think, pavakkai should be having bitterness and used to wash so much times and soak in butter milk or water with lemon juice or tamarind extract and try making this crispy fries. But never got perfect crisp fries. But Vj used to say that the key is to slice thinly and evenly. But I never had a hope to get it perfect. Last week he bought bitter gourd and he himself sliced and showed me. I dint do any so called processes to remove the bitterness. Just made it simply and the result is…
Crisp,evenly fried,very very mild bitterness that is a plus for the fries. I was so happy and wanted to record this recipe here. One of my reader also requested to post Karela recipes, so I thought I should try and post here. So today I did to share with you all and keep this recipe recorded here!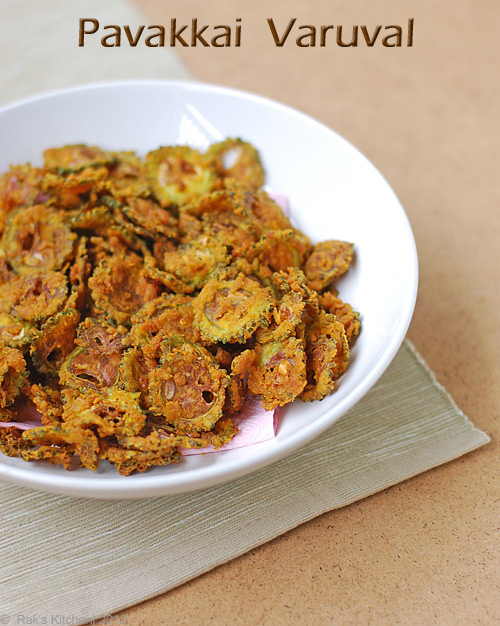 Crispy bitter gourd fries recipe
Recipe Cuisine:
Indian
|
Recipe Category:
Side dish
Prep Time
:
15 mins
|
Cook time: 25 mins
|
Serves
:
4
Ingredients
Bitter gourd/ pavakkai – 5-6
---
Rice flour – 3 tblsp
---
corn flour – 1 tblsp
---
Sambar powder/red chilli powder – 1 & ½ teaspoon
---
Turmeric – ¼ teaspoon
---
Salt – As needed
---
Water – 1 tblsp(approx.)
---
Oil – To deep fry
---
Method
Wash and remove both the tapering ends of the bitter gourd. Slice as thin as possible, mainly all should be even in thickness,so that it gets cooked perfect.

Mix rice,corn flours, turmeric, sambar powder,salt with the sliced bitter gourds. Sprinkle water and mix evenly. Do not add more.

Heat oil in kadai and when it is hot, add the karelas in sprinkled way. Make sure none of them are stuck to each other. Cook in medium flame until the bubbles and sounds ceases. It should be golden in colour and light in weight. Drain in paper towel.
Notes
It was not at all bitter in-spite of the fact that I dint do anything special to remove the bitterness! May be deep frying method wont have much bitterness. Instead, when I tried to so something to remove the bitterness, they were not that crisp!
Frying in medium flame is must to get cooked evenly and crisp without getting dark in colour.
Add water only a little to just make the rice flour hold over the bitter gourd.
Remove any big hard seeds if any in the bitter gourd after slicing. If its tender then no need to worry.
Serve as accompaniment for rice or enjoy as such as chips! You can store it in airtight container and use for 2-3 days.