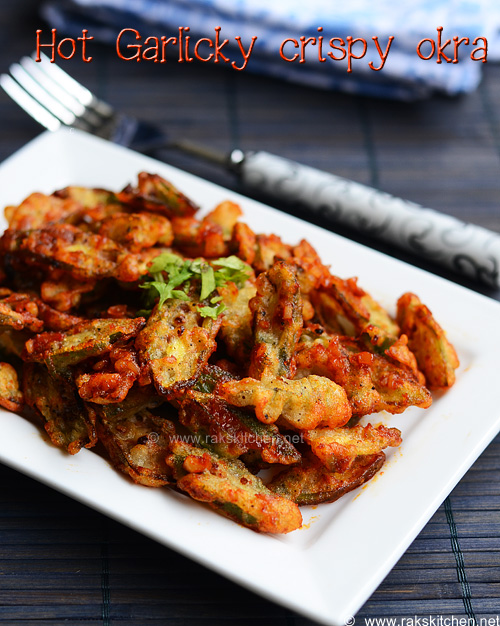 Crispy okra (Ladies fingers) tossed in a spicy, garlicky sauce – dry version. Okra is our family favourite. Both son and dad likes it. Especially when it is fried. I usually fry in
south Indian style varuval
. But tried this based on another recipe that Vj saw in a video and we tried, it turned out awesome. I have made it twice already and loving it. Very simple ingredients and method too not very complicated, but the result is an excellent tasting dish.
And I want to let you all know that I am travelling for next one month and may not be able to respond to your queries/ comments/ mails/ messages, promptly, but I will try to do my best when I find time. Join me in
Instagram
/
Twitter
/
Facebook
to see what I am upto in my holidays😀. I have scheduled few posts meanwhile, so keep visiting!
Crispy chilli garlic okra recipe
Recipe Cuisine:
Indian
|
Recipe Category:
Snack
Prep Time
:
15 minutes
|
Cook time: 30 mins
|
Serves
:
2
Ingredients
Okra/ ladies fingers – 15
---
Small onions – 4
---
Garlic – 6 flakes
---
Green chilli – 2
---
Red chilli – 1 & 1/2 tsp
---
Tomato sauce – 2 tsp
---
Soya sauce – 3/4 tsp
---
Black pepper powder – 1/2 tsp
---
All purpose flour (Maida) – 3 tbsp
---
Corn flour – 4 tbsp
---
Salt – As needed
---
Oil – As needed
---
Method
Slice the okra diagonally into thin slices. Transfer to a mixing bowl.

Add a tbsp of all purpose flour and coat it well.

Mix remaining maida, corn flour,pepper and salt. Add cold water to make a batter, slightly on runny side.

Dip the sliced okra in the batter and carefully drop in hot oil and deep fry until crisp. Do not change the colour to deep golden, just fry until crisp.

Drain in paper towel. repeat to finish in batches. Finely chop, green chilli, garlic and onion. Mix red chilli powder with a tbsp of water. Heat a tbsp of oil in a pan, add the chopped garlic,chilli and onion in order, frying each for 1/2 min.

Once fragrant, add the red chilli paste, mix well. Cook in low flame until the oil separates.

Add tomato sauce mix well and add soya sauce and give it a quick mix.

Add the deep fried okra and toss well to coat the okra.
Notes
Slice okra diagonally for easy frying.
While deep frying, the okra should be dropped in oil individually. Though it will stick in oil, as it gets cooked, will easily separate.
Batter should not be thick, should be slightly runny.
Coating the okra in flour before dipping in batter helps the batter stick to the okra.
If you want you can replace soya sauce with lemon juice.
Onion can be skipped.
Serve immediately. You can garnish with spring onion or finely chopped coriander leaves.