Custard powder popsicle is an easy to make, cool treat for the kids for this summer.
I wanted to try this a simpler version of custard powder ice cream. Though I wanted to make this with caramel syrup (store bought sundae syrup), ended up using jaggery syrup.
So if you want you can use caramel sundae syrup or even the plain custard popsicle without any syrup.
Coz it is yummy as it is. Wishing all lovely mom's out there a very Happy Mother's day!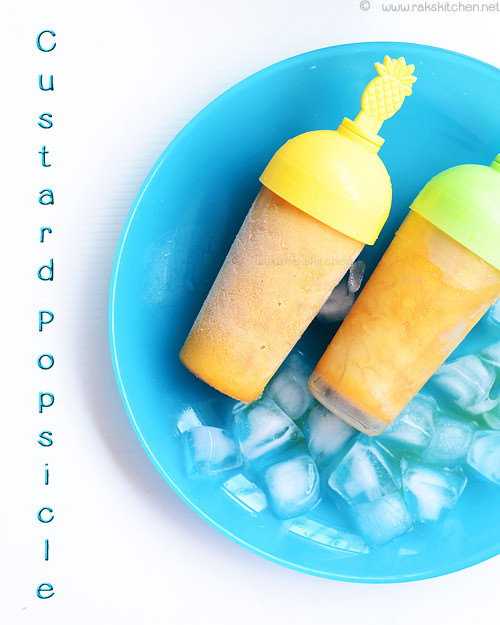 Check out my other milk based popsicles – Kesar pista kulfi, rose milk popsicle. Other custard powder recipes – Apple custard, custard powder icecream.
Custard powder popsicle recipe
Recipe Cuisine: Indian | Recipe Category: Popsicle
Prep Time: 20 minutes + 5 hrs freezing time | Cook time: 15 mins | Makes: 2
Ingredients
Milk – 1 cup
Custard powder – 1 tbsp
Sugar – 3 tablespoon Or as per your taste
Optional – Caramel or any sundae syrup of your choice. I have used jaggery syrup.
Method
Boil milk in a heavy bottomed pan, with sugar (I used un refined sugar).
In a bowl, mix custard powder with a tablespoon of warm milk without any lumps(take some from the boiling milk).
Add it to the boiling milk under medium flame with constant stirring. Make sure no lumps are formed. Boil until the mixture turns thick enough to coat the back of the ladle. Cool this custard with constant stirring as it forms layer as it cools down.
Optional step – Heat ¼ cup jaggery with 2 tablespoon water and boil until a thick syrup is formed in medium flame. It turns thick soon as we use less water. Filter to remove any impurity.
Cool the syrup completely and pour in popsicle mold and rotate so that it coats the sides. Pour the prepared custard to it and freeze it for minimum 5 hours or overnight.
To unmold, show the popsicle molds under running water for a minute. Pull gently to take it out.
Notes
In case you for lumps in your custard, you can strain over a metal strainer.
You can use sundae syrup as per your choice instead of jaggery syrup as I have said earlier.
Creamy curstard powder popsicle ready to enjoy!