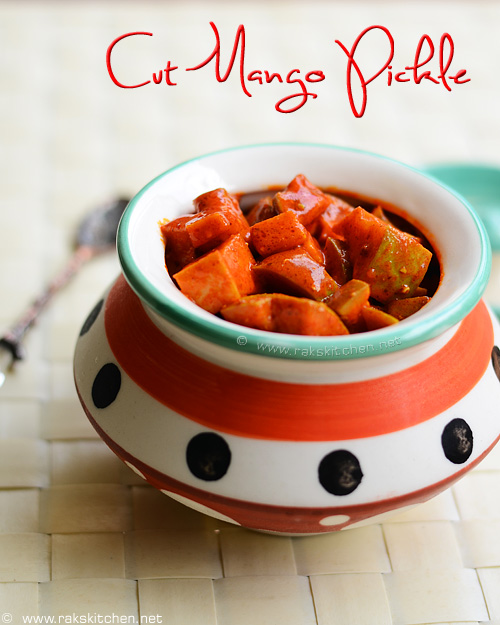 Cut mango pickle – Manga oorugai in Tamilnadu style. I have few mango pickle recipes in the cook book I have. I thought last year itself I should make cut mango pickle, but last time too I ended up with
mango thokku
and
vadu mango pickle
. As it was there, I have not made it. This year, I made vadumango pickle very less, even before that made and finished mango thokku too😉. So right time to make cut mango pickle.I got 4 mangoes, but made pickle less with only 1 as this is the first time I am making this style pickle. When it turned out good, I made another batch later. Last year I wanted to make it in North Indian style cut mango pickle after Vj had it in Pune and wanted me to try as well. I thought first I will try this way, taste the NI pickle and try later. I made this last week itself, was about to post on Friday but some how could not post and ended up posting something else.
Cut mango pickle recipe
Recipe Cuisine:
Indian
|
Recipe Category:
Condiments
Prep Time
:
20 minutes + 3 days standing time
|
Cook time: 0 mins
|
Makes
:
1&½ cups
Ingredients
Mango – 1
---
Red chilli powder – 2 tbsp
---
Sesame oil – 2 tbsp
---
Salt – 2 tbsp
---
Mustard powder – 2 tsp
---
Fenugreek seeds Roasted, powdered – ½ tsp
---
Turmeric – ½ tsp
---
Asafoetida/ hing – ¼ tsp
---
Method
Remove the top stalk part of the mango and divide and take out the seed leaving the hard shell part of the seed intact. Cut into strips and chop them as shown in the picture.

Clean and dry in sun for an hour or until there is not extra moisture.

In a preferably porcelain or glass container, mix all the ingredients except the mango, using a clean ladle.

Add mango and mix well. Keep it aside and I gave the pickle stir once everyday for 3-4 days. The pickle was dry when I mixed, later became oily. Still added one more tablespoon of oil next day and mixed.
Notes
Usually, for this pickle, salt and red chilli powder are equal in quantity.
I keep my pickle in the fridge, but if you want to keep at room temperature, make sure to add more oil and store in an airtight glass bottle, where oil should form a top layer to cover the pickle. This will preserve the pickle from getting spoiled.
The pickle was nice from the next day itself for us, so we started eating from the very next day. But 3-4 days best to keep for letting all the spices and flavours get along well together.
Always make sure to dry the mango well before pickling. Also use clean containers, clean spoons.
Sesame oil is good next to olive oil, so be generous while adding. Eat the pickle in moderated if you are worried about salt and oil.
Fenugreek seeds = Methi seeds = Vendhayam
As people say mango pickle can go with anything and everything, for me it's always thayir sadam – curd rice only.