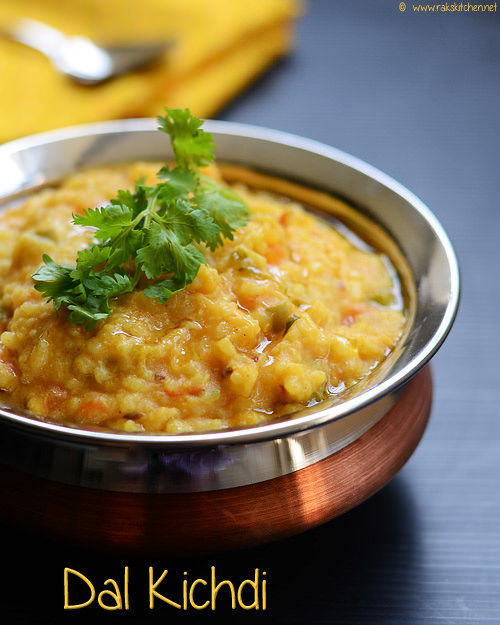 I am trying and tasting dal khichdi for the first time. When ever someone says I had dal khichdi for lunch, I will be so so very much tempted to taste. I wanted to try for long time but I had no idea for the recipe. I browsed online too sometime back, but everything had
ginger garlic paste
, whole garam masalas, which I was imagining myself how it would be if we add all these things to south Indian pongal. But Sangeeta told me a recipe recently and which was very simple and just perfect to suit my taste. I wanted to try for few days but today was the perfect day to try. I think this is a perfect one pot meal for a rainy, lazy day, you can make and have it hot. Kids would love with
ghee
and its loaded with protien, carbs with added veggies to make you feel full and energized. I will make this often for myself here after.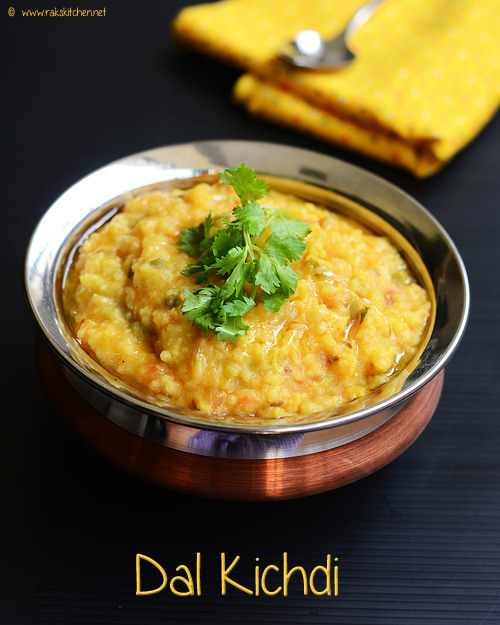 Dal khichdi recipe
Recipe Cuisine:
Indian
|
Recipe Category:
Lunch
Prep Time
:
30 mins
|
Cook time: 20 mins
|
Serves
:
4
Ingredients
Rice – 1/2 cup
---
Moong dal – 1/2 cup minus 1 tblsp
---
Water – 4 &1/2 cups
---
Mixed vegetables, chopped – 3/4 cup
---
Turmeric – 1/4 tsp
---
Salt – As needed
---
To temper
Oil/ ghee – 2 tblsp
---
Jeera – 2 tsp
---
Finely chopped ginger – 2 tsp
---
Green chilli – 2
---
Curry leaves – 1 sprig
---
Tomato – 2
---
Coriander leaves, chopped – 3 tblsp
---
Red chilli powder – 1 tsp
---
Garam masala – 1/2 tsp
---
Method
Wash and soak rice and dal together for half hour and pressure cook with turmeric, vegetables and 1/2 the salt. Bring everything to boil and close the lid, put the pressure valve after steam comes. Pressure cook for 3 whistles. Make sure you use a big pressure cooker. I used my pot shaped cooker. After first whistle, put the flame to medium.

Finely chop tomato, slit green chillies. Heat a kadai and temper with jeera, ginger, green chilli, curry leaves and give it a stir. Add tomatoes, add remaining salt, red chilli powder, coriander leaves and garam masala.

Fry until mushy and oil separates. By now the rice, dal, veggies will be done. Open the cooker and mash well.

Add the tomato with other masalas we fried, to it and mix well.
Notes
I used 5 beans, 1 small carrot and 1/2 cup green peas. You can add potato too.
You can skip garam masala too.
Keep 1/2 cup hot water ready, if the kichdi is too dry, you can add it and mix.
Gives so much volume, so make sure you add salt accordingly.
Soaking is really important.
You can pressure cook and while its getting cooked, chop the other ingredients needed.
Perfect for a rainy cold day, serve always hot. Tastes great as such, but you can have it with curd, pickle or even dahi kadhi.