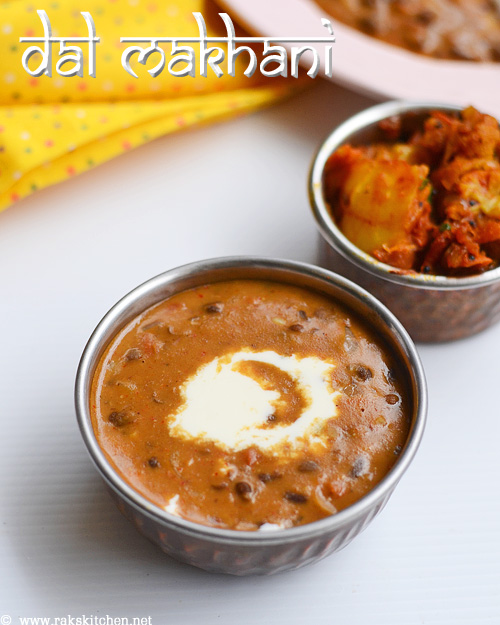 Dal makhani is a rich gravy made with black gram - whole urad dal (with skin) as main ingredient and rich ingredients like butter and cream to make it tasty and delicious.
I was in a short unsaid break for a week and so could not update blog and missed some posts of yours too! That's because my parents are here with me, and still we have a lots of things to share! Yesterday some how I managed to take pictures and post it. My friend Sangeeta who I always refer when I make or try something north Indian dish is away, then too, I chased her in mobile and took the recipe from her and tried, Dal Makhani.
I have updated this post with full video, the method might be slightly varying.
Dal makhani recipe
Recipe Cuisine:
Indian
|
Recipe Category:
Lunch
Prep Time
:
Overnight soaking
|
Cook time: 30 mins
|
Serves
:
4
Ingredients
Black gram (Whole urad dal) - ½ cup

---
Rajma - 3 tbsp

---
Red chilli powder - 1 tsp

---
Green chilli - 2

---
coriander powder - 1 & ½ tsp

---
Turmeric powder - ¼ tsp

---
Garam masala powder - 1 tsp

---
Onion - 1

---
Tomato - 1, large

---
Milk/Cream - As needed

---
Butter - As needed (1 tbsp)

---
Ginger, Garlic Finely chopped - 1 teaspoon each

---
To temper
Cinnamon - 1 inch piece
---
Cloves - 2
---
Bay leaves - 1
---
Cumin seeds - 1 tsp
---
Butter - As needed (I used 1 tbsp)
Method
Soak urad dal,rajma for minimum 6 hours or over night. Next day, discard the water and pressure cook till done, say 5 whistles, with enough water(water level should be above the dal). You can add a pinch asafoetida (hing) while pressure cooking these dals for extra flavour.

Drain and save the excess water and mash the dal with ladle. Chop onion, grind the tomato and keep aside. You can add chopped tomato too. Heat butter in a heavy bottomed vessel,add the To Temper table Ingredients. Add the finely chopped ginger and garlic and fry till golden brown. Add slit green chilli.

Add the onion and fry till transparent.

Add the ground tomato paste, salt and fry till oil separates.

Add the red chilli and coriander powder, garam masala, turmeric (add more butter if desired)

Now add the water drained from the dal and boil for 2-3 minutes..

Add the mashed dal and mix well.

Add cream at this stage and adjust the consistency.(add butter if desired)

Cook in low flame for couple of minutes and stir in between.
Notes
Rajma takes more time than urad dal to get soaked. Choose red variety rajma for easy cooking.
After adding cream, it should be cooked in low flame. If not adding cream, you can add milk in place of water and just butter is enough for richness.
Stir in between every now and then to avoid dal getting burnt at the bottom of the pan.
Finally garnish with ginger strips and butter/cream and serve with roti/nan/rice.