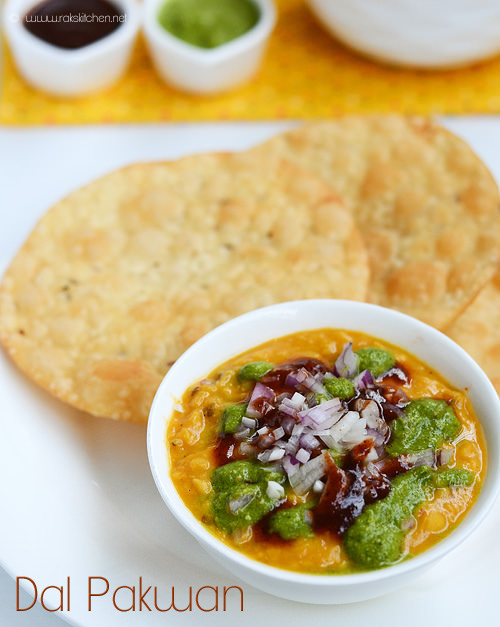 I hear this for first time when my friend Sangeeta said made this for breakfast. I never thought of trying at home, but few days back she told this is her most favorite breakfast and I should blog this. I was so excited to try this when I heard the recipe. I promised her that I will post it for my
Breakfast menu series
. So this week, instead of linking my old recipes, its a new recipe post with this famous Sindhi breakfast combo "Dal Pakwan" !! She told they make this in Sundays. Like my
Sindhi lunch menu
this is also one of my favorite now! Today I made this and gave it to Aj first, he first told he wasn't hungry seeing that I tried something new. Then I told just taste I will give you later. When he tasted his first bite, he wanted more and he finished his breakfast too. Later, I gave to Vj he too loved it. No points for guessing that I too loved it. This had my favorite
green chutney
, red chutney, raw onion combo. So obvious that I loved it. So here, this week breakfast menu is a recipe post by itself. Enjoy and do try it, you are going to love it too, its easy as well!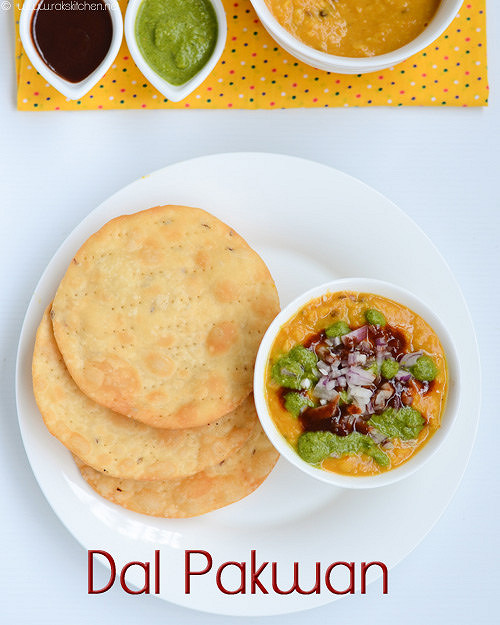 Dal pakwan
recipe
Recipe Cuisine:
Indian
|
Recipe Category:
Breakfast
Prep Time
:
1 Hr
|
Cook time: 35 mins
|
Serves
:
4
Ingredients for Poori (Pakwan)
Maida/ All purpose flour – 1 cup
---
Jeera/ cumin seeds – 1 tsp
---
Salt – As needed
---
Oil – 1 tblsp + for deepfrying
---
Ingredients for Dal
Channa dal – 3/4 cup
---
Red chilli powder – 1 tsp
---
Turmeric powder – 1/4 tsp
---
Jeera – 1 tsp
---
Asafoetida/ Hing – A generous pinch
---
Oil – 2 tblsp
---
To serve
Method
Soak channa dal for atleast an hour (or overnight). Heat a small pressure cooker with 2 tsp of oil, add asafoetida, drained dal and give a stir for a minute.
Add salt, turmeric and 1 & 1/2 cups water. Give 3 whistles and after 3rd whistle keep the flame in low for 5 mins.
Open the cooker, heat a pan with oil, temper with jeera, switch off the flame and add red chilli powder. Add it to the cooked dal.
Stir well and heat again to bring it to boil. The dal should be half mashed and half seen. And adjust water consistency if its too dry.
For the poori/ Pakwan, mix maida, salt, jeera, oil well and add water to make a smooth dough. It should not be sticky, it should be a smooth and on tighter side.
Keep aside for 15 mins and again knead to make it smooth. Make equal sized balls out of it.
Roll each to thick pooris. Prick well everywhere with a fork to prevent puffing. Roll everything and repeat the same.
Heat oil in kadai and put the flame to low. Drop the poori one at a time and cook in low flame or medium flame, until the bubble ceases. At no point, the flame should be high. The poori should not puff and it should be super crisp like Papdi. So cook for long time in low flame to ensure the colour remains golden, yet the poori turns crisp.
Notes
You can add a 1/2 tsp amchoor powder, garam masala too in dal while tempering.
Soaking dal makes it soft textured.
Prick pooris both the sides to prevent them puffing.
Oil temperature should be maintained moderate to ensure evenly crispy poori.
Serve with generous dash of sweet chutney, green chutney and chopped onions along dal and pakwan.