Different south Indian breakfast menu with rava kichadi thakkali dosa. By different, I don't mean a fancy innovative dish, but quite a break from the usual.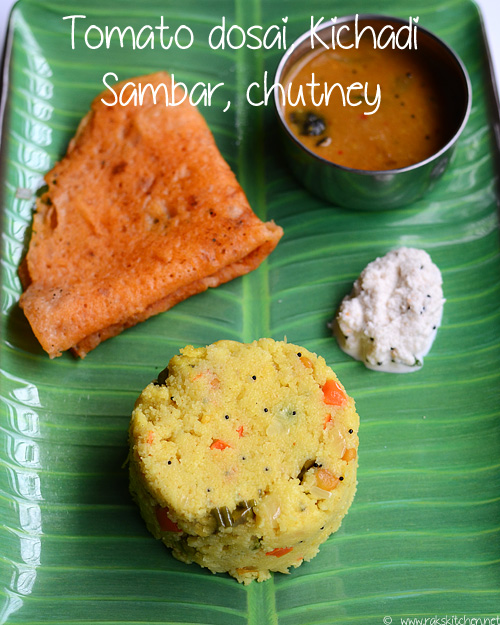 I made this menu last weekend to post, but somehow posted a lunch menu.
This Different south Indian breakfast post is just an idea on how to plan and prepare a menu. For individual recipes, check the links provided.
Jump to:
If Aj is there then this menu is not possible. Since he is enjoying his vacation my in laws I made this menu and enjoyed.
I felt like having kichadi with vegetables, so made it along thakkali dosai to go with it.
Since I am going to Chennai, I am scheduling this post and will try to click any breakfast menu from there and post it if something new is made there.
Otherwise, will post some basic recipes, so stay tuned. Here's how I prepared this breakfast.
Instructions
Recipe Cuisine: Indian | Recipe Category: Breakfast
Prep Time: 12 hr | Cook time: 45 mins | Serves: 4
I soaked idli rice overnight and ground for thakkali dosa first and kept aside. Pressure cook dal for sambar, soak tamarind in hot water.
Chop veggies, tomato, onion for kichadi, sambar and dosa, keep all other ingredients like green chilli, vegetable for sambar, curry leaves required for khichadi, sambar, chutney and dosa.
Extract tamarind juice, keep aside. First temper for chutney and transfer to a bowl, then for dosa, then sambar, let it boil in a stove. Lastly prepare kichadi. Let it get cooked.
Meanwhile you can grate coconut for chutney and grind it, mix with the temper.
When kichadi is done and your family is ready, prepare dosa and serve hot.
Thakkali dosa, rava kichadi, chutney, sambar for weekend breakfast.
Recipe links
Check out this similar verum arisi dosa, other chutney recipes too.
Have a happy Sunday 😍.