Is a Dishwasher really useful in Indian kitchen? I have tried to share my experience about owning a dishwasher and how it is helpful for me.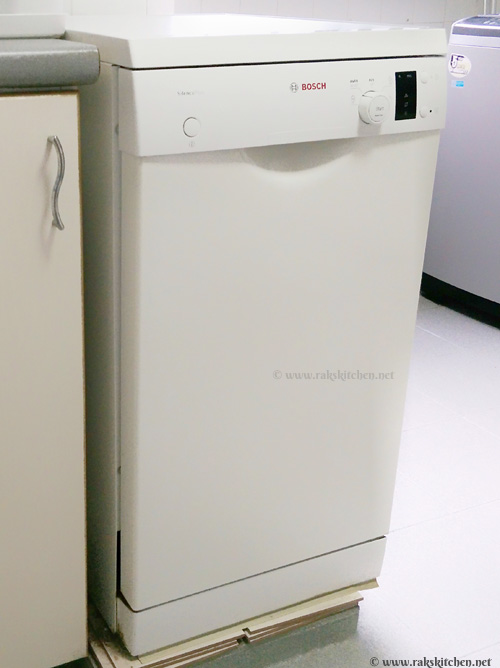 Jump to:
I got my Dishwasher about 4 years ago and I keep thanking Vj, for that it is one of the best gift I got. Many of you might be wondering same as me, how it would clean our vessels used in Indian cooking.
I have to admit, I hate washing dishes always standing at the kitchen after every meal. After finishing all the works, after eating, all I want to do is sit for a while, not again do cleaning.
As much as we like relaxing, we do hate vessels inside the sink. It always runs behind your mind and keeps one restless, that there is a pending work.
I will feel like always washing dishes so much earlier before I got Dishwasher in my kitchen. I am not trying to sell any products, just sharing my experience.
I always wished my mom/ MIL have a dishwasher so that they could save some work!
So are you the one who have a thought to buy a dishwasher but holding few doubts or if you are a one who don't want to stand long in the kitchen, hate washing vessels, you can consider buying one.
If you have any doubts or points to add, do leave a comment so that it would help anyone looking for info.
Watch video
Here's a quick video, if you like to watch it.
Dishwasher in an Indian kitchen:
The dishwasher cleans your dishes, though you must understand, you have to load it. After cooking, usually you transfer to the sink, and give a rinse (not clean) but pour the dirty water and load it. There should not be any food particle in it. But this has never been my issue.
What all are the dishes I load in it?

Milk vessel – My milk vessel is a steel with layered bottom (wmf). I boil milk only once for my family and never let my milk get burnt or harden in the sides of the pan.
If this is the way you are also doing, then you too can do this. I use steel tumbler, glass cup and ceramic cups, load these too.
Also,I load my metal strainer (in case if you use for tea or filtering anything. Breakfast plates, lunch plates, sambar boiling vessel – again a layered bottomed steel vessel, which I never let anything 'burnt'.
In case you got burnt bottom/ sides, you might need to scrub manually. Dinner plates, lunch boxes.
Dishwasher safe water bottles, spoons, ladles used for cooking/ serving, knives. Curd vessel (the sides even if it is having tough solids, gets cleaned completely).
I occasionally load the steel masala boxes used for storage, grocery boxes used for storage (both steel and dishwasher safe containers) and oil containers (steel) , salt container (Glass).
Also clean the rack in which I stack onion/ tomato/ potato/ garlic and all those. I even load my murukku press (steel), the south Indian coffee filter in this.
Usually, I use dishwasher only once and I run in the night alone. If might want to use twice depending on your family size and usage of vessels.
It takes solid 2 & ½ hrs for the cycle to get over, so I switch on before bedtime and take out the vessels on wake up in the morning. I recently tried a short cycle too, it is perfect for non too soiled vessels.
Below is the upper rack and lower rack. I use upper rack for coffee cups, smaller bowls, spoons, knife and small stuffs. I keep plates, big vessels in the lower rack.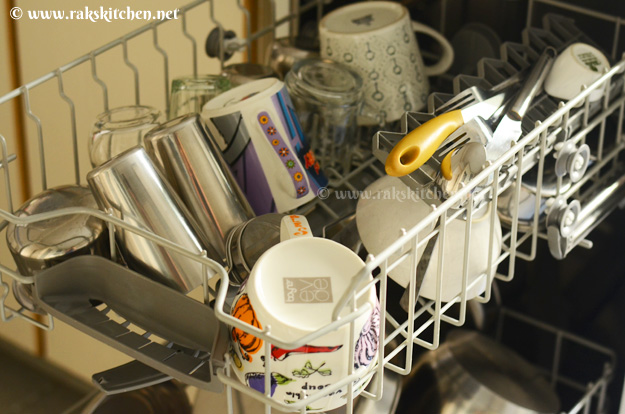 What are all the materials you can load in dishwashers?
Steel, glass, porcelain, dishwasher safe ceramic ware, dishwasher safe plastics.
What are the materials which you cannot use in dishwasher?
Some plastics are not dishwasher safe, so always look for the dishwasher safe sign in the bottom of the vessels/ containers.
Aluminium and indolium - Sadly I have my idli pot, pressure cooker, kadai in these materials. So I wash with my hand. These materials, if cleaned in dishwasher, will turn black in patches and look horrible.
Iron - cannot clean iron kadai, dosa pans, cast iron pans
Wood - Wooden spatulas, bowls, bamboo bowls, utensils cannot be loaded.
Copper, Brass - Same like aluminium, indolium, these too gets ugly in colour in patches.
Vessels with copper bottom - The copper coating will erode away.
Hard anodized cookware - The black material, it becomes dull and rough, shine is lost if used in dishwasher.
So I use vessels according to that, wash few vessels in hand, still I save lot of time and labor.
I wash kadai, cooker in hands but I have read that in India, top brands have customized in such way that the highly greasy kadai too. There is a specific option for that to choose.
What about electricity and water?
In my opinion, water is saved unlike we wash our vessels many times in a day in batches, under running water tap. I don't see any sharp fluctuation in my water usage bill.
Electricity is also consumed just like a washing machine. There's no any such spike or noticeable increase in my power consumption.
How about expense?
Once you decide to buy a dishwasher, go for a branded one, with advanced features, settings as it is one time investment.
I use Bosch, which is doing it's job best. You can also consider IFB, Siemens, LG etc, but do a research online and look for feedbacks. Investing in a cheap model or unknown brand won't help here.
One more thing you have to be aware while considering is, you need to be ready to spend on dishwasher special tablets/liquid/ powder. You cannot use the same dish soap you use for washing manually.
Also the salt (especially when you are in India, to handle the hard water) and the rinse aid, which gives the shine to the vessels, without any water spots.
But this is going to be an monthly expense not very often.
No, it is not a luxury!
You have invested on a fridge, washing machine, grinder, oven etc for your kitchen, so just like that, you should see dishwasher as a part of kitchen, do not see it like a luxury!
Do look out for any offers in festival times or special occassions and grab one.
Things I love about dishwasher
Clean - As far as Indian vessels are concerned, we have to always choose a higher temperature washing cycle to get rid of grease.
I used to choose the highest temperature setting 70 deg initially, but found 40-65 is perfect too for me.
So it washes in a high temperature, sprays with jet fast water gushing from all sides, so it cleans thoroughly, better than me or anyone.
Dry - If we wash with hands, the vessels have to be drained from water and left for long time for drying or wipe using a dish towel for a spotless vessel.
But here, we just place the vessels inside, get it dry and sparkly clean. No need to wait, change place, wipe the vessels. Just open the dishwasher, vessels goes to their places.
Vessels stay new longer: As we are not using scrubber, the new vessels remain new and shiny. I just love it!
FAQs
I thought dishwasher is complicated to use, install?
No, it's just like a washing machine, load - choose a cycle and everything is automatic. A water inlet, plug point, water outlet. You can choose a built in or freestanding one.
Many people say it is not useful as it does not clean completely?
As I said, only burnt vessels are not cleaned, if it is burnt and have a hard spot, I scrub with metal scrubber to remove it and load. You cannot add as such, it will not clean properly.
Some may even say we can clean ourselves fully in spite of cleaning partially. But believe me, it's not same. This does saves your time and energy.
Maintenance - There is nothing to maintain anything specially that would bother you. Just have to wash the sprayers once in a while and wipe clean outside just like any other appliances.
So on conclusion, if you are like me who hate to wash vessels and just keep thinking not to buy for some or the other reasons, do invest on one and thank me later! Dishwasher in Indian kitchen is totally worth it!