North Indian lunch menu, Indian vegetarian thali idea for satisfying your hunger pangs. A filling menu with paratha, dum aloo, raita, pulao, chaat and papad, pickle.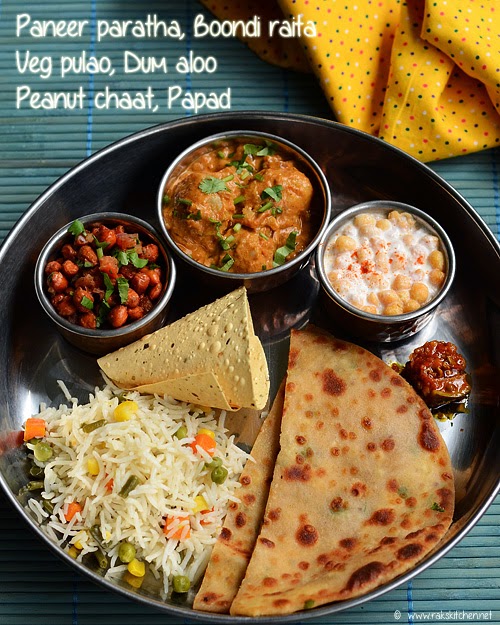 I just chose these dishes according to the availability in my pantry and to suit my family needs.
This is an attempt to satisfy our craving for north Indian food. May not be authentic thali to represent one, but sure a delectable one.
Last week could not post any lunch menu or breakfast menu as I was not in mood of touching the camera. Drawback of doing fresh posts (Last minute post)🙄.
North Indian lunch menu, Indian vegetarian thali idea
This week so thought of clicking a menu and keep it ready. I was craving for some rich stuffed paratha, so suddenly paneer paratha came to my mind.
And had small potatoes that I picked from Mustafa, so thought of making Dum aloo, which I never tried making again after that post 🤫. Aj always loves baby potatoes and he was double happy when I told him that I am gonna make a gravy with it along with veg pulao.
So rice for him and paratha for me. Actually I made the pulao and dum aloo morning and packed for Vj's lunch box, then later made paratha hot for my lunch along with the peanut chaat. But I will write the preparation together.
Recipe links
Paneer paratha is one of the simple to make Indian flatbread recipes. Can be made really quick and fills your tummy too.
20
mins
Dum aloo is a popular Indian gravy with baby potatoes or small potatoes. This version is yogurt based with spices like fennel seeds, moti elachi. Step by step detailed photos.
35
mins
Veg pulao recipe with step by step pictures. Easy lunch recipe with mixed vegetables, perfect for lunch box and as one pot meal!
25
mins
Preparation guide
Recipe Cuisine: Indian | Recipe Category: Lunch
Prep Time: 45 mins | Cook time: 1 hr | Serves: 3
Soak rice for pulao. Soak paneer in hot water.
Pressure cook small potatoes mean while prepare dough for paratha, set side.
Chop vegetables for pulao, onion, tomato, coriander leaves, ginger, garlic as needed for the pulao and dum aloo, peanut chaat.
Peel off the skin of potatoes.
Prepare pulao first, meanwhile roast potatoes for dum aloo.
Prepare the stuffing for paratha and keep aside.
Fry and finish the grinding works for dum aloo.
Prepare dum aloo, simmer it for getting cooked.
Soak boondi for boondi raita.
Make raita and lastly prepare paratha hot while you are going to eat lunch.
In the same tawa, roast papad.
Toss the peanut chaat to serve the lunch.
If you want you can add a sweet lassi or salted lassi or this masala chaas to this menu.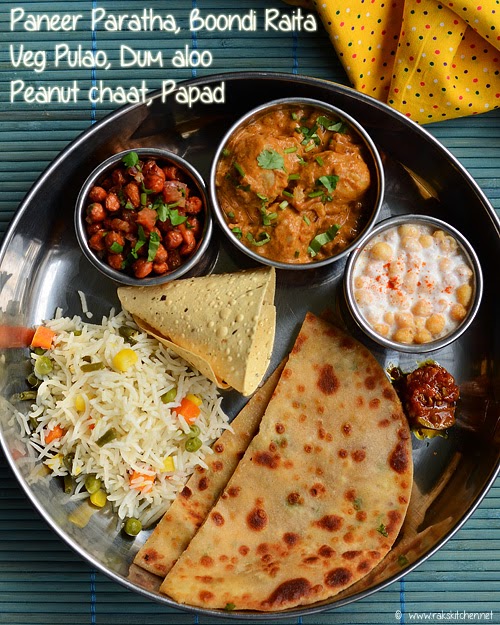 Have a happy weekend everyone 😊.