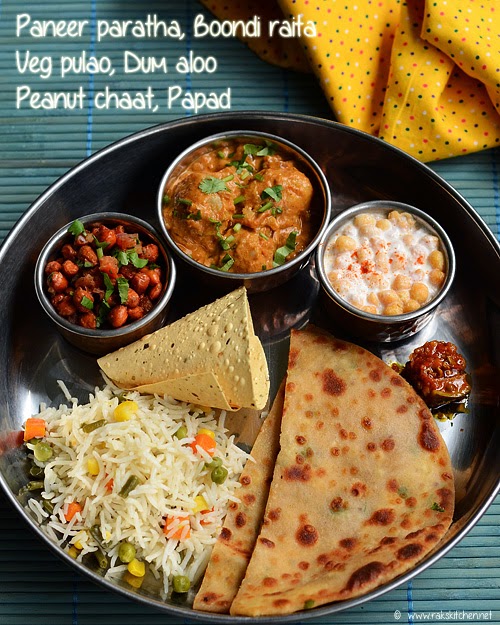 Last week could not post any lunch menu or breakfast menu as I was not in mood of touching the camera. Drawback of doing fresh posts (Last minute post)🙄. This week so thought of clicking a menu and keep it ready. I was craving for some rich stuffed paratha, so suddenly paneer paratha came to my mind. And had small potatoes that I picked from mustafa, so thought of making Dum aloo, which I never tried making again after that post 🤫. Aj always loves baby potatoes and he was double happy when I told him that I am gonna make a gravy with it along with veg pulao. So rice for him and paratha for me. Actually I made the pulao and dum aloo morning and packed for Vj's lunch box, then later made paratha hot for my lunch along with the peanut chaat. I will write the preparation together but.
Check out recipe links
Dum aloo, veg pulao – Lunch menu 52
Recipe Cuisine: Indian | Recipe Category: Lunch
Prep Time: 45 mins | Cook time: 1 hr | Serves: 3
Soak rice for pulao, pressure cook small potatoes, prepare dough for paratha. Soak paneer in hot water.
Chop vegetables for pulao, onion, tomato, coriander leaves, ginger, garlic as needed for the pulao and dum aloo, peanut chaat. Peel off the skin of potatoes.
Prepare pulao first, meanwhile roast potatoes for dum aloo.
Prepare the stuffing for paratha and keep aside. Fry and finish the grinding works for dum aloo.
Prepare dum aloo, simmer it for getting cooked. Soak for boondi raita.
Make raita and lastly prepare paratha hot while you are going to eat lunch. In the same tawa, roast papad.
Toss the peanut chaat to serve the lunch.
Lunch is ready. If you want you can add a sweet or salted lassi or this masala chaas to this menu.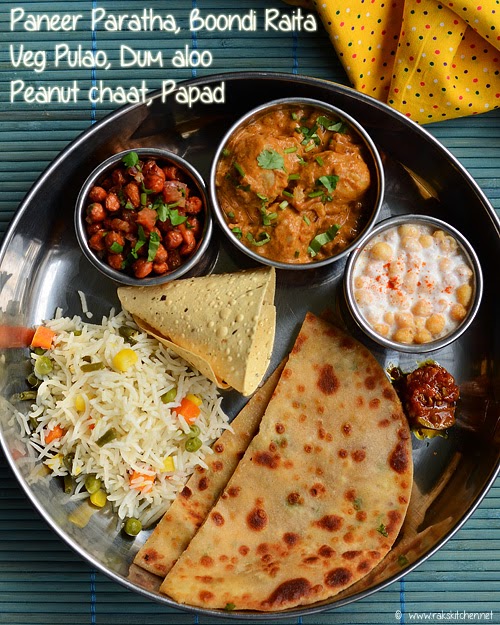 Have a happy weekend everyone 😊.